In any tactical situation, time is very valuable. You need to make important decisions in seconds, and in such a situation, you need to have all of your tactical gear in ways to access positions, where you can get to them in a second.
That is why the military and police officers used Tactical belts, and today, we are going to tell you all you need to know about them.
What are tactical belts for?
Tactical belts have been used for a very long time. They were used on the battlefield by Roman soldiers to carry their swords and other gear. These days, Tactical belts serve a lot of purposes. Civilians use tactical belts to carry their concealed carry firearms, and they may also use them on the range to carry
Law enforcement officers and military personnel wear tactical belts to carry their weapons, extra magazines, lights, pepper spray, and other tactical gear. Tactical belts are stiffer compared to other belts. They can carry more weight without sagging, and keep your tactical trousers in position, even if you have heavy items in your pockets.
Most tactical belts have a quick-release buckle, which makes them very easy to put on and take off. Moreover, some low-profile tactical belts can also be used as an everyday belts, and they are ideal for concealed carry.
In a self-defense situation, having all your gear on a multifunctional tactical belt can save you a lot of valuable time. You can snap your gun belt in seconds and have everything you may need within reach.
What belt does the military use?
The military always looks for the most reliable, combat effective, and affordable option when it comes to their ordinance, and the same is done for uniforms and military belts. Though different kinds of belts are used with different uniforms and in different units of the military, one of the most common belts used by the military is the Stars and Stripes. co US Military Standard tactical belt.
This is one of the best tactical belts in the market, and is also the standard-issue combat uniform belt for most branches of the military. It is made from military-grade nylon-poly material, is 1.75 inches wide belt, and has a Heavy-duty metal cargo buckle. It doesn't have a quick-release cobra buckle, which is popular on many tactical belts these days, however, it does feature a velcro removable buckle for quick release. This buckle system is simply more reliable and rugged than any else while being more affordable as well. Though this excellent belt is available in multiple colors, the US army uses the standard Coyote Brown color with many uniforms.
Stars and Stripes. co also makes some other belts like the LC2 U.S. GI Pistol tactical belt, which is used by some units of the Military.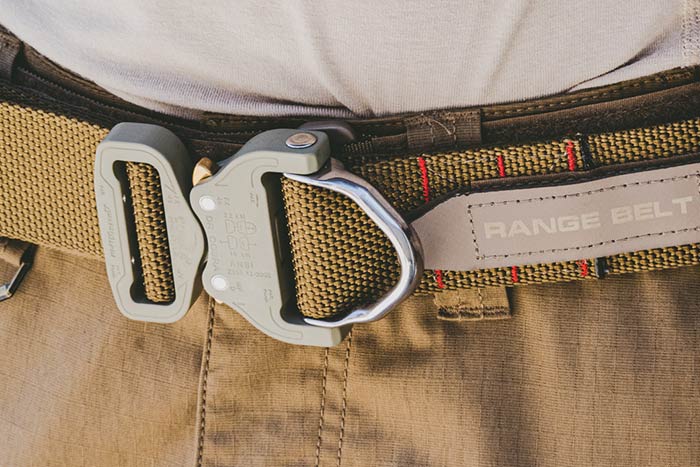 How long does a heavy-duty tactical belt last?
A tactical belt can last you lift time. Most heavy-duty tactical belts are made from durable nylon, that can withstand extreme loads. Therefore, the part of the belt that does fail is mostly the buckle.
Still, these days, most high-quality belts use duper strong materials to make their belt buckles. Mostly tactical belts have a metal buckle or super-strong plastic buckles, and if they are used properly, they can last for decades.
Some tactical concealed carry belts are also made from leather, a tactical leather belt can also last a lifetime. In any case, you can expect your tactical belt to last over a decade if it isn't deliberately damaged
What is the best tactical belt on the market? If you are looking for some of the best tactical belts in the market, you need to check out the Ace Link Armor armor tactical belt.
This tactical belt is made in Europe, with the highest craftsmanship, and serves as the perfect range belt, self-defense belt, or duty belt. The Ace Link Armor armor tactical belt is made from Nylon. It has two layers, with the inner belt made from stiff Nylon, and the outer belt, with load-bearing webbing being made from durable Nylon fabric. The outer belt attaches to the inner with velcro.
The Ace Link Armor tactical belt has an adjustable cobra buckle, which is very easy to take off and put on. The Cobra Buckle also features a metal D-Ring, which can be used for attaching a carabiner and many other tactical and safety purposes.
This tactical belt also has two rows of Laser Cut webbing on the outer tactical belt, which can be used to mount pouches, pistol holsters, magazine holders, and any other accessories that are MOLLE compatible.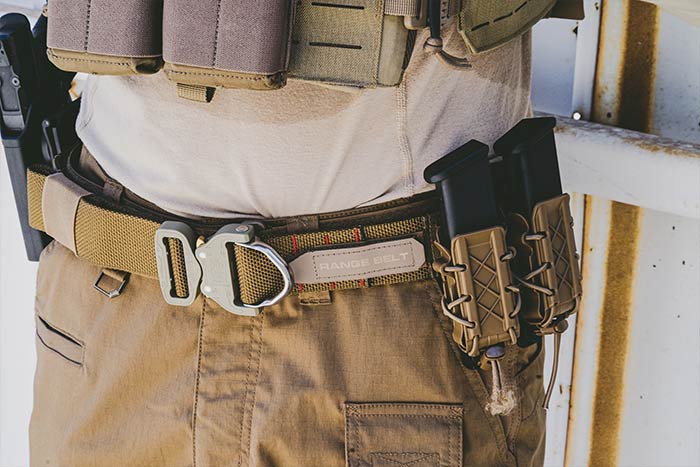 Why is a multifunctional tactical belt so expensive?
A Tactical Belt can be considerably expensive as compared to normal belts. Even simple leather gun belts, which don't have any webbing, or fancy buckles can be quite pricey, so, who is that?
Well, firstly, you need to understand that a tactical belt is made from more expensive materials, and in many cases, used more of them as well. A standard tactical belt or concealed carry gun belt will have a stiff core, which helps it carry weight, and ensures that the belt does not sag, and get uncomfortable. Moreover, some tactical belts also use a double-layered system, which consists of a stiff inner belt, and an outer belt with load-bearing webbings.
These belts also have very durable buckles, mostly a tactical belt will have a metal buckle, however, you can get belts with a non-metallic buckle as well. Moreover, almost any tactical belt worth its value will have a quick release buckle, which can add to the price.
Secondly, a tactical belt serves a very important purpose in a combat situation. Tactical belts are used by law enforcement, military, first responders, and many others, which is why they tend to be expensive.
That doesn't mean that you cant find affordable tactical belts in the market. A fair win tactical belt or a tactical belt from a brand like 5.11 tactical might be expensive, but you can find very affordable and high-quality tactical belts at Ace Link Armor. The Ace Link Armor tactical belt offers excellent value for money and is one of the best tactical belts in the market.
What size should my duty belt be?
One of the best things about most high-quality tactical belts is that they are very adjustable. In most cases, they are one size fits all, ratchet system, or adjustable loops to set the length of the belt as you need it.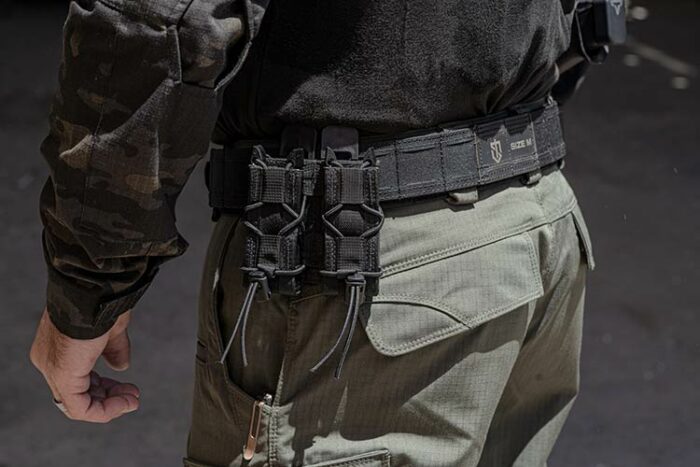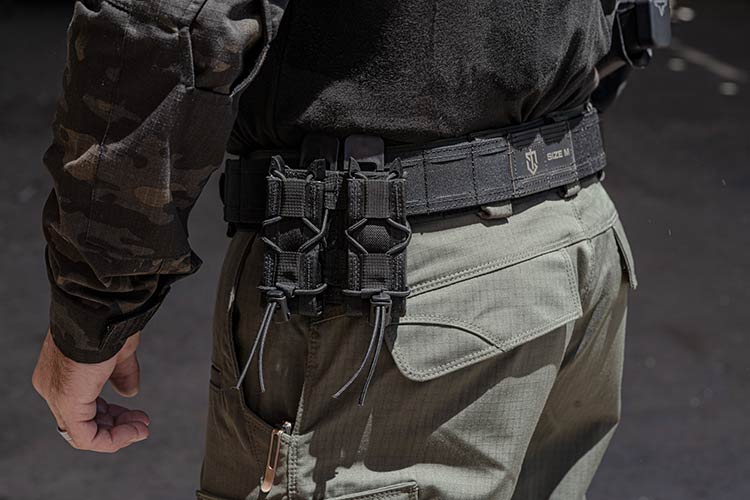 However, in some cases, especially with outer MOLLE belts, you need to have the right size. In these situations, we recommend that you choose a size a couple of inches bigger than your waist size. This is because you are probably going to use the MOLLE outer belt with an inner belt, and you are going to attach a holster or other kind of gear as well, which makes up for the two extra inches.
In terms of width, a duty belt should ideally be two inches wide, or a little less. The military used a tactical belt that is 1.75 inches wide.