2xLEVEL III RIFLE HARD ARMOR PLATES
SET OF 2 PLATE BAGS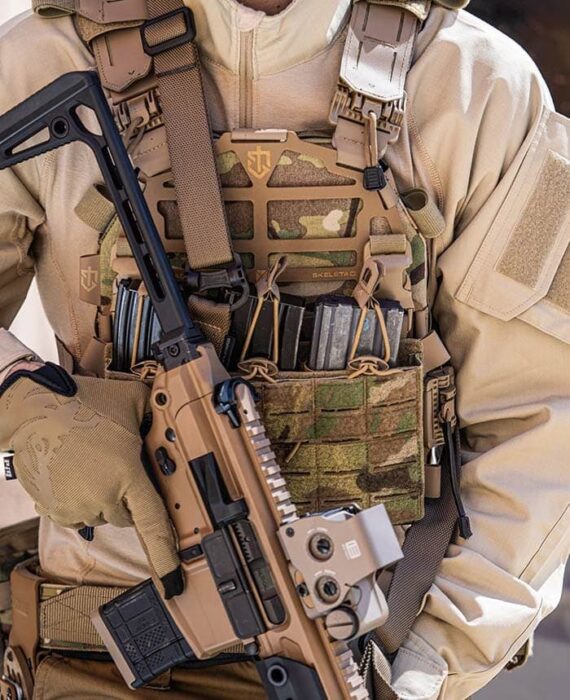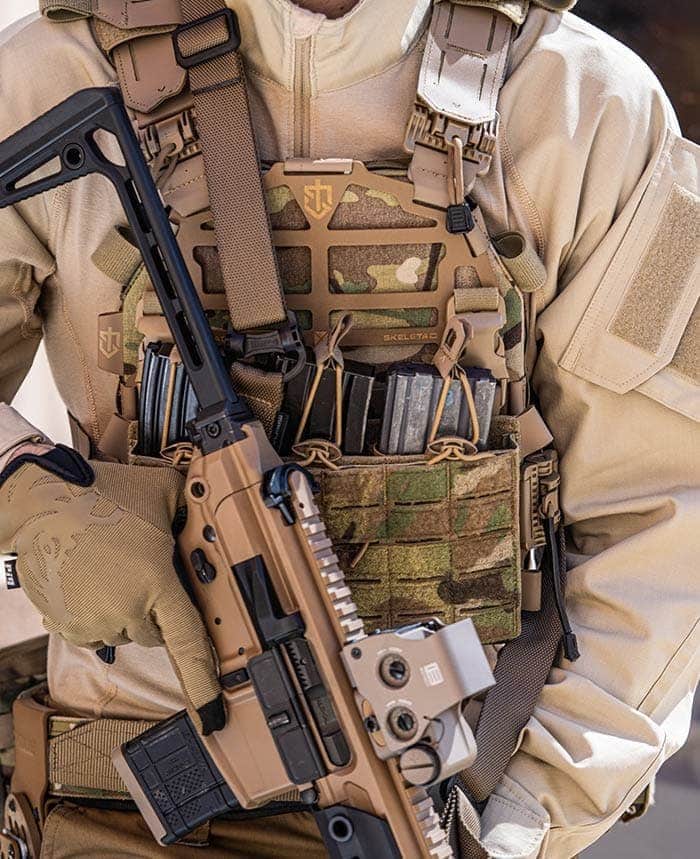 Skeletac Plate Carrier is a low profile, light, versatile, MOLLE compatible plate carrier, which can be easily adapted for different user needs. Skeletac, due to its construction fits most hard armor plate types and sizes. The buckles on the front frame are compatible with front flaps and chest rigs from any other manufacturer that uses such attach method.
Manufactured from laser cut and heat shaped 2.4mm Kydex
Low profile and lightweight design
Designed in MOLLE standard
Solid attach points for both shoulder and waist by utilizing 2M ROC® buckles
Solid color design for easier camouflage exchange with the use of plate bags
Fast and easy adjustment for any plate size
Cummerbunds adjustment is based on elastic webbing to ensure proper fit to the body
Optional front Velcro panel for ID and Agency Identifier Placard.
Optional Kangaroo Pouch with Velcro panel and top mounted twin buckle attach points.
Optional Triple Mag Ammo pouch with Velcro back and top mounted twin slide buckles.
If any further heat shaping is required it can be done with heat gun or hair dryer
LEVEL III RIFLE HARD ARMOR PLATE
Our level 3 rifle plates have been successfully tested and can stop multiple hits from rifle rounds up to 7.62 FMJ (M80 US ROUND) and .308 caliber. Made from ultralight polyethylene material, you can be rest assured it will stop the threat dead in its tracks. Whether that be getting in and out of your patrol car, standing guard at a facility, or delivering mail in a high crime area, you can rest easy knowing your protected by our Ace Link Armor.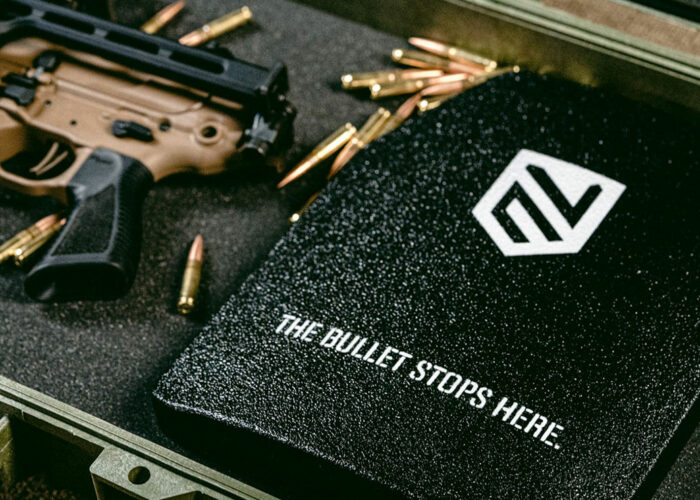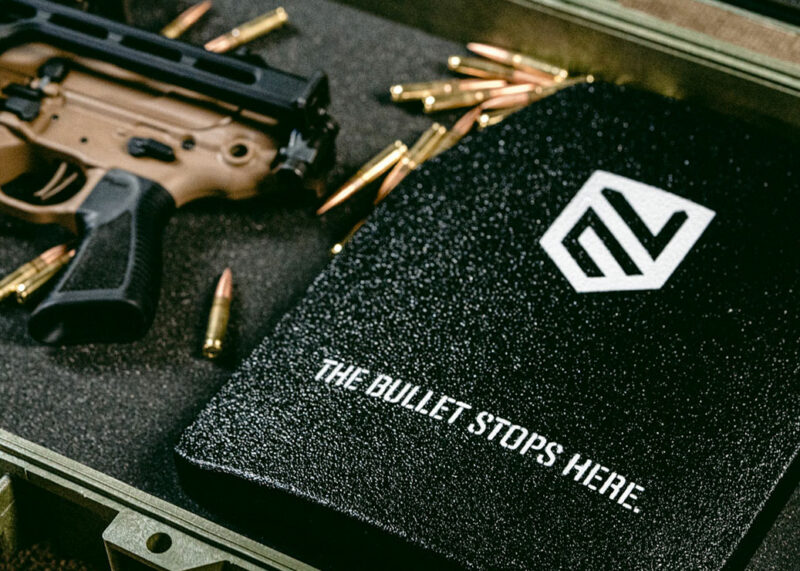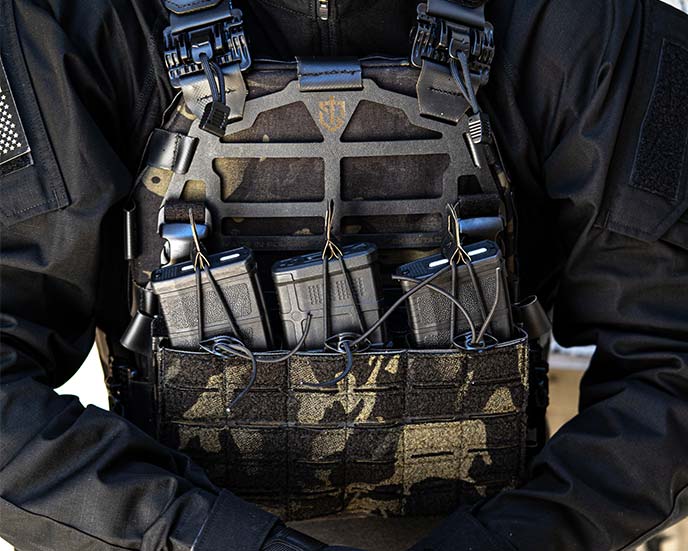 Now available to prevent damage to and protect your body armor plates from the elements, are the Ace Link Armor Plate Bags. Designed to be used with the Ace Link Skeletac Plate Carrier, the armor Plate Bags are made of abrasion resist nylon fabric with bottom Velcro closure, and velour area for securing ONE WRAPS straps; which come in set of 4. Available in a variety of colors including: Black, Coyote, Ranger Green, and Multicam or Black Multicam.
Main material: 2.4mm Kydex composite.
Fabric: abrasion resist 500D Cordura (r) fabric.
Rubber: Heavy Duty Vulcanized Rubber Fabric
Thanks to adjustable straps accommodates front & back ballistic panels of any size from 10x12" to 11x14".
Comes with 2pcs Level III Hard Armor Rifle Plates.
Skeletac shoulder straps and cummerbunds size chart:
S - chest size: 33-36in (84-91cm)
M - chest size: 37-40in (94-101cm)
L - chest size: 41-44in (104-111cm)
XL - chest size: 45-48in (114-121cm)
XXL - chest size: 49-52in (122-129cm)
Fully adjustable shoulder straps and cummerbund with elastic cord for waist adjustment.
Manufacturer Warranty: 2 years for original owner.
30 days from the delivery date for return. No Questions Asked!
SAME DAY SHIPPING
Orders placed by 3pm Pacific Time ships the same day!
PRODUCT WARRANTY
Soft Armor 8 Years | Hard Armor 5 Years |
Carrier 2 Years |
CUSTOMER SERVICE
In case of any questions feel free to contact us - Monday to Friday 9-5pm.
NIJ 0101.06 BODY ARMOR GUIDE