Body armor and plate carriers can be very useful, however, they also attract attention. The sight of armored police officers moving in the streets can be concerning for civilians, and if you are wearing a plate carrier in public as a civilian, you are definitely going to get some looks.
Similarly, Undercover police officers and law enforcement officials need armor, but can't wear overt plate carriers. This is why a concealable plate carrier is useful.
So, in this post, we are going to try and answer all the questions that you might have about a concealable plate carrier, and at the end, we will also tell you about the best, low-profile concealable plate carrier on the market. Read on to learn more.
Can you wear body armor under your clothes?
Yes, Concealable body armor is quite common and useful. In fact, police officers regularly use concealable body armor that can be worn under their uniforms. Other law enforcement and military personnel, like FBI agents, Police detectives, and secret service agents also use concealable body armor that is worn under their shirts.
However, these concealment body armor vests are usually made of soft body armor, and they don't have any tactical features like an emergency drag handle, quick-release tabs it MOLLE webbing for magazine pouches, and either find of tactical gear. The armor inserts are usually carried in white sleeves, which are designed to have minimalist features that don't attract attention.
There are various kinds of body armor that can be worn under your clothes, from lightweight stab armor, to rifle protection armor, there are loads of concealable armor options for both civilians and law enforcement officers.
Can you conceal plate carriers?
Though soft armor concealable vests are common, they don't offer protection against rifle threats. Therefore, in many situations, military and Law enforcement officials need to use hard body armor plates, which are carried in plate carriers.
Now, overt plate carriers are simple enough to make, but you can also buy a concealment plate carrier that is designed to be minimalistic and easily concealable. These plate carriers can be worn under a shirt, however, they obviously aren't as concealable as a soft armor concealable vest.
Still, if you are wearing a coat or suit jacket over your shirt, such a minimalist plate carrier is very concealable.
Concealment plate carriers don't have any large padded shoulder straps, pockets, or pouches that are common in overt plate carriers. They are minimalistic and are designed to be easily concealed under your clothes.
What is the difference between bulletproof vests and plate carrier vests?
When it comes to body armor, there are two things that you are going to hear a lot; Bulletproof vests and plate carriers.
Plate carriers are simple fabric carriers that are designed to carry ballistic plates, and they don't have any bullet resistance on their own, whereas a bulletproof vest is bullet-resistant on its own, and has soft armor inserts made from Kevlar in it.
Moreover, the level of protection provided by a bulletproof vest, and a tactical plate carrier with plates in it is also different. Bulletproof vests can also protect you against handgun rounds. They are available in NIJ Level II and Level IIa. On the other hand, hard body armor plates in plate carrier vests offer level III and level IV protection, which means that they can also stop rifle rounds.
Both Bulletproof vests and plate carriers have MOLLE webbing or other mounting systems on them to carry extra mags and other tactical gear, however, their shapes may differ a lot. Bulletproof vests usually cover a larger portion of your body, whereas plate carriers only cover your vital organs. This is because soft body armor bulletproof vests are light and pliable, which makes it easier to use more armor. Some lightweight tactical vests also have plate pouches to insert armor plates.
What is the most concealable body armor?
There are many brands and manufacturers that make concealment body armor, however, some are obviously better than others.
Apart from concealability, there are several other factors that make concealable body armor good, and when all these factors are put into consideration, one of the most concealable body armor platforms is the Ace Link Armor Spectre concealable vests.
This lightweight, soft armor ballistic vest is designed to offer maximum concealability, with Level IIIa protection, which means that it can stop up to a 44 magnum. Moreover, this vest is made from a durable polycotton material and has a mesh construction that aids in breathability and moisture dispersion.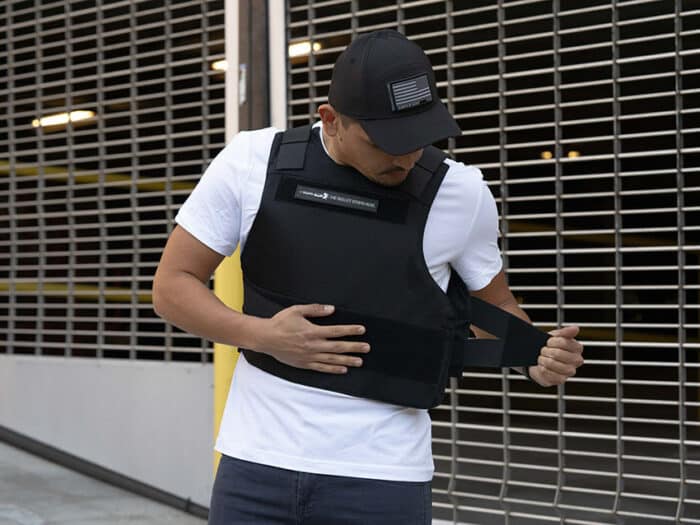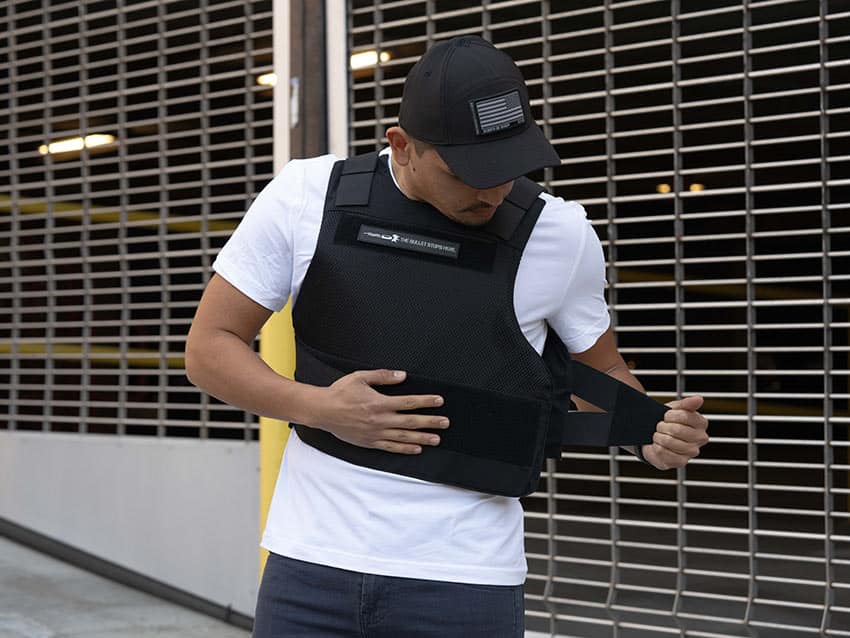 The Spectre has a 4-point adjustment system, with adjustable waistbands and shoulder straps.
Is a plate carrier better than a vest?
Both plate carriers and ballistic vests have their own advantages, and whether one is better than the other depends a lot upon the scenario in which they are to be used. For instance, in a situation where you are more likely to encounter high caliber threats, plate carrier vests with ballistic plates are definitely the better option, whereas, in situations where pistol threats are more likely, a lightweight bullet proof vest can be better.
So, at the end of the day, it all comes down to situational requirements and personal preference. For instance, in a home defense situation, both vest and plate carriers are good options. However, a vest is lighter and offers more coverage than a tactical plate carrier, and it is very unlikely that you will face a rifle threat in a home invasion situation.
On the other hand, military personnel is more likely going to face rifle threats, so a plate carrier with armor plates is the better option.
When it comes to concealability, vests are always better than plate carriers. No matter how concealable a plate carrier is, you can't wear it with ballistic plates under a single shirt or t-shirt. It will definitely form a noticeable silhouette on the shirt, and therefore, to use a concealment plate carrier, you always need to wear something like a loose jacket. However, a concealable vest is easier to hide, and many law enforcement officers also wear them under their uniform shirts.
Plate carriers do offer better protection than a bulletproof vest, but when it comes to concealability vests are just a little better. Still, if you are concerned about rifle threats, a concealment plate carrier is a really good low-profile option.
The Most Low Profile concealment Plate Carrier
If you are looking for a good quality concealment plate carrier, the Tactical React plate carrier from Acelink Armor is one of the best plate carrier in the market.
Acelink Armor makes some of the best plate carriers, Armor plates, ballistic vests, and other tactical gear in the market. Their react plate carrier has a minimalist design that is ideal for concealability.
The plate carrier is made from super durable 500D Nylon Cordura fabric, and it's plate pouches are designed to accept SAPI style armor plates, however, it can be used for shooters cut plates as well. The plate carrier has a 4-point adjustment system, with ajustable shoulder straps and cummerbunds.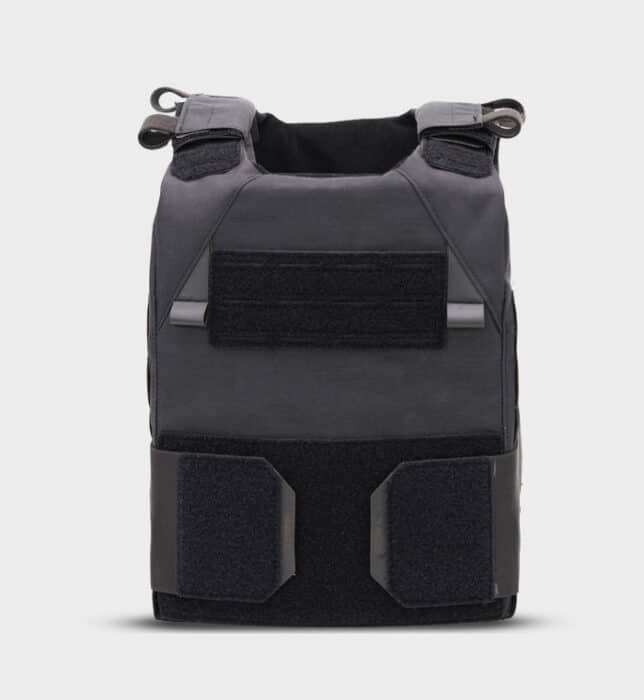 The react plate carrier can be used as both an overt and concealable plate carrier. It has a smooth surface, without any webbings, however, it has velcro straps that can be used to attach MOLLE or Laser Cut panels. The plate carrier also comes with a low profile rifle magazine pouch, which is removable and can fit three AR mags if you are using it as an overt plate carrier.
The react plate carrier is available in 4 sizes and three different colors, including Black, Tan and OD green.
So, if you are looking for a concealment plate carrier, then the Aceleing armor React plate carrier is one of the best options.