Well, there are many factors that make a backpack tactical. A tactical backpack needs to be durable, comfortable, practical, and customizable.
Most military backpacks are made to last. They are rugged and made from super durable materials like Cordura and ballistic nylon. A tactical backpack needs to be able to withstand long-term abuse.
Tactical backpacks are also designed to be comfortable. They have padded shoulder straps and in some cases sternum straps and a waist belt as well. These bags are made so that you can carry them for long periods of time without getting tired.
Another major factor that contributes to a backpack's tactical nature is its appearance. Firstly, backpacks usually have load-bearing systems, like PALs webbing and MOLLE webbing, which can be used to attach all kinds of pouches, tactical gear, and other MOLLE accessories to the bags. Moreover, these bags have velcro straps and loops to attach additional accessories as well.
The color of these bags also adds to their tactical effectiveness. Instead of having bright and shocking colors, these bags usually have simple colors that don't stand out. They are usually made in colors like back, desert tan, OD green, and of course Multicam and urban camo as well.
Are tactical backpacks worth it?
A tactical backpack can do everything a normal backpack would do, and a lot more. They are super durable, and be used in versatile roles, and are comfortable to carry for long times. So, yeah, from a standpoint of practicality and simple usefulness, a tactical backpack is completely worth it.
The only reason why to choose an ordinary backpack over a tactical one is style and color options. However, Military backpacks can be quite stylish as well, especially if you have a rugged urban style.
They can simply be used as an office bag or school bag, or you could use them as a hiking bag, or specialized survival bag. The possibilities are endless, and this is what makes tactical backpacks so awesome.
How much does a tactical bag cost?
When it comes to cost, the numbers can vary quite a bit. There are numerous factors that may contribute to the price of a tactical backpack. However, in general, tactical backpacks can be categorized into 3 price brackets, so you can always find the right tactical backpack for you, no matter your budget.
If you are looking for an affordable option, you can get a military backpack for under $50, these backpacks usually have military and tactical features like MOLLE Webbing, and extra hoops and straps, however, they might not be made from the most durable materials. They are a good option to use for a range bag that does not see rugged use. These options can also be used as office or school backpacks if you are into the tactical aesthetic.
The second price bracket is between $50 and $100, this is the ideal price range, where you can get the best bang for your buck. These bags are bigger and made from more durable materials like Nylon, have better craftsmanship, and stronger zippers hooks, and straps. You can also expect these backpacks to have hydration bladder compatibility and a padded laptop sleeve. These are really good everyday carry backpacks.
The last price bracket is the $100 and up, this is where you get the premium stuff, the best of the best, high-quality tactical bags. These bags usually have bigger brand names and are made from the most durable materials like high-strength Nylon of Cordura. These bags are also the most comfortable with high-quality padded straps, moisture-wicking mesh back panels designed to keep you cool, and waist straps for better weight distribution.
They will also have a hydration pocket to insert a hydration bladder, a concealed carry pocket, pockets for armor inserts, and laptop sleeves as well. So, if you are looking for the best tactical backpacks, this is the price range you have to go for.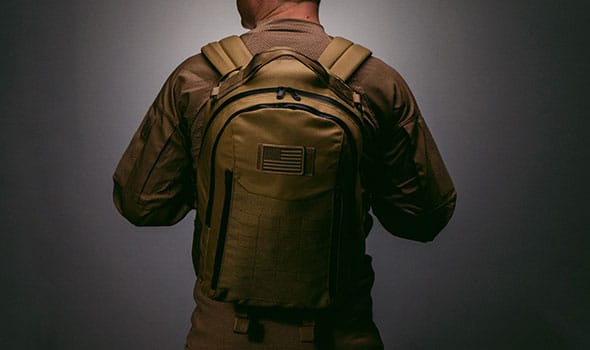 What kind of backpacks do the military use?
There are several branches, units, and divisions in the military, however, almost all of them need to use tactical military rucksacks. The USMC ILBE (Improved Load Bearing Equipment) Main Pack is the military backpack used by the United States Marine Corps.
These tactical bags are made from super durable 720 denier fabric, and because of their internal aluminum frame, adjustable padded shoulder straps, and padded waist belt, they allow a Marine to easily carry up to 120 lbs of weight.
With PALS webbing and MOLLE compatibility, these bags can be customized according to the requirements of military personnel. These bags have compatibility for a hydration bladder and communication devices, making them ideal for military deployment.
The US Army uses the United States Army MOLLE 4000 military backpack. This tactical pack has many similarities with older military assault packs like the MOLLE 2 and ILBE backpacks used by the USMC. It has the same aluminum frame from the ILBE, which is reinforced to be ever stronger and more durable, whereas the waist strap has been taken directly from the MOLLE 2.
The backpack has an internal storage of 4000 cl in its main compartment, hence the MOLLE 4000 name, and it has MOLLE webbing on the back and the sides, with compression straps on both sides, and specialized compartments on the front and the bottom.
What is the most durable tactical backpack?
The best tactical Backpacks have to be durable, and if you are looking for one of the most durable options in the market, you need to check out the Ace Link Armor Bulletproof Rapid Deploy backpack.
As the name suggests, this backpack is literally bulletproof and comes with level IIIa armor inserts. Or you can also add ballistic plates.
The backpack is made in a modern design, and it is ideal for everyday carry. It has 35L / 2100 cubic inches of capacity in the main compartment, which is also compatible with a hydration bladder and armor inserts.
The bag has breathable mesh channels on the back to improve comfort, and the shoulder straps also have a breathable mesh. The bag also has an adjustable waist strap, carry handle, and compression straps.
Along with the main compartment, the bag also has specialized smaller compartments and concealed carry pockets as well for your pistol. The bag has Laser Cut webbing, however, you can aloe get a version with MOLLE webbing.
So, if you are looking for one of the best tactical backpacks in the market, this is a great option.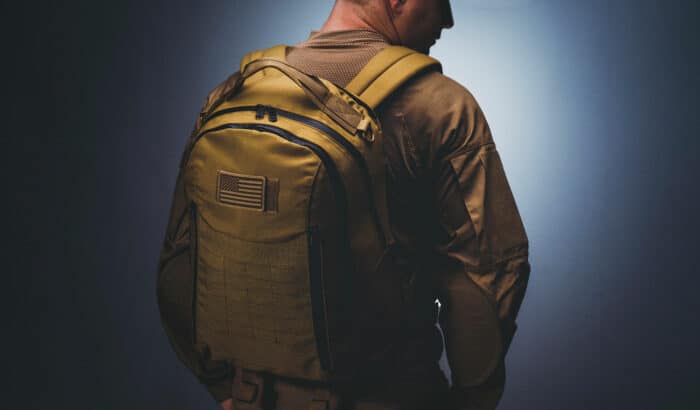 Can a tactical backpack accommodate armor inserts?
Not all tactical backpacks have this feature, but some like the Ace Link Armor tactical bulletproof backpacks have armor compatibility. These backpacks are an excellent way to carry armor without standing out.
Both soft armor panels and ballistic protection plates can be inserted into backpacks. You can get some of the best, specifically designed backpack armor inserts from Ace Link Armor as well.