HARD ARMOR PLATE
STOPS .30-06 APM2 ROUNDS
Incredibly Light
Multi-Hit Technology
Stopping AP Rounds.
in conjuction with level iiia soft armor panels
When worn together with level IIIA backing soft armor this Ace Link Armor ceramic composite hard armor platehas been designed to provide level IV protection against multiple .30-06 Armor Piercing rounds. Comes coated with weatherproof polyurethane to absorb and completely contain rifle rounds, up to powerful .30-06 APM2.
Tested to be truly multi-hit, this plate is the most reasonable choice for those looking for Up-Armor Plate that stops AP rounds (when used with IIIA backing).
Ace Link Armor Level IV Hard Armor Plate is a composite plate utilizing highest grade UHMW Polyethylene backing enhanced by silicone carbide ceramic on the strike face of the plate. Thanks to this unique construction first biggest impact is dispersed on the surface of ceramic while PE backing absorbs rest of the energy and effectively catches the bullet.
When worj with IIIA backing, Level 4 Hard Armor Plate from Ace Link Armor is capable of stopping multiple rifle rounds (including armor piercing rounds) as per NIJ.06 level IV - up to powerful .30-06 APM2:
5.56×45 M855 AP
5.56×45 M193 Ball
.30-06-cal. APM2

7.62x39mm PS Ball
7.62x54R LPS
7.62×51 M80
Ace Link Armor Level IV Hard Armor Plates are available in 10x12" size only.
Plate is 0.90" thick.
Single plate weight is 5.20 lbs - what does your steel plate say about this ?!
Our plates come with 5 years full warranty.
Ballistic Testing Report from NTS accredited laboratory is attached to each shipment so you can rest assured plates will perform as designed when you need it.
SAVE ON WEIGHT AND BE SAFE FROM SPALLING
At only 5.20 lbs this composite plate is capable of stopping multiple armor piercing rounds when used with soft armor backing. Silicon Carbide ceramic disperses impact energy effectively, without risk of dangerous spalling. Protection against armor piercing .30-06 APM2 rounds has never been so light and risk-free.
EXTENDED CERAMIC COVERAGE
Increased protection area provided by ceramic ballistic plate – choose Ace Link Armor plates with Extended Ceramic Coverage for the most comprehensive protection of your vitals. There is no compromises when it comes to your safety!
NIJ 0101.06 BODY ARMOR GUIDE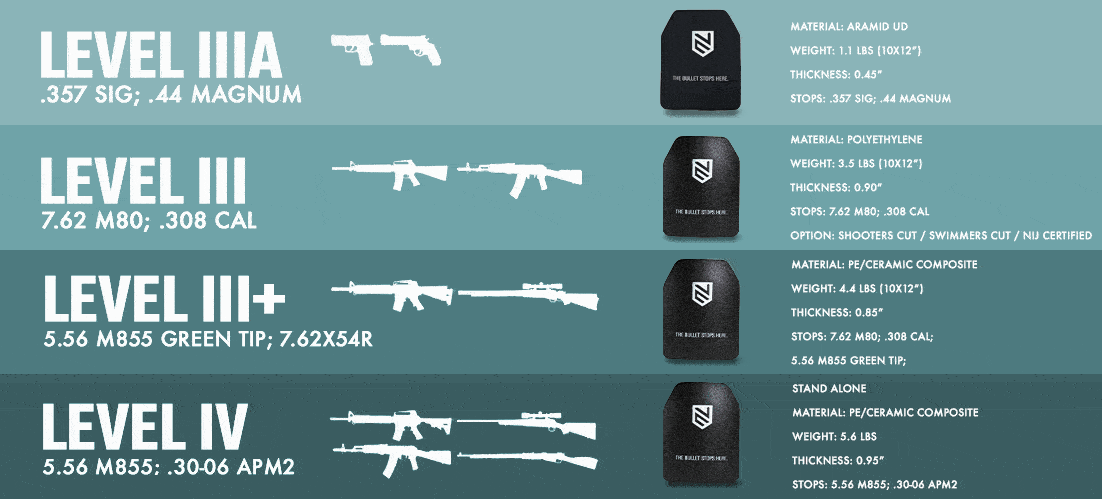 FREQUENTLY ASKED QUESTIONS