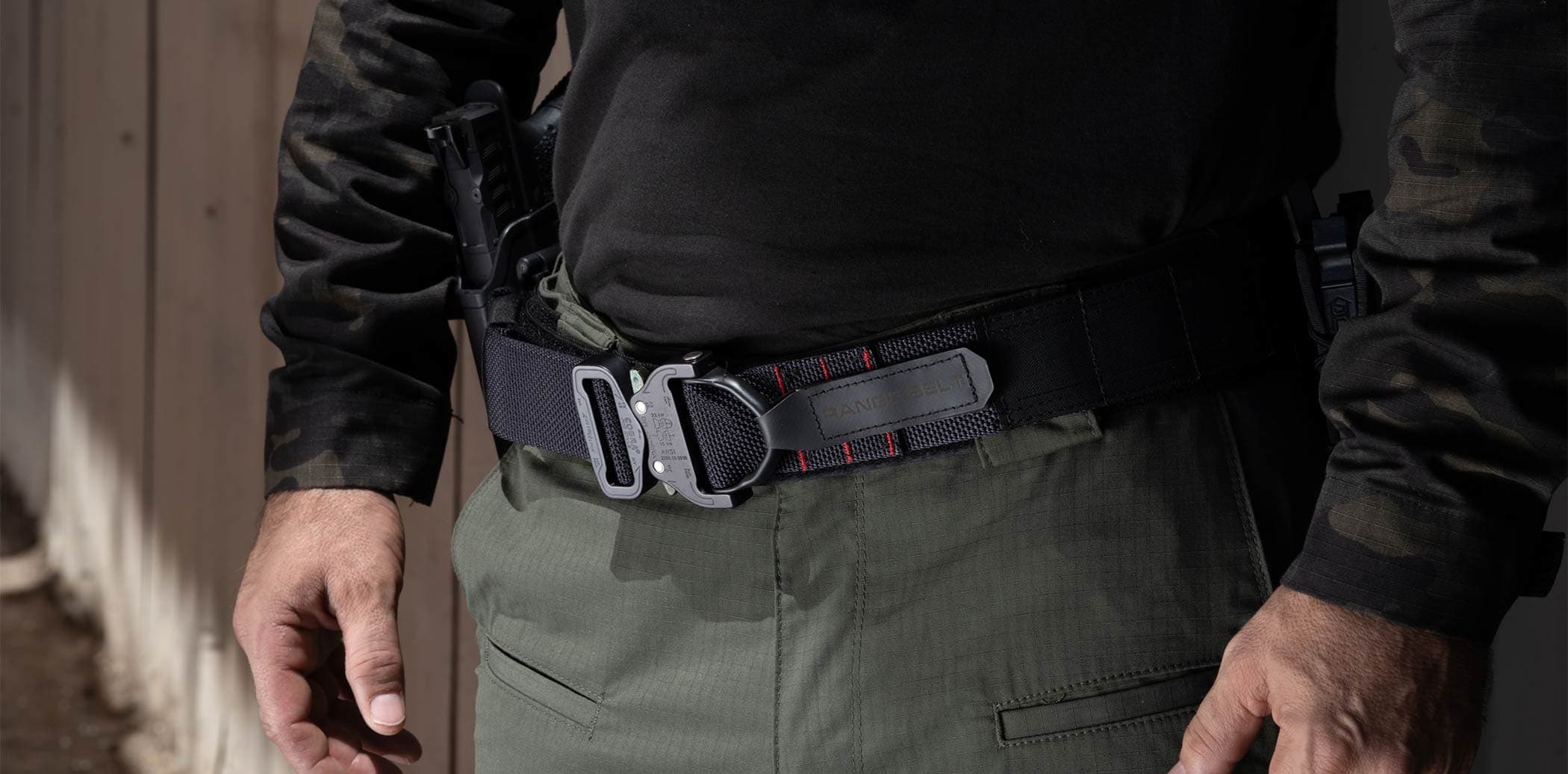 Tactical Belts
REINFORCED RIGID TACTICAL BELTS
Ace Link Armor's Tactical Belts are designed to securely and comfortably fit the wearer, no matter what they're wearing. Designed for both tactical use and everyday wear, these tactical belts offer high quality craftsmanship that will last you through any mission or activity! Our tactical belts offer a comfortable fit and unparalleled tensile strength for any mission. Our range belt can be worn in your everyday life or on the battlefield, making it a perfect tactical belt for all environments!
FILTER
Tactical Battle Belts Guide
What is a tactical belt?
A tactical belt is a belt that has a quick release metal buckle, while the belt itself is made of materials such as nylon or polyester along with strong velcro panels and rigid inserts to wear around your waist with minimal torsion and stretching.
Variations of a tactical belt can be used to hold a radio, extra ammunition, and even an Individual First Aid Kit (IFAK) as mountable options, any attachment or pouch you may need can also be mounted via the belt's laser-cut slits or MOLLE type webbing, or simply by sliding into or clipping onto the belt itself.
It is an important part of a tactical load-out; distributing the weight of your equipment as well as holding up your utility or uniform pants. It's important to get one that you're comfortable with and that fits properly.
Tactical belts come in different colors and length sizes, so there are some things to consider when choosing the best belt for yourself or someone you know who is in need of a tactical belt.
How to use a tactical belt?
Designed to be worn around the waist as functionally being used for securing common, uniform or utility pants; carrying different types of gear, you can also expand your belt loadouts by inserting any kind of pouch or holster in the waistband MOLLE webbing or Laser cuts of the tactical belt. Some of them incorporate quick release buckle.
Owning a tactical belt will let you hold all types of tactical equipment while maintaining an even distribution of weight and offer superior functionality. The belt could also be used as a tie-down for equipment or a tourniquet for a medical situation.
There are many tactical belts on the market that have features like loops, clips, elastic bands, etc. They can be attached to clothing beneath your uniform or directly onto your duty so whatever you may need it for there's an option out there for you that will work.
How does a tactical belt work?
A tactical belt is designed to carry extra magazines, radio's, handcuffs or a pistol holster. Most tactical belts have a primary use is to carry things around your waist or hip and is put through your pant loops, but a tactical belt can be used for more than just a belt or holding items.
A tactical belt can be used for many applications such as military, air soft, paint balling, etc. Anywhere when you need to hold additional gear on your person.
Hands-free means secure and stable, thanks to a heavy-duty design by giving access to your gear, tactical belts do not impede the process of re holstering or when reaching for any ammo at all.
Whether it's lighter or heavier, they're all designed with specific features that make them suitable for any situation where you find yourself wanting to take out extra gear.
Backpacks for adults
However, bulletproof backpacks aren't only for school kids. They can also be used by adults who want some inconspicuous protection in public. Though it is perfectly legal to wear body armor and go out in public, it may get you some concerning looks from people. Therefore, a ballistic backpack is an easy way to keep some armor on your body in case you are ever in a threatening situation. In this application, you can use any kind of armor inserts that you like, you can even put in Level III and Level IV body armor plates, which are the most impenetrable shields. So, in conclusion, for a school student, soft backpack inserts are ideal, however, if you are using a ballistic backpack as an adult, you can add any kind of armor plate that you feel most safe and comfortable with.
How to keep duty belt from sagging?
We suggest using a tactical belt that first of all is the right size but also has the ability to carry extra pouches or tools. This will minimize the overall weight of your tactical gear and keep it from sagging.
In most cases, a belt will begin to sag when carrying items becomes overloaded. This can lead to abrasions or blisters on the hips and back area so finding the correct belt is key.
Be sure to tighten the belt as needed for best results and to combat sagging when inserting or attaching pouches. Make sure to fasten buckle system properly!
The buckle of the belt is to ensure that all equipment is safely fastened to your waist, always make sure the buckle is securely snapped into place when wearing to also avoid sagging.
How to choose the best belt for you?
There are different types of belts that all have their own unique features, which can make it hard to find the one for you.
There are nylon web belts, leather belt, velcro and elastic types. But there are some things that you can look for when you're shopping around:
Durability
Many of the belts on the market today aren't made to last. The problem is that these types of products won't hold up as long as they should which means it's something that can hinder you in the long run. Look for one with strong stitching and reinforced areas so it can handle even your heaviest gear.
Functionality
If you're working in law enforcement or any other capacity where tactical belts are used and extra support is needed for the job, finding the right fit and type of belt is important. You can't afford to wear belts that fall short in any capacity. Look for one with the right fit strap and fastenings so you can get it just the way you want it.
Safety
Make sure that you don't choose a belt with any sharp edges or metal components. These can cause injury or even snag, especially if you're working in the field and are running around. Additionally, make sure that any attachments will also be safe for others close by so it doesn't do further damage to them while they're on duty.
Top 4 tactical belts in 2022
Condor Tactical Belt
Sturdy enough to hold all your gear with ease, yet lightweight and adjustable for a comfortable fit, Condor tactical belts and suspenders can't be beat. They're built from ultra-tough materials and designed with a heavy-duty buckle and reinforced stitching to ensure durability.
5.11 Tactical 1.5″ TDU Belt
5.11 tactical belt is constructed from rip-resistant nylon webbing, the durable TDU Tactical Belt is built to endure tactical or patrol initiatives.
A non metallic buckle is ideal for courthouse, airport and other security checkpoints for law enforcement. The ergonomic 5.11 tactical belt can also convert into a secure tie-down or carry strap for the ultimate in versatility and function.
Ace Link Armor Tactical Belt
It's a 1.75″ wide belt with D-ring Cobra buckle from AustrAlpin. Designed for the modern warrior who needs a belt to add to their tactical outfit and overall loadout. Made with a non metallic lightweight quickrelease buckles system and heavy duty durable nylon webbing that will let you get in and out with ease.
This tactical belt is outfitted with an array of laser cut that will allow you to take all your gear with you and be confident there are no blind spots in your field of movement or combat. It's one of the best belts for concealed carry.
Elite Survival Systems Shooters Belt
The Elite Survival Systems shooting belt rig incorporates special Scuba nylon webbing, structured inner core, reinforced stitching, and features a COBRA® quick-release buckle by AustriAlpin.
COBRA® buckle belts are the safest, most finely crafted, and strongest load-bearing hardware on the market today.
go back
YOUR SHOPPING CART
your cart is empty
Product protection from fraud, loss, theft & damage