16 reviews
Skeletac
Plate Carrier
Modular & Lightweight Fits Up to 11x14 Armor Plates
or 4 interest-free payments of
$85.25
with
ⓘ
PLATE CARRIER
Minimalist Tactical Plate Carrier
MATERIAL
Super lightweight Kydex Frame
Quickrelease Buckles
2m ROC buckles double as a semi-quick release system
Load Bearing
Molle Compatible
Cummerbunds Elastic Webbing
Cummerbunds' elastic webbing adjustment system
FIT MULTIPLE ARMORS
Accommodates armors from 10×12" to 11×14".
NOT INCLUDED
Armor sold separately. Multiple accessories available.
SOLID AND AGILE
Solid, Lightweight, and Agile Plate Carrier
SKELETAC PLATE CARRIER
LIGHTWEIGHT & MODULAR
TACTICAL PLATE CARRIER
The Ace Link Armor Skeletac Plate Carrier stands as a testament to modern advancements in tactical gear, combining cutting-edge design with functionality that caters to the needs of professionals and enthusiasts alike.
Key Features:
Super Lightweight Construction with Kydex: Manufactured with precision, the Skeletac Plate Carrier is constructed from laser-cut and heat-shaped 2.4mm Kydex material. This robust composition guarantees durability and incredible strength, providing you with gear that stands the test of time.
2M ROC® Buckles Integration: The Skeletac  integration of 2M ROC® buckles, boast a maritime-ready design, ensuring functionality even in wet conditions. Notably, these ROC buckles double as a semi-quick release system, adding an extra layer of safety when needed.
Low Profile and Lightweight Design: The Skeletac Plate Carrier's low-profile design prioritizes agility without compromising on durability. Its lightweight nature enhances maneuverability, making it an essential asset for high-performance scenarios.
Effortless Plate Adjustment: Flexibility is paramount, and the Skeletac Plate Carrier delivers. Its fast and easy adjustment mechanism accommodates plates of varying sizes up to 11×14″, allowing you to tailor your setup to your specific needs.
Universal Sizing and Camouflage Adaptability: Designed to accommodate a wide range of users, the Skeletac Plate Carrier boasts a one-size-fits-most approach. Its solid color design facilitates easier camouflage exchange through the use of plate bags, ensuring seamless integration into various operational environments.
MOLLE Standard Compatibility: Engineered in accordance with MOLLE standards, the Skeletac Plate Carrier offers unparalleled versatility. Its design enables you to attach a wide array of pouches to both the front and back of the frame, ensuring you have everything you need within arm's reach.
Cummerbunds Elastic Webbing: Comfort meets functionality with the cummerbunds' elastic webbing adjustment. This innovative feature guarantees a snug and secure fit to your body, ensuring the carrier moves with you seamlessly.
Swift Clip Front Flap Adapter Included: The Skeletac Plate Carrier goes the extra mile by including a Swift Clip front flap adapter. This thoughtful addition enhances adaptability and ensures you're equipped to face any situation.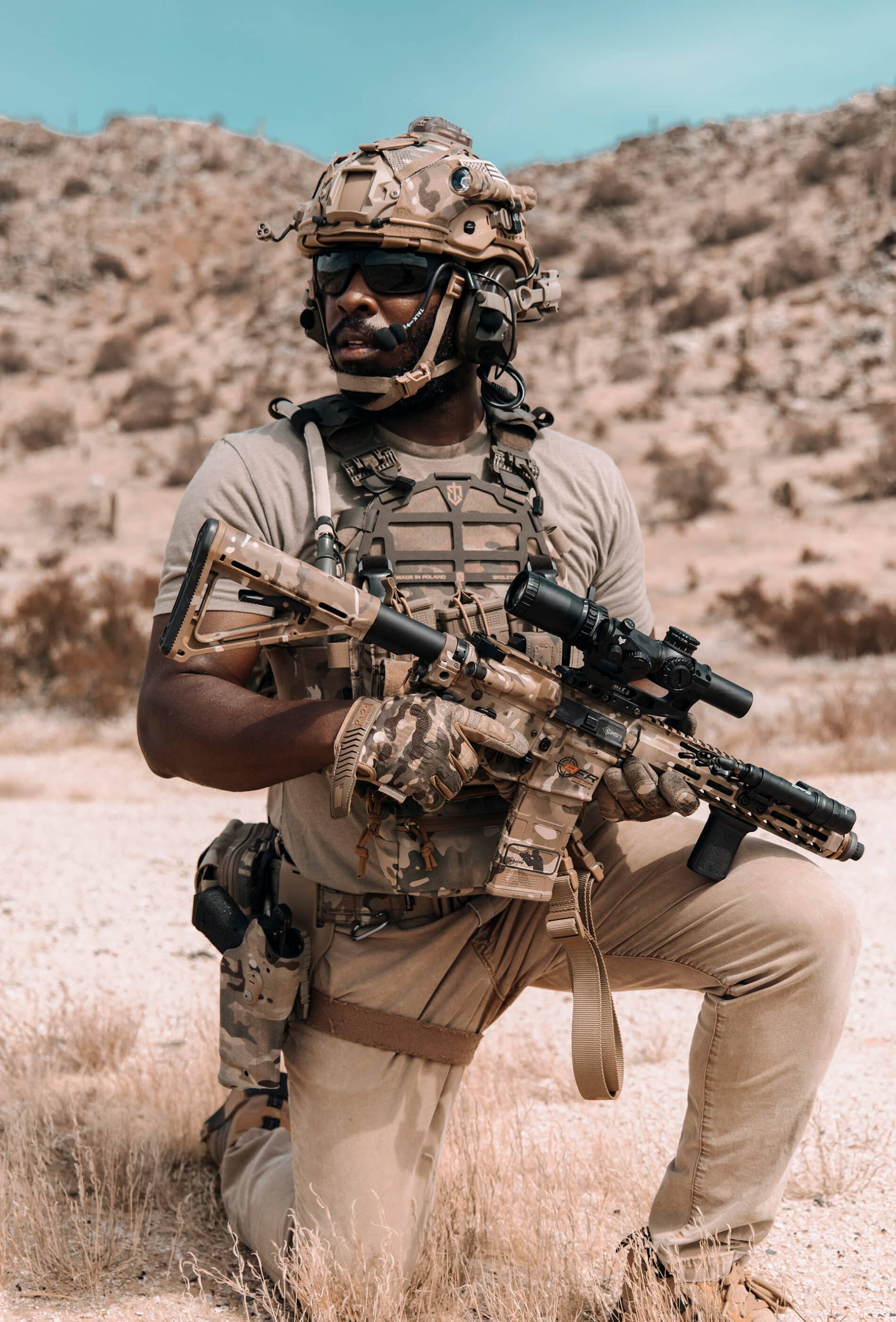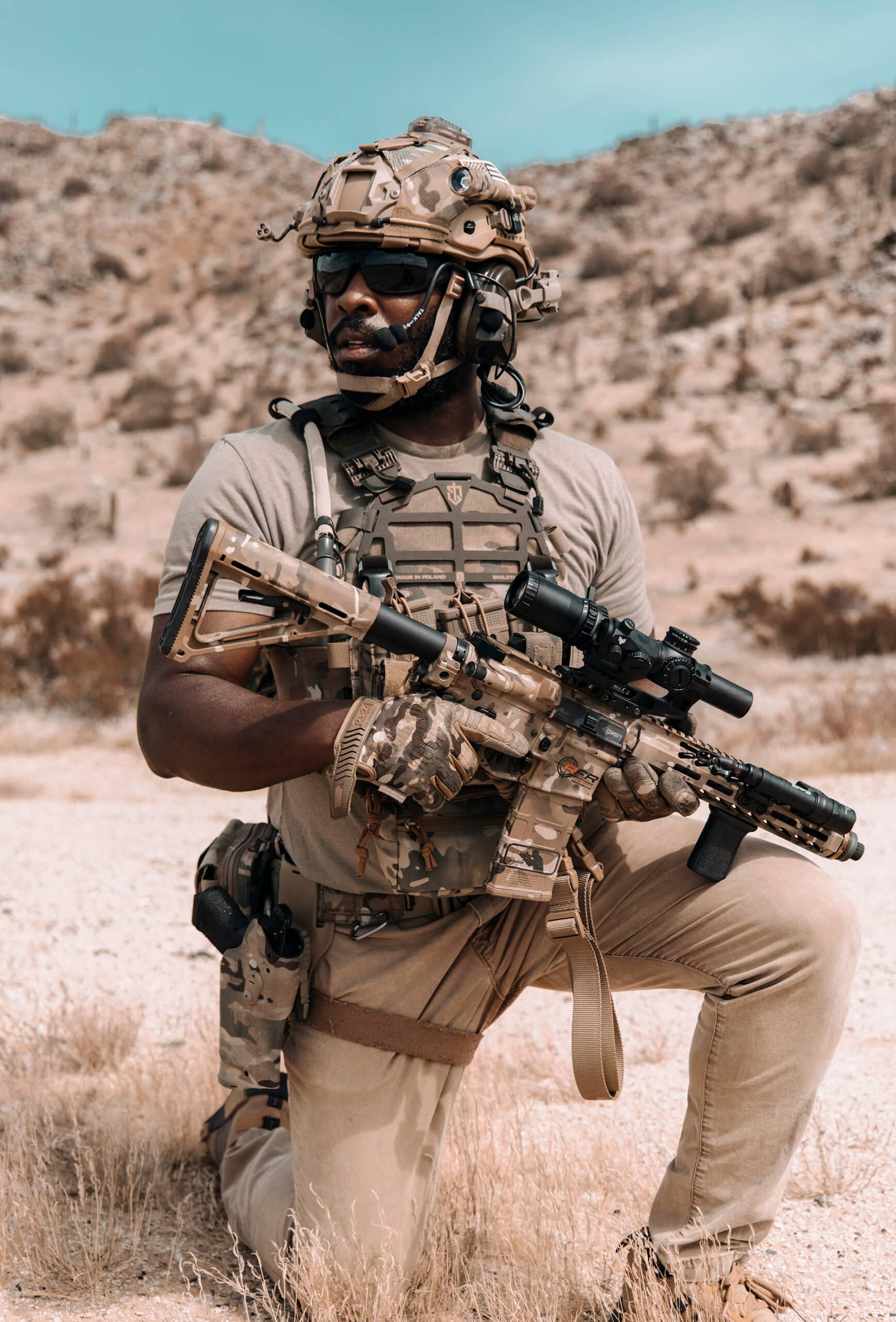 SUPER LIGHTWEIGHT
Originally a concept to help reduce weight and add a solid frame foundation for mounting ammunition or equipment pouches, the Skeletac Plate Carrier is a fully modular system capable of carrying ballistic panels of all sizes and multiple MOLLE compatible accessories. It is the most customizable plate carrier set up available on the market.
Shoulder straps and cummerbund come in 4 sizes:
S – chest size: 33-36in (84-91cm)
M – chest size: 37-40in (94-101cm)
L – chest size: 41-44in (104-111cm)
XL – chest size: 45-48in (114-121cm)
XXL – chest size: 49-52in (122-129cm)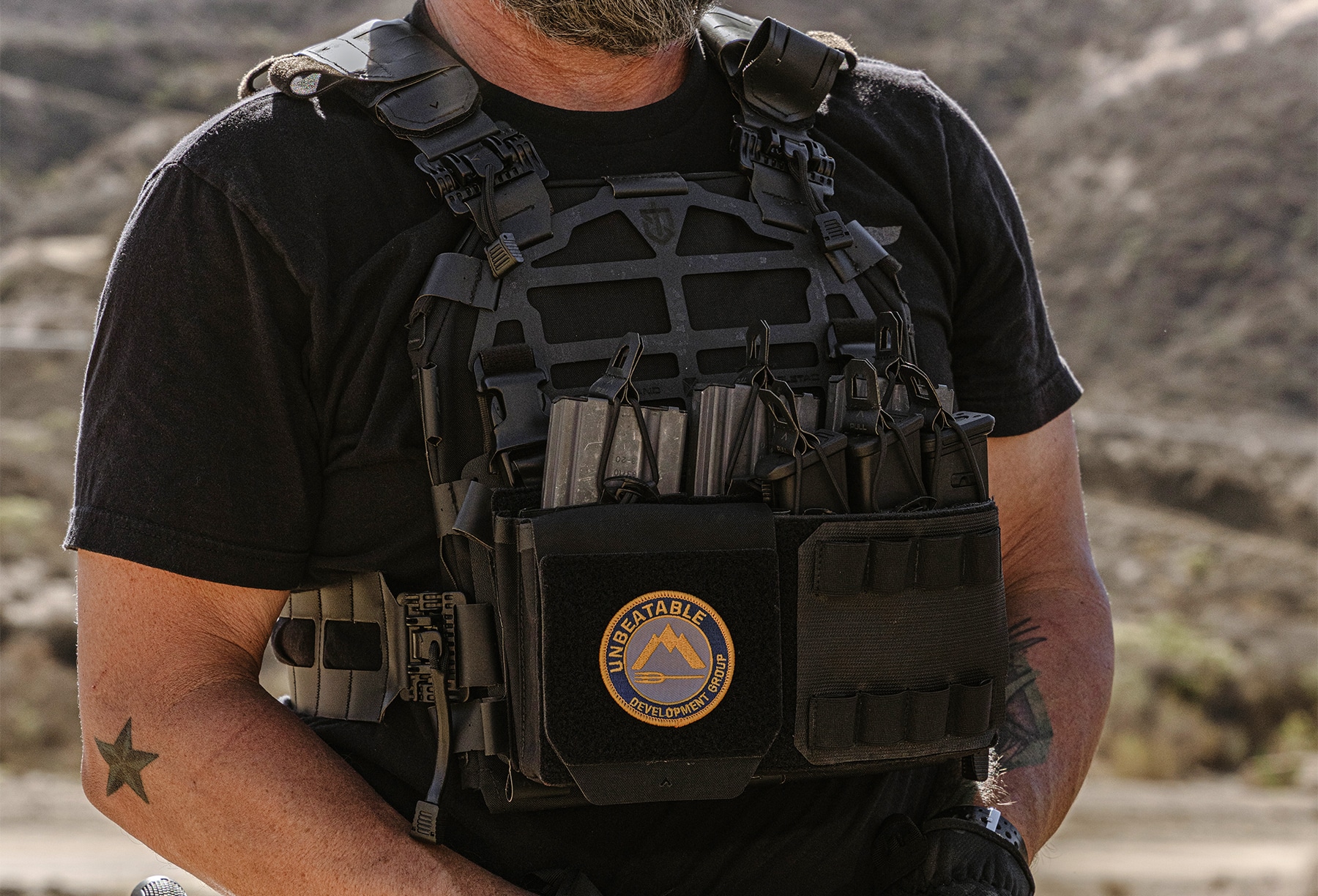 PROTECTION HIGHLIGHTS
Up to 11×14″
Accommodates plates from 10×12" to 11×14" to fit a wider variety of wearers and common hard or soft armor sizes.
Frame
Made out of aesthetically pleasing and at the same time durable KYDEX material.
Molle
Skeletac Plate Carrier is designed in MOLLE standard, all type of pouches can be attached to the front and back of the frame.
Lightweight
Solid, Lightweight, and Agile Plate Carrier.
Where Form Meets Function
Ultra lightweight Frame
Skeletac Plate Carrier is the epitome of minimalist design fused with unmatched functionality. Crafted with meticulous care and precision, this carrier is constructed from the remarkable 2.4mm KYDEX material, known for its durability and strength. The laser-cut and heat-shaped composite material strikes the perfect balance between stiffness and torsion flexibility, allowing the carrier to seamlessly move and twist with your body's motion, ensuring uninhibited agility.
The Skeletac Plate Carrier distinguishes itself with its minimalist and lightweight design, providing a balance between protection, mobility, and breathability. Crafted with precision, this plate carrier is constructed using high-quality materials that prioritize durability without sacrificing comfort. The name "Skeletac" alludes to its skeletal framework design, which significantly reduces weight while maintaining structural integrity. This design philosophy ensures that the wearer can navigate through various scenarios with ease, whether it's for military operations, law enforcement duties, or outdoor adventures.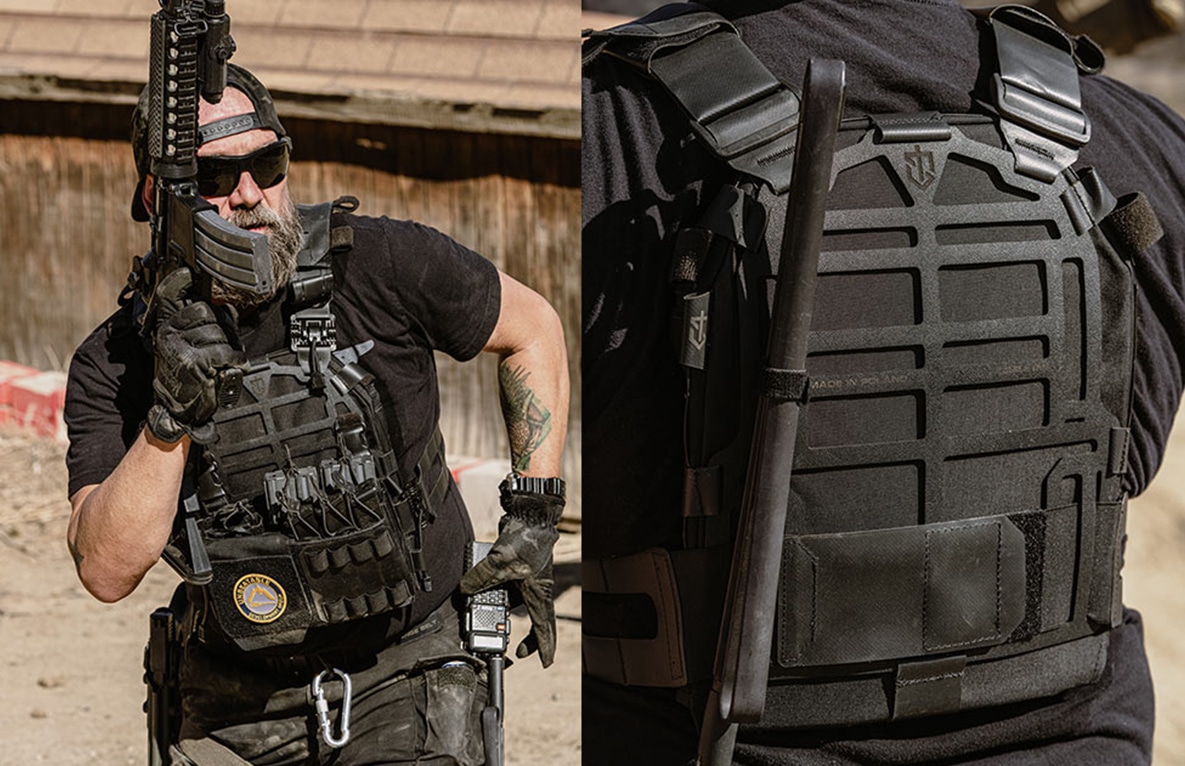 Load-carrying Equipment
Molle Compatible
Skeletac has redefined the meaning of personalization in tactical gear, holding the distinction of being the most customizable plate carrier setup available. By integrating the Modular Lightweight Load-carrying Equipment (MOLLE) system, users gain the power to configure their carrier precisely to their needs, whether for law enforcement duties, outdoor excursions, or specialized operations. The Skeletac Plate Carrier embodies the spirit of innovation, offering a canvas for adaptation and personalization, ultimately rewriting the rules of what tactical gear can achieve.
The clean lines and precision-cut patterns of the carrier not only enhance its operational efficiency but also create a visually striking and stylish appearance. Whether you're navigating high-stress tactical scenarios or pursuing outdoor adventures, the Skeletac Plate Carrier stands as a testament to the harmony of form and function, offering an unparalleled fusion of minimalist elegance and exceptional performance.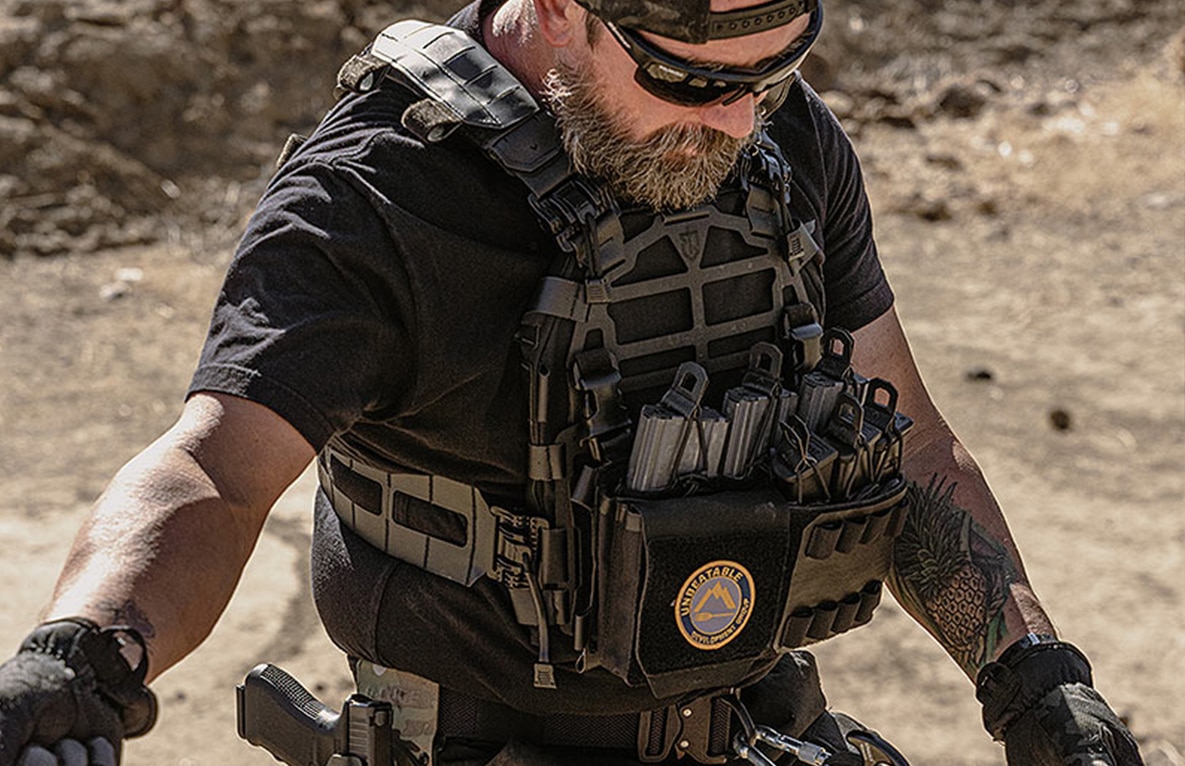 Adjustability and modular design
Vast array of Accessories
The Skeletac Plate Carrier stands out with its remarkable adjustability and modular design, guaranteeing a custom fit and tailored functionality for every wearer. The Modular Frame empowers you to meticulously configure a setup that aligns precisely with your unique needs. Designed with modularity as a central focus, this vest permits seamless addition or removal of accessories, a flexibility that empowers professionals to fine-tune the carrier according to their specific demands, ultimately enhancing its overall utility.
This adaptability extends to the realm of accessories, offering a vast array including specialized pouches, equipment mounts, and gear organizers. This diverse selection empowers you to optimize the carrier according to your exact purpose. More than a mere gear piece, the Skeletac Plate Carrier embodies an evolving system, poised to grow in sync with your evolving requirements.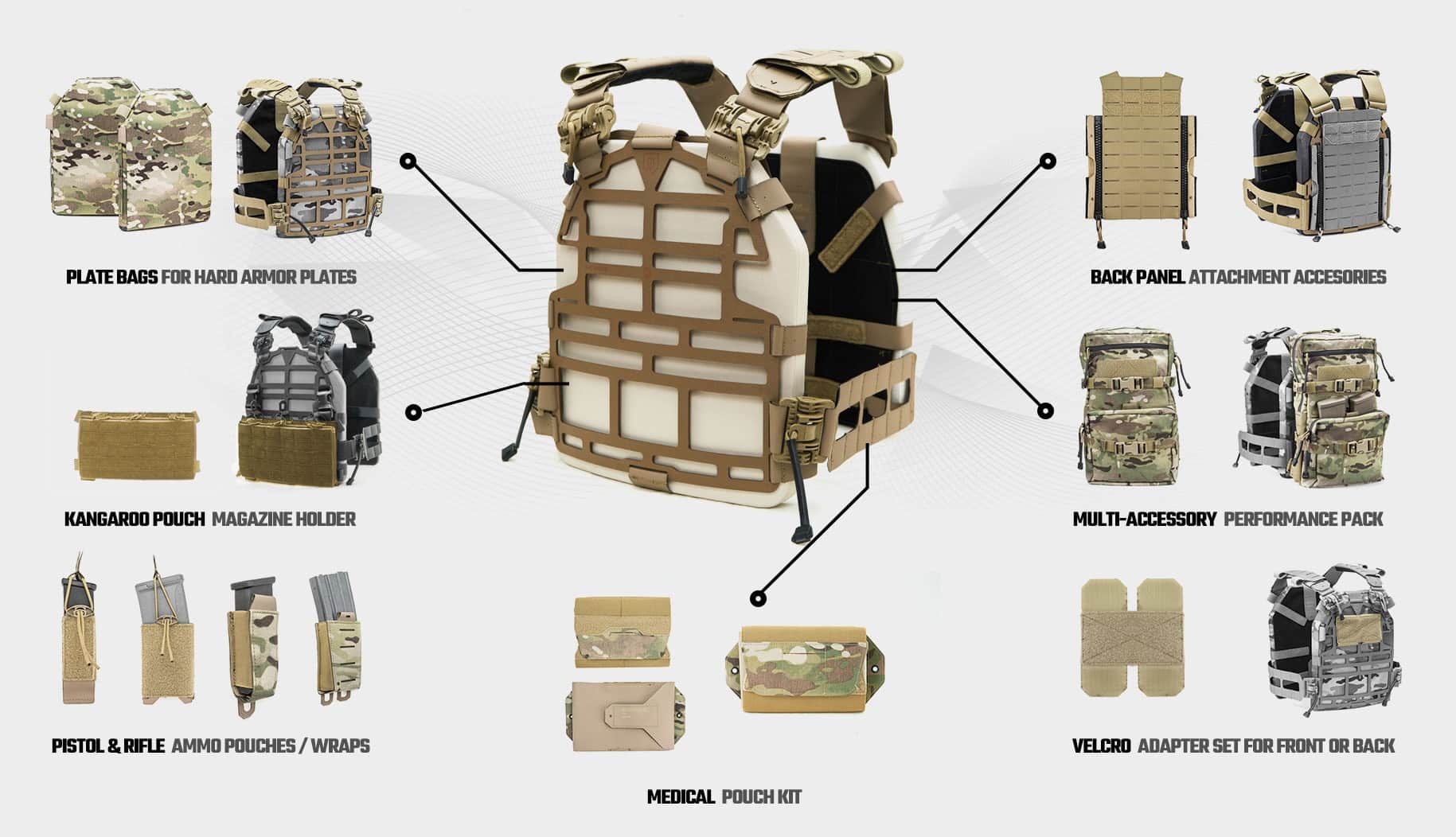 Accommodates Large Plates
Up to 11×14″
Versatility is a defining trait of the Skeletac Plate Carrier, exemplified by its accommodating nature. Designed to cater to varying protection needs, this carrier can seamlessly house armor plates ranging from 10×12 inches to 11×14 inches in size.  Whether it's for law enforcement, military missions, or outdoor pursuits, the Skeletac Plate Carrier's ability to host a range of armor sizes provides wearers with the freedom to choose the protection level that aligns perfectly with their mission parameters.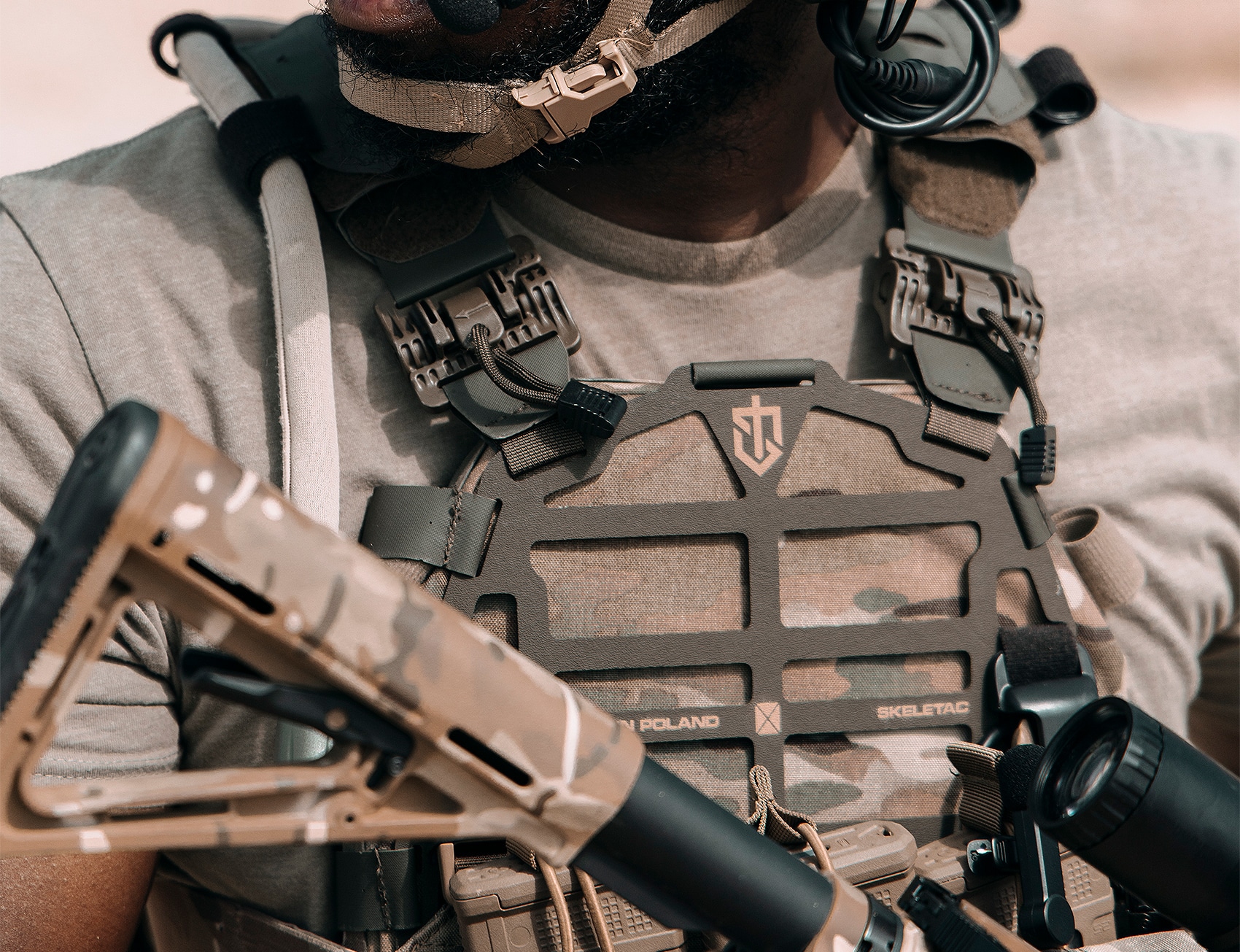 FAQ
1.
What is the difference between the SKELETEC and a normal plate carrier?
Our skeletec is a new lightweight design, with a focus on modularity and weight reduction.
2.
What size plates will this hold?
Unlike our Quad-release, our SKELETEC plate carrier can hold both 10×12 and 11×14 size plates.
3.
Where is Skeletac made?
Skeletac is Made in Europe. Designed and produced by Husar and Specops, Skeletac Plate Carrier came a long way from Poland to be available in the US through Ace Link Armor distribution network.
4.
Are their specific attachments for this carrier? Or can I use whatever I currently have?
Due to its modular design, any sort of ammo pouches or bags that you currently have can be clipped on and configured in a way that is optimal for you. With that being said, we also offer specialized attachments for our SKELETEC such as plate bags, ammo pouches, medical pouches, and more.
5.
Does this have quick release tabs like your Quad Release?
Yes! Our SKELETEC makes use of the same Italian quick release buckles that our standard quad-release uses.