Backpack Armor 9×17″ Panel
$145.00
Insert that fits
NIJ Level IIIA Insert To Fit Any Backpack Available On The Market.
IIIA Protection level
Tested To Defeat Level IIIA rounds: .357 SIG And .44 Magnum
Lightweight
Ultra thin And Ultralight Construction
MADE IN USA
Body Armor proudly MADE IN USA
Bulletproof Soft Armor Backpack Insert
BACKPACK SOFT ARMOR PANELS 9×17″
LEVEL IIIA PROTECTION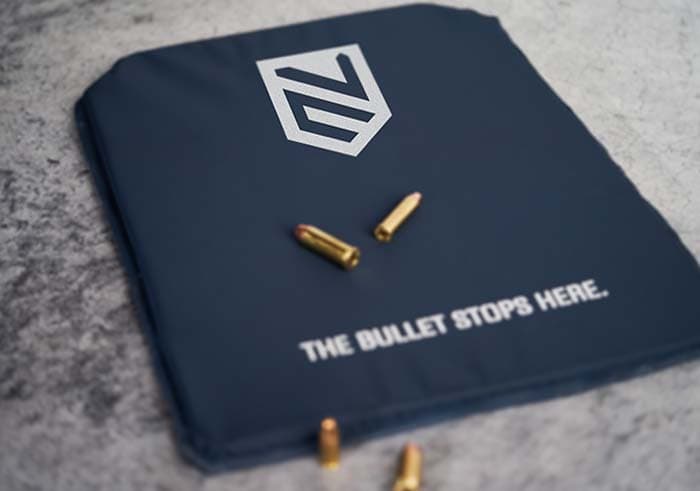 OVERVIEW
SOFT ARMOR TRAUMA PLATE
Ace Link Armor Soft Panel provides protection against all handgun threats as described in NIJ.06 Standard Level IIIA. Fits all currently available backpacks designed to carry 09×17″ sized ballistic panels.
Tested in NTS Chesapeake to defeat threats as per NIJ.06 level IIIA
Ultra light construction of Uni Directional Aramid layers.
Nylon TPU cover to keep the moisture out.
Ultrasonic sealed.
TSA Approved.
Fits Quadrelease and Skeletac Plate Carriers.
MANUFACTURED IN THE USA.
DURABLE MATERIAL
High grade Polyethylene used to press our plates allows for ultralight construction at the same time provides low back face deformation.
STOPS ALL HANDGUN THREATS
Stops 22LR, Shotgun, .25,.32, .380, 38 special, 9mm Luger or NATO,.40 Su0026amp;W, .357 Magnum, .357 Sig, .45 Gap, .45 ACP, 10mm, .44 Magnum, as well as foreign made weapons such as 9mm Makarov.
SUPER LIGHTWEIGHT CONSTRUCTION
Lightweight and pliable, can be bent to fit into packs or carriers.
warranty
Our plates come with 8 years full warranty.
TESTING
ULTRALIGHT AND SUPER-THIN PROTECTION
For those looking to save weight, Level IIIA Aramid Panels are one of the lightest ballistic panels on today's market. These high strength but low density materials make them perfect for fitting within tactical gear or undercover operations where every gram counts!
STOPPING POWER AGAINST HANDGUN THREATS
The NIJ.06 IIIA structure will stop multiple rounds of various handgun threats, ensuring that you are protected from risk no matter what situation arises. There is no compromises when it comes to your safety!
Bulletproof backpack inserts
School shootings are always heartbreaking, and unfortunately, there have been 27 school shootings in 2022, and it is only June. With such incidents on the rise, many parents are looking to get bulletproof backpacks for their children. Adding bulletproof inserts to your backpack is also an excellent way to wear armor inconspicuously in public.
So, in this post, we will tell you some important things you need to know about body armor and bulletproof inserts.
1
Is level 3 or level 4 armor better?
Well, you can't say either level of body armor is better than the other because their use and effectiveness depend on several factors. Both level 3 and level 4 body armor is designed to stop rifle calibers. Level 3 body armor is rated to stop rifle rounds up to .308 Winchester, or 7.62 NATO. It can also stop most intermediate rifle calibers like 5.56 NATO and 7.62x39mm or 5.45x39mm AK rounds.
On the other hand, Level 4 armor offers much higher protection against bigger calibers. Level 4 armor can stop 30.06  armor piercing rounds. It also offers better protection against .30 caliber machine gun rounds, and some sniper rounds like the 7.62x54r caliber.
So, in terms of simple protection level 4 is better, however, it is also considerably heavier than level 3, and can make it difficult for the wearer to move quickly. Moreover, a level 4 plate, which usually has a ceramic strike face, does not offer good multiple-hit ballistic protection, whereas a PE or steel level 3 plate can take multiple rounds much more reliably.
So, the level of armor that suits your ballistic protection requirement, whether it is level 3 or 4 is the better option for you.
2
What is Level 3A armor?
Level 3A armor is a kind of soft body armor that is made from tightly woven Aramid fibers like Kevlar. It is used to make bulletproof vests, and as an armor insert in bulletproof backpacks. As far as protection is concerned, level 3A armor is rated on only stop pistol calibers and can't offer any reliable protection as rifle calibers.
On the plus side, level 3A body armor is very lightweight. It is soft, pliable, and more comfortable to wear as compared to hard armor plates. In fact, most on-duty police officers in the US wear concealable level 3A body armor vests under their uniforms for inconspicuous protection.
3
What is the strongest level of body armor?
In terms of protection, the strongest level of ballistic armor is NIJ level 4. This is the highest level of ballistic protection available for people, and a level 4 armor plate is rated to stop up to 30.06 armor-piercing rounds. It can stop most common rifle calibers, however, it is also usually the heaviest.
Level 4 ballistic armor plates are usually made from ceramics, or make the use of two layers, a ceramic strike face, and a steel armor plate.
4
What is level IIIA?
In the US, the National Institute of Justice (NIJ) is responsible for setting the standards for body armor. Level IIIA is a protection level determined by the NIJ, which states that any armor with a level IIIA rating needs to be able to stop most popular pistol calibers up to .44 magnum, and .357 Sig.
Level IIIA body armor inserts are soft and pliable. They are made from Kevlar and are used in ballistic vests and other protective gear like ballistic helmets, masks, and armor pads. If you buy a bulletproof backpack, it will also most likely have a level IIIA armor insert. Level IIIA armor is usually used in bulletproof backpacks because it is lightweight and easier for kids to carry. However, there is the drawback that it does not protect against rifle calibers.
5
Do they make bulletproof backpacks?
Yes, there are several companies that are making bulletproof backpacks in the US, and after the recent devastating shooting in Uvalde, Texas, most bulletproof backpack companies are reporting a strong increase in their sales.
Bulletproof backpacks are available for everyone. You can get armor inserts for your child's backpack, or you can get a complete bulletproof backpack. If you are looking for the best bulletproof backpack on the market, the Rapid Deploy bulletproof backpack from Acelink armor.
Unlike most backpacks that use a bulletproof panel, the Rapid Deploy backpack has two pockets for backpack inserts, one for the front plate and one for the back. The backpack can be deployed instantly and turned into a complete plate carrier, which can carry both soft and hard armor plates.
So, if you want the best possible protection for your kid, or you want to have an inconspicuous form of armor on you, you should get the Acelink Armor Rapid Deploy bulletproof backpack.
6
Level 3 body armor is the only armor that protects your child from rifle rounds
In the recent Uvalde school shooting, the shooter used an AR-15 rifle, which used a .223 or 5.56x45mm caliber bullet. This is a very fast and powerful caliber that can easily defeat multiple layers of Level IIIA soft armor, which is used in most bulletproof backpacks.
Though pistols are a more common weapon in school shootings, since they are easier to conceal, it is better to have the extra protection and not need it. The AceLink Armor Rapid Deploy bulletproof backpack comes with two level IIIA backpack armor panels, however, you can also upgrade the ballistic inserts to level III or level III+ plates.
If you are worried about the weight of the bulletproof backpack, you can use PE armor plates instead of steel or ceramic plates. PE plates are much lighter and they offer multiple-round protection against most intermediate rifle calibers as well.
7
How do bulletproof backpacks work?
Bulletproof backpacks work like any other form of armor. They have a bulletproof backpack insert in them, which can catch incoming bullets and protect the wearer from getting shot. Some people have a concern that bullet proof backpacks only have an insert in the back, which still leaves them exposed to gunfire from the front.
Well, in normal situations, front armor plates are given more importance because people who wear armor, like police officers or military personnel are expected to counter a shooter's attack, and meet them head-on. On the other hand, in the case of an active shooter situation, school kids are going to be running away from the shooter, which means that back armor is way more important.
However, there are some options in the market, like the aforementioned Rapid Deploy backpack from Acelink Armor. This backpack can be deployed into a complete tactical plate carrier with front and back plates. Bulletproof backpacks cost more than regular backpacks, but the protection they provide is priceless, and may just save your child's life.