CIBV Cataphract
Bulletproof Vest Level IIIA Flexcore
BULLETPROOF VEST ULTRA-LIGHT & FLEXIBLE
$1,120.00
or 4 interest-free payments of
$280
with
ⓘ
BALLISTIC PROTECTION
NIJ.06 LEVEL IIIA PROTECTION (HANDGUN THREATS UP TO .44 MAGNUM) INCLUDED.
FLEXCORE
SUPER FLEXIBLE & LIGHTWEIGHT PANELS
LOW PROFILE
MINIMALIST TACTICAL PLATE CARRIER
IRR Treatment
Infrared Reflective
Material
Durable Cordura 500D
ROC CONNECTORS
RAPID OPEN CONNECTOR (ROC) SYSTEM FOR QUICK RELEASE IN EMERGENCIES
PLACARD
PLACARD SYSTEM COMPATIBLE WITH SWIFT BUCKLES
SIZE
ONE-SIZE FITS ALL WITH ELASTIC CUMMERBUND – FROM S TO 2XL
360 DEGREE PROTECTION
OVERLAPPING SIDE PANELS FOR 360-DEGREE PROTECTION, AND REDUCED BULK.
QUICK CUMMERBUND ADJUSTMENT
LASERCUT FLAP CUMMERBUND SYSTEM IN THE BACK FOR QUICK AND EASY ADJUSTMENT
MOLDED PADDING
MOLDED PADDING FOR COMFORT AND AIR CIRCULATION.
Templars Gear CIBV FLEXCORE
Integrated Ballistic Vest
The Templars Gear CIBV Cataphract Integrated Ballistic Vest is a high-quality, versatile bulletproof vest / plate carrier hybrid that is perfect for a variety of tactical applications. It is made of durable 500D Cordura with IRR treatment, making it resistant to wear and tear and non-reflective. The vest is also equipped with a Rapid Open Connector (ROC) buckle system, which allows for quick and easy removal in an emergency.
CIBV Cataphract can accommodate both hard armor plates (10×12″) and soft armor inserts, making it adaptable to a wide range of threats. It also features a laser-cut MOLLE platform for attaching additional pouches and accessories. The vest is further adjustable to fit a variety of body sizes and shapes.
CIBV Cataphract Integrated Ballistic Vest is a reliable and durable plate carrier that is perfect for law enforcement, military, and security professionals. It is also a good choice for civilians who need a high-quality protective vest.
Here are some additional benefits of the Templars Gear CIBV Cataphract Integrated Ballistic Vest:
Made of high-quality materials that are durable and long-lasting
Resistant to wear and tear and non-reflective
Equipped with a ROC buckle system for quick and easy removal
Accommodates both hard armor plates and soft armor inserts
Laser-cut MOLLE platform for attaching additional pouches and accessories
Adjustable to fit a variety of body sizes and shapes
Unleash your potential on the battlefield with the Templars Gear CIBV Cataphract. Built for professionals by professionals, this tactical vest will become an indispensable part of your loadout, offering unmatched durability, customization options, and all-day comfort.
The low-profile design makes it a good choice for covert operations or for use in environments where a high-profile plate carrier would be too conspicuous.
The modular front panel allows you to customize the carrier to your specific needs. You can add pouches, placards, or other accessories to the front panel to carry the gear you need.
The adjustable shoulders and cummerbund ensure a comfortable and secure fit.
CIBV Cataphract include:
Integrated side cummerbund with pockets for soft armor inserts
Collar/shoulders with integrated pockets for soft armor inserts
COMES WITH ARMOR:
Level of Protection: NIJ.06 IIIA (stops multiple rounds of .44 Magnum)
UP ARMOR :
Optional Level 4 – Up Armor : This vest can accommodate front and back 10×12″ hard armor plates, which can provide additional protection against high-velocity rifle rounds.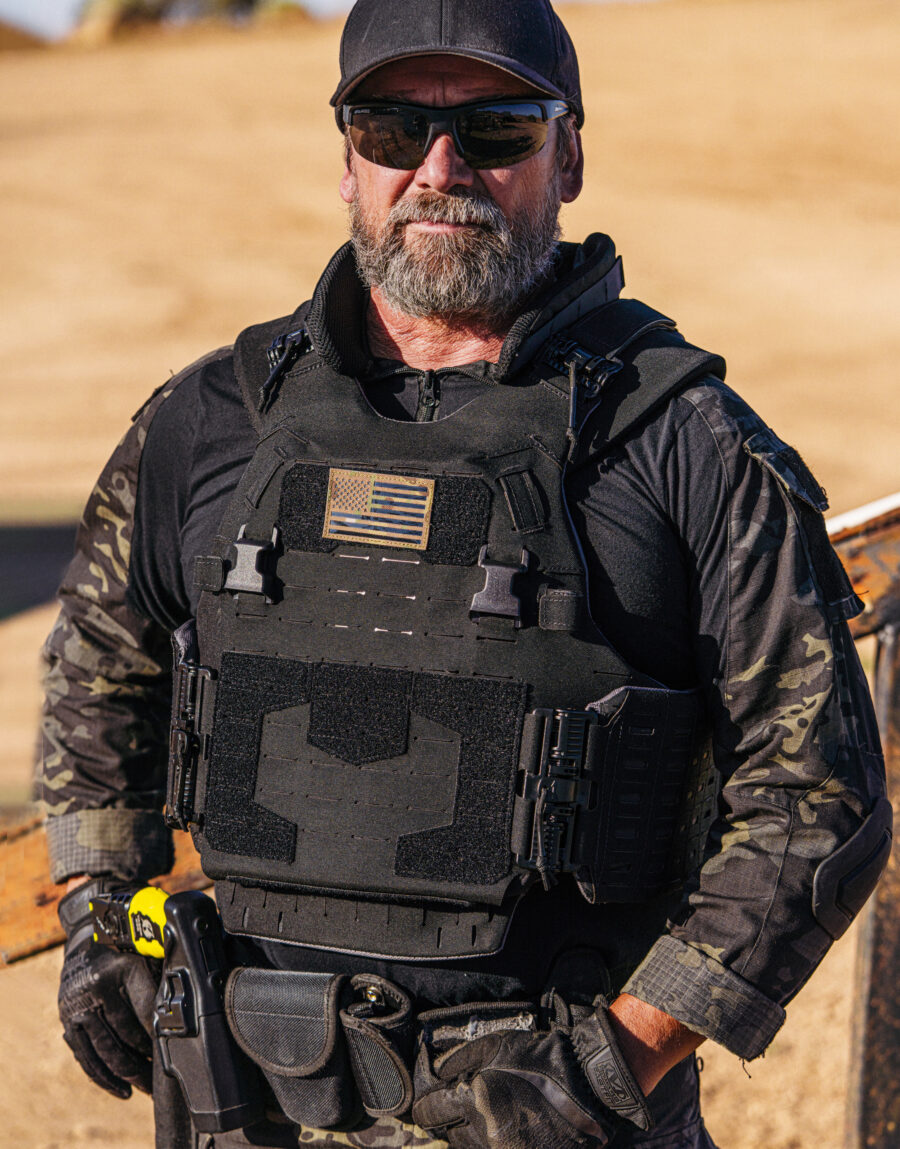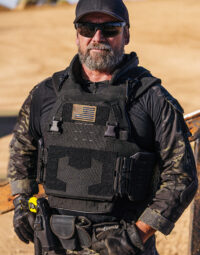 KEY FEATURES
Roc Buckles
Rapid Open Connector
ADDITIONAL INFO
Flexcore, featured in the Patrol LC Body Armor Vest, is a groundbreaking technology that redefines comfort and flexibility in protective gear. This innovative design incorporates a flexible and lightweight core, strategically engineered to conform to the wearer's body without compromising on ballistic protection. The Flexcore technology enhances mobility, allowing professionals in high-risk environments to move freely and perform their duties with ease. Whether it's emergency medical services personnel attending to critical situations, security guards securing public spaces, or law enforcement officers responding to threats, the Flexcore-equipped Patrol LC Body Armor Vest ensures an optimal balance between protection and agility. This revolutionary advancement empowers individuals to carry out their missions with confidence and efficiency, making it a game-changer in the realm of high-visibility body armor.
Additional info:
One Size Fits-All. From S to 2XL.
It can accommodates soft Ballistic Inserts Level IIIA Standard for Flexcore Panels
The cummerbund is adjustable for a custom fit.
The vest comes in a variety of colors, including black, coyote brown, Multicam and Navy Blue.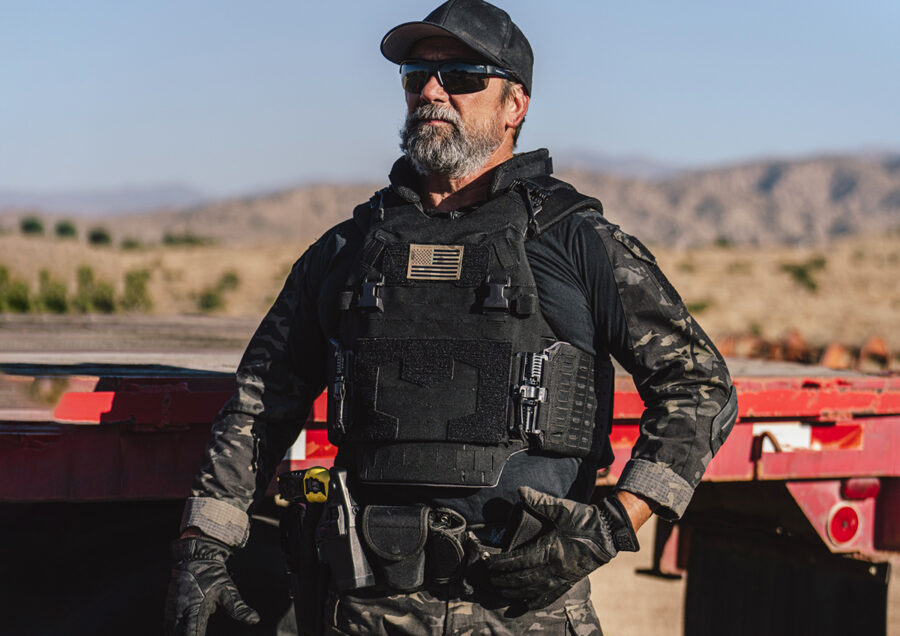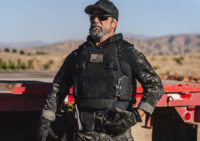 PRODUCT HIGHLIGHTS
360 DEGREE PROTECTION
Overlapping Soft Armor Panels For Extra Protection
Up Armor
Accommodates 10×12″ Plates
ONE SIZE FITS ALL
Elastic Cummerbund Adjustment System
Load Bearing
Laser-Cut – Molle Compatible
PRODUCT FEATURES
QUALITY MADE IN EU
Durable 500D Cordura laminate
Our KSAV Koursores carrier is made of durable 500D Cordura laminate. Cordura is a highly durable fabric that is resistant to wear, tear, and abrasion. It is also water-resistant and breathable. The 500D designation refers to the fabric's weight, which is measured in denier. A higher denier number indicates a heavier and more durable fabric.
IRR treatment
The Cordura laminate used in the KSAV Koursores carrier is also IRR treated. IRR stands for infrared reflective. IRR treatment reduces the fabric's visibility to infrared devices, such as night vision goggles. This is important for military and law enforcement personnel who need to remain undetected in low-light or nighttime environments.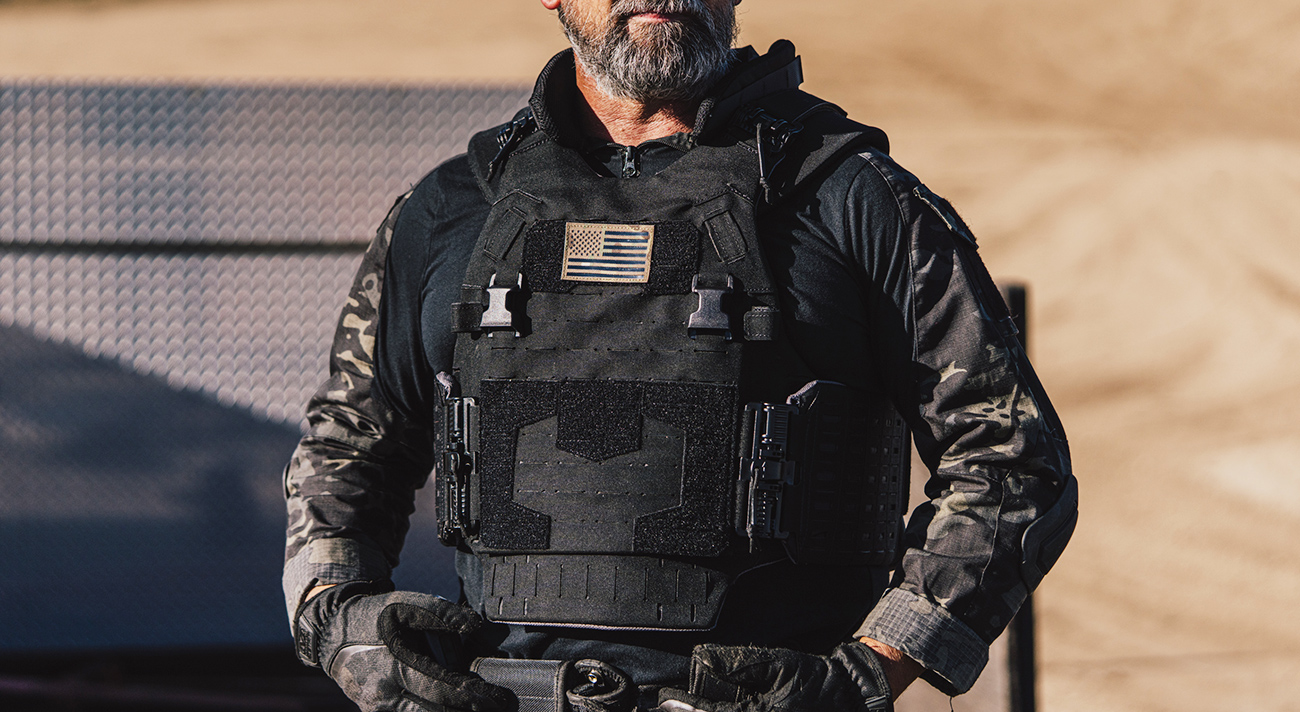 LEVEL 3A PROTECTION
Our NIJ IIIA ballistic panels are manufactured using multiple UD Aramid fabrics, allowing for lightweight yet robust protection that seamlessly integrates into our bulletproof vests. The exceptional Body Armor is engineered to provide defense against a wide spectrum of threats, including:
9mm FMJ RN
9mm Luger or NATO
.40 S&W
.357 Magnum
.357 Sig
.45 Gap
.44 Magnum
With this comprehensive level of protection, wearers can confidently confront diverse ballistic challenges, ensuring their safety and security in any high-risk situation.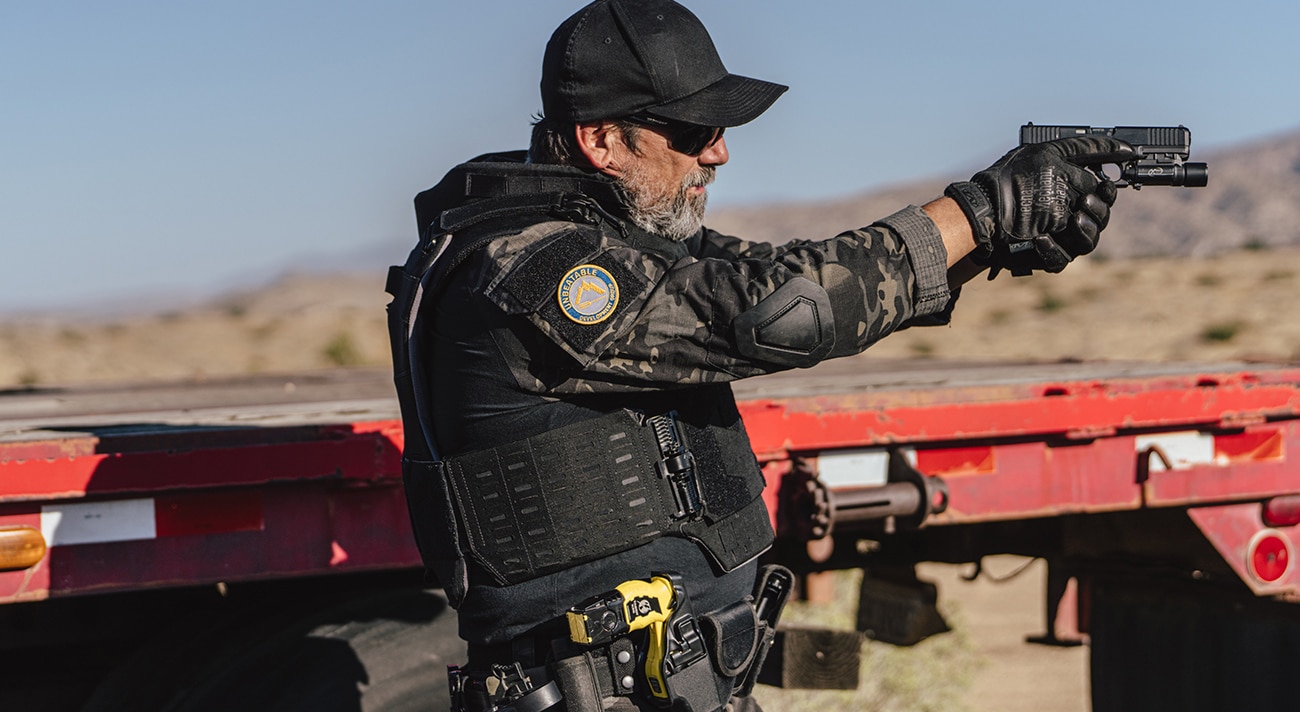 360 Degree Protection
Overlapping Side Panels for Increased Comfort, Reduced Bulk, and Improved Protection:  The overlapping side panels help to distribute the weight of the carrier more evenly across the wearer's chest and back, making it more comfortable to wear for extended periods of time. It also reduces pressure points on the wearer's body, making the carrier ideal for use in demanding environments.
In addition, the overlapping side panels help to reduce the overall bulk of the carrier. This is because the panels overlap slightly, rather than completely, which reduces the amount of excess material. This makes the carrier more streamlined and less restrictive, and also easier to conceal under clothing.
The overlap creates a double layer of protection in the areas where the panels meet, which provides additional protection against ballistic threat and prevent the ballistic inserts from shifting or moving out of place, even during strenuous activity.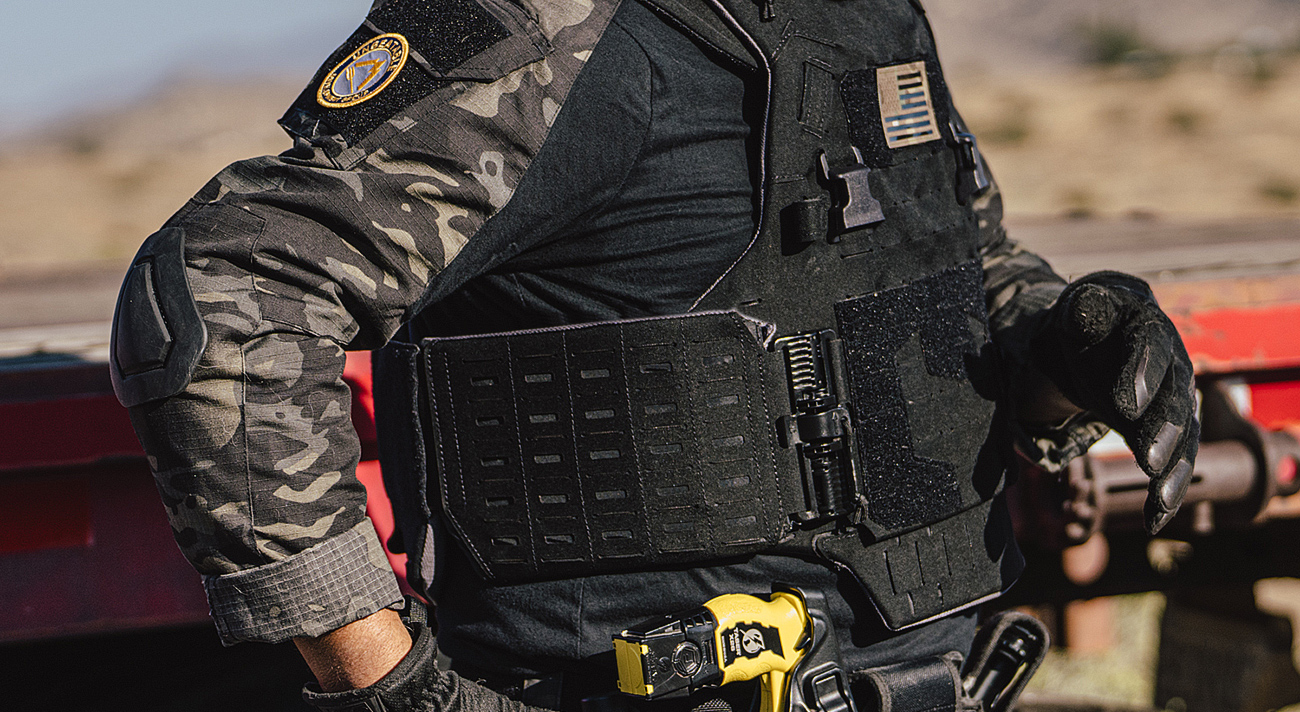 MOLDED PADDING
Koursores takes comfort to the next level with strategically placed molded padding on the front, back, and shoulders. Engineered for enhanced wearer comfort, this molded padding not only provides a cushioned feel but also plays a crucial role in promoting air circulation. The thoughtful design ensures that pressure points are minimized, allowing for extended wear without sacrificing comfort. The front and back padding contribute to an even distribution of weight, reducing strain on the wearer, while the shoulder padding adds an extra layer of support. This innovative feature not only elevates the overall comfort of the vest but also enhances air circulation, ensuring that the wearer remains cool and focused in demanding operational environments. Whether in extended missions or high-pressure situations, the molded padding on the Templar's Gear KSAV – Koursores stands as a testament to its commitment to ergonomic design and user well-being.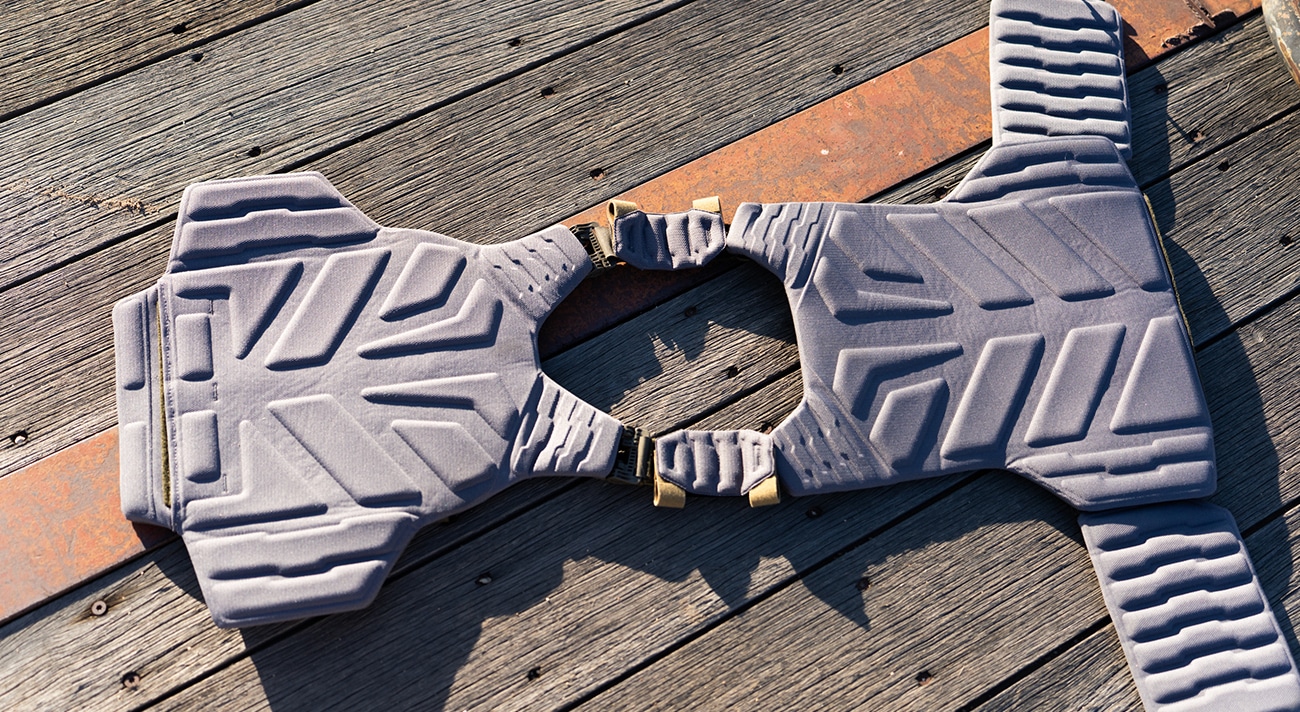 Flexcore Explained
Blend of high modulus woven and Uni-Directional aramid fabrics enhances the vest performance without adding stiffness or rigidity to the panel. With only 0.23" (5.8mm) thin – which is thinner than average smartphone – It's the most flexible and the thinnest panel you can get!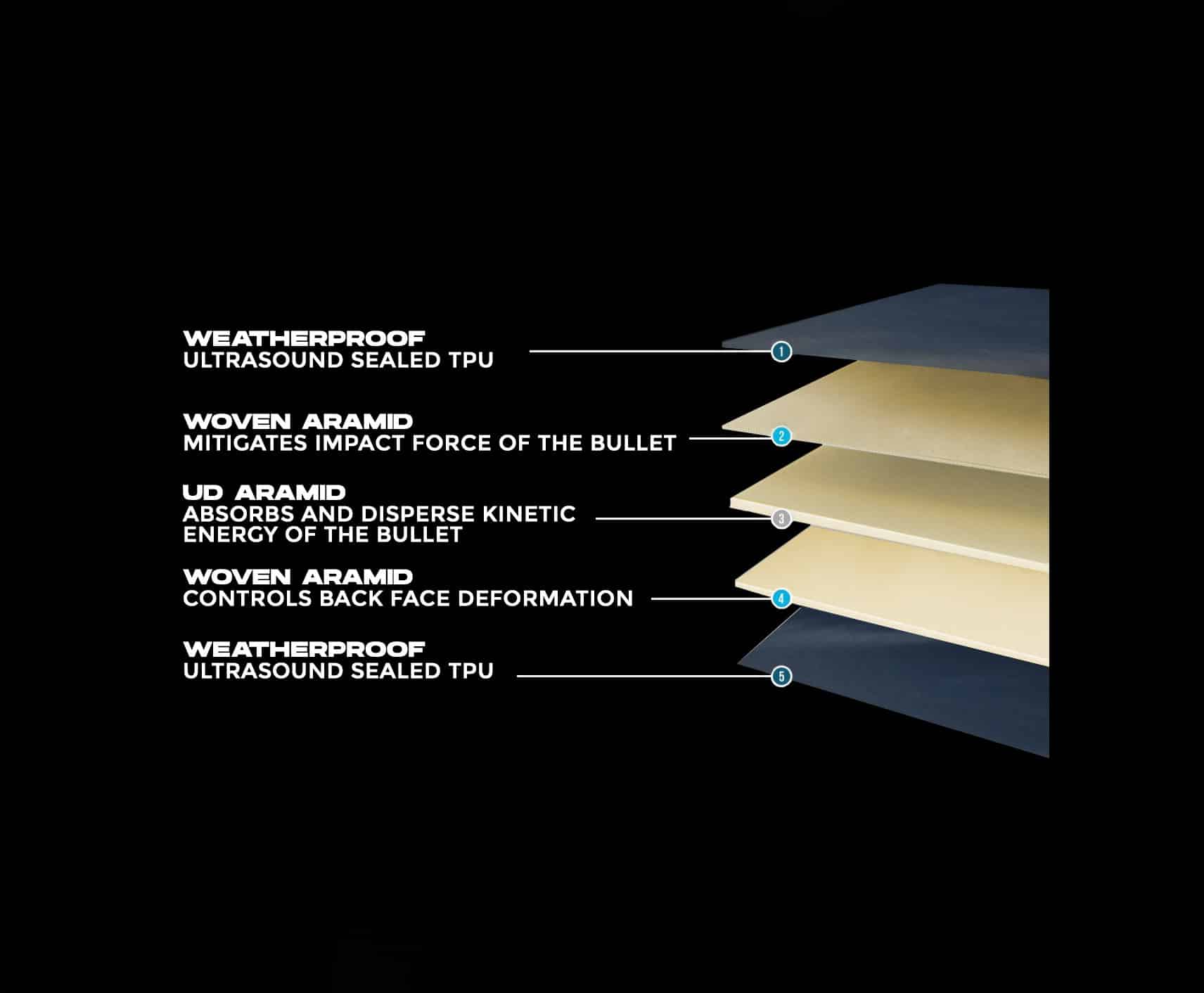 Forget you're wearing body armor
Aramid Flexcore™ is a Ace Link Armor proprietary technology utilizing what's the best in ballistic fabrics. The ultimate hybrid of the most cutting edge aramid materials makes Flexcore™ panels a pinnacle of body armor and ballistic performance.
Our body armor is proudly MADE IN USA.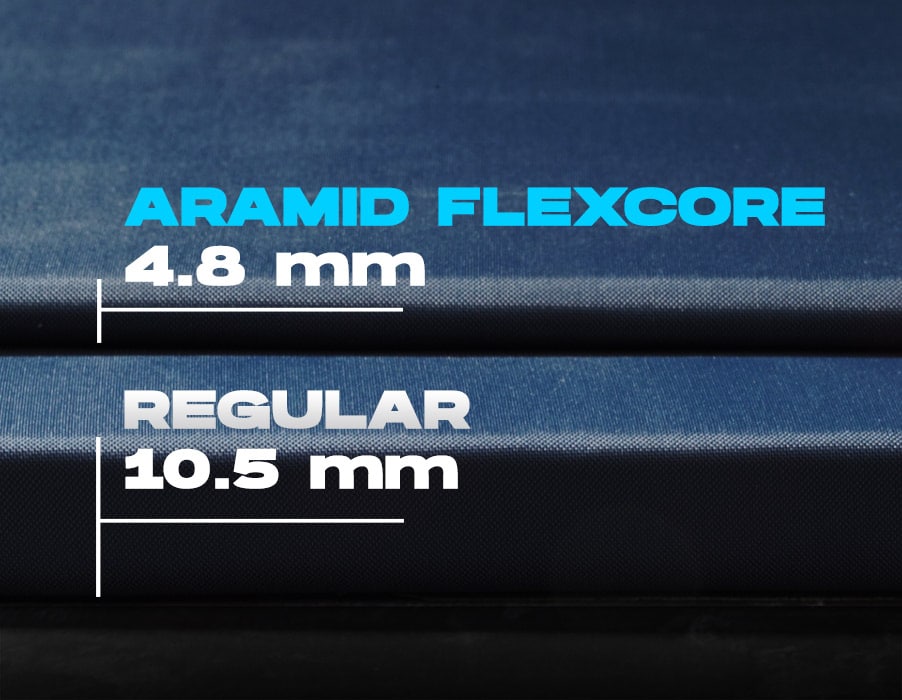 CUMMERBUND ADJUSTMENT
LASERCUT FLAP CUMMERBUND ADJUSTMENT is a unique and innovative cummerbund adjustment system that allows for quick, easy, and precise adjustment of the cummerbund. The system is accessed by lifting a laser-cut flap on the center bottom of the back panel. Once the flap is lifted, the user can easily adjust the cummerbund tension using a pair of hook-and-loop straps.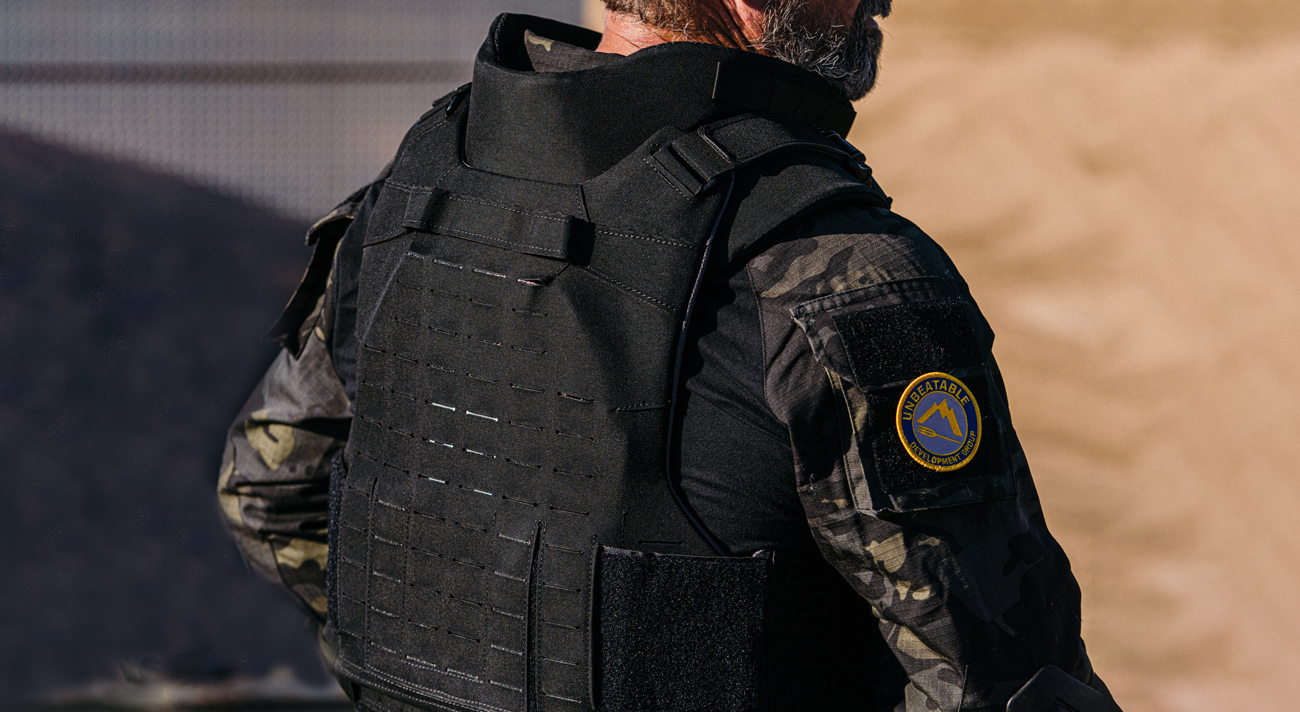 Rapid Open Connector system
RAPID OPEN CONNECTOR SYSTEM (ROC) buckles are a durable, versatile, and easy-to-use quick-release buckle that is commonly used on plate carriers and other tactical gear. ROC buckles allow for quick and silent removal of gear in an emergency, and are also corrosion-resistant and low profile. Templar's Gear ROC buckles are a trusted choice for military and law enforcement personnel around the world.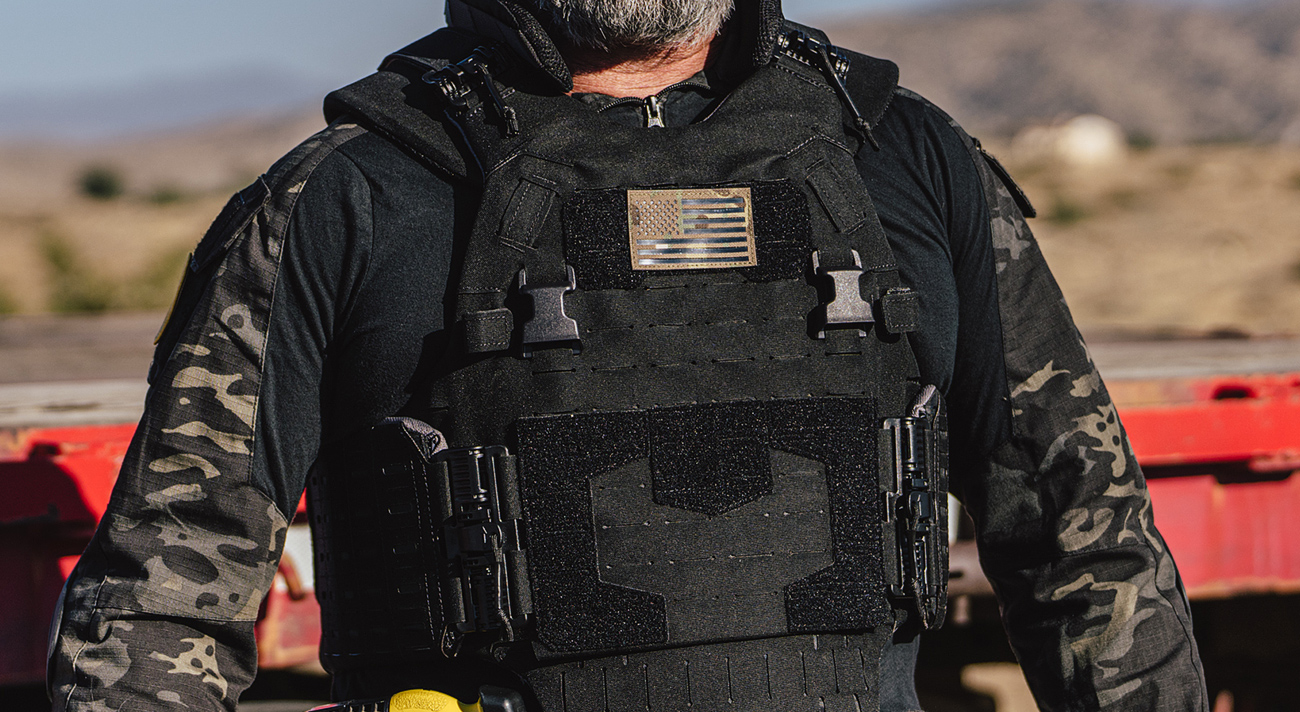 Integrated Collar / Neck Protection
The collar/shoulders with integrated pockets for soft armor inserts in the Templars Gear Cataphract is a critical component of the overall vest system. It provides protection for the neck and shoulders, two areas that are particularly vulnerable to injury in combat.
The collar/shoulders is attached to the rest of the Cataphract vest system using a combination of zippers and buckles. This makes it easy to put on and take off the vest, even when wearing other gear. The pockets are also easily accessible, allowing the user to quickly insert or remove soft armor inserts.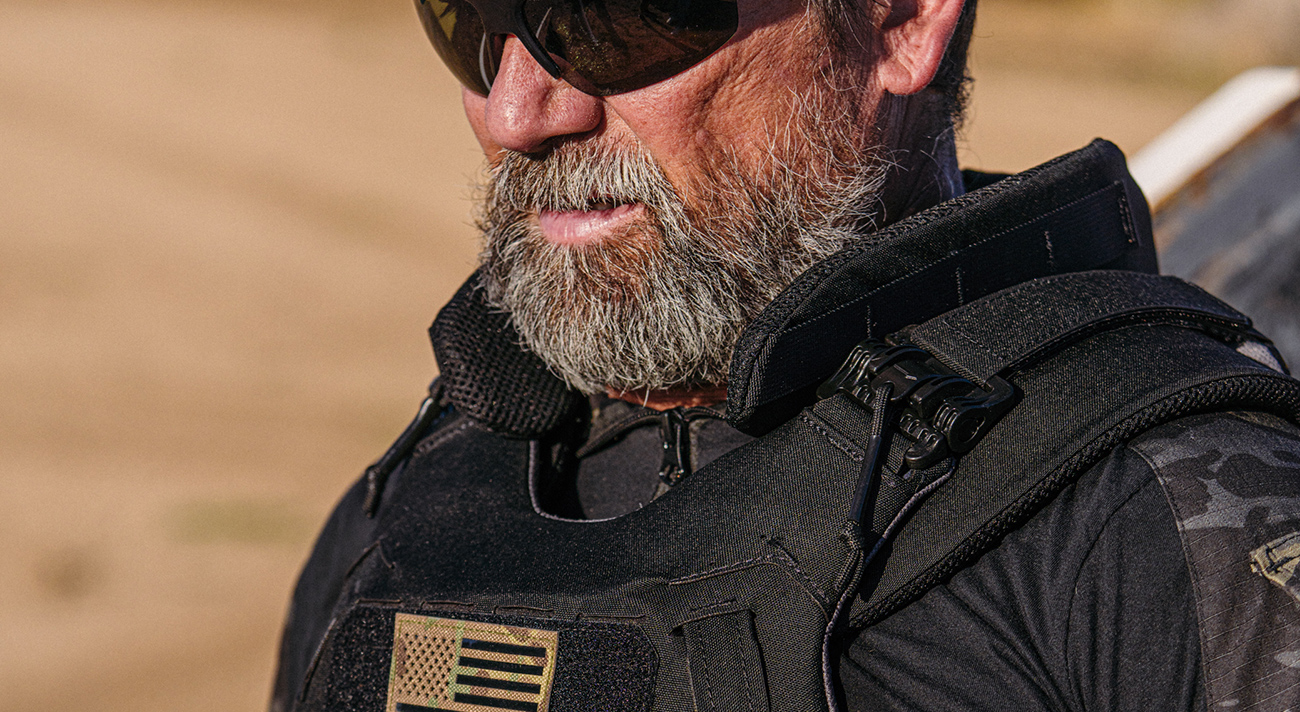 Level IV Up Armor
The Templars Gear Cataphract plate carrier is designed to accommodate 10×12″ hard armor plates on top of Level 3A soft body armor. This provides the user with a high level of ballistic protection, while still allowing for good mobility and comfort.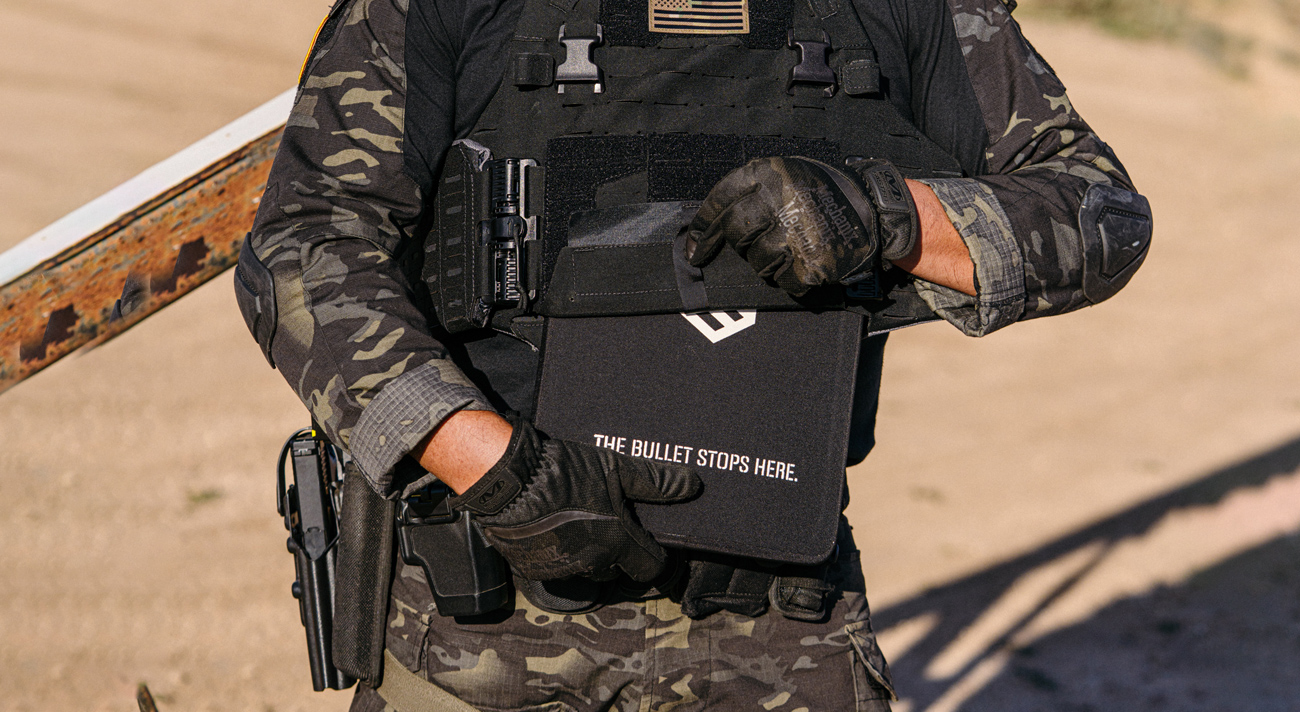 DURABLE

CORDURA WITH IRR TREATMENT

ROC CONNECTORS

QUICK RELEASE BUCKLES

LOW PROFILE

DESIGNED FOR SOFT ARMOR ONLY

MOLDED PADDING

FOR COMFORT AND AIR CIRCULATION

360 DEGREE PROTECTION

OVERLAPPING PANELS

Integrated Collar

Neck Protection