Concealable Level 3A Bulletproof Vest "Spectre" FLEXCORE
$499.00
material
Soft but durable Polycotton fabric with mesh fabric for air circulation
Level of protection
NIJ.06 IIIA Armor stops multiple rounds of handgun threats (up to .44 Mag)
Made
Body Armor MADE IN USA
Feature
Maximum Concealment and Optimal Protection Area Coverage
Consist
Available with Aramid Flexcore™ Panels – Ultralight, super thin and extremely flexible IIIA panels
SPECTRE CONCEALABLE
BULLETPROOF VEST
SPECTRE VEST WITH LEVEL IIIA ARAMID FLEXCORE PANELS
ULTRA-THIN AND FLEXIBLE LEVEL IIIA VEST STOPS ALL HANDGUN THREATS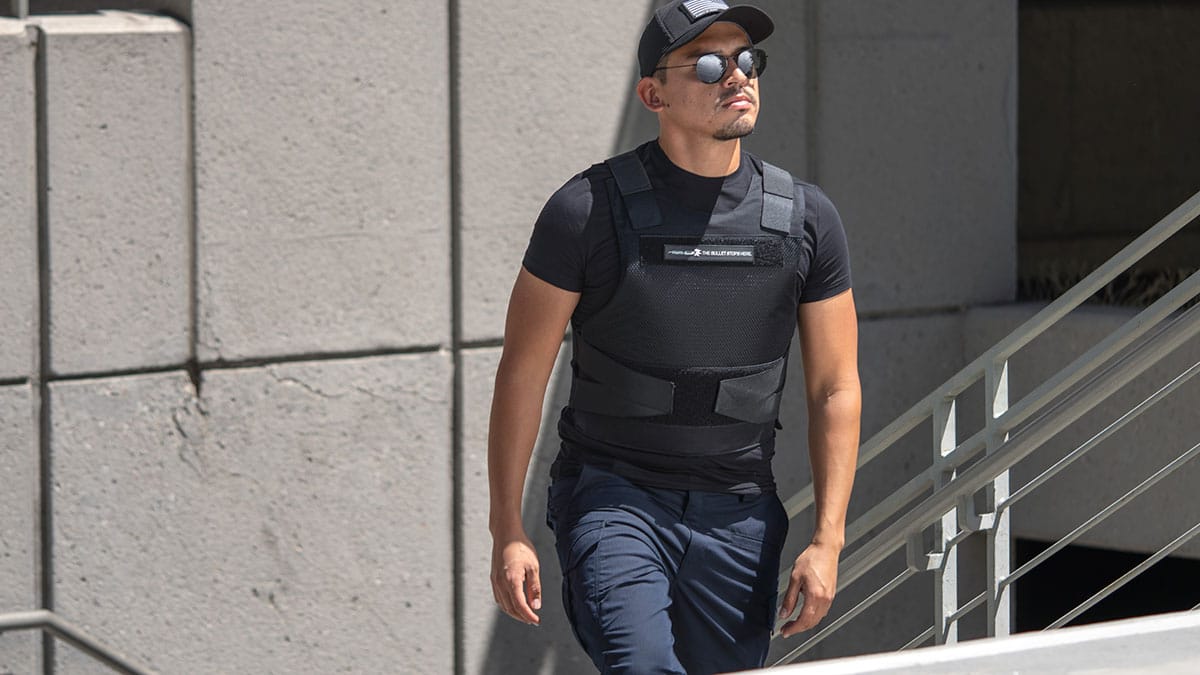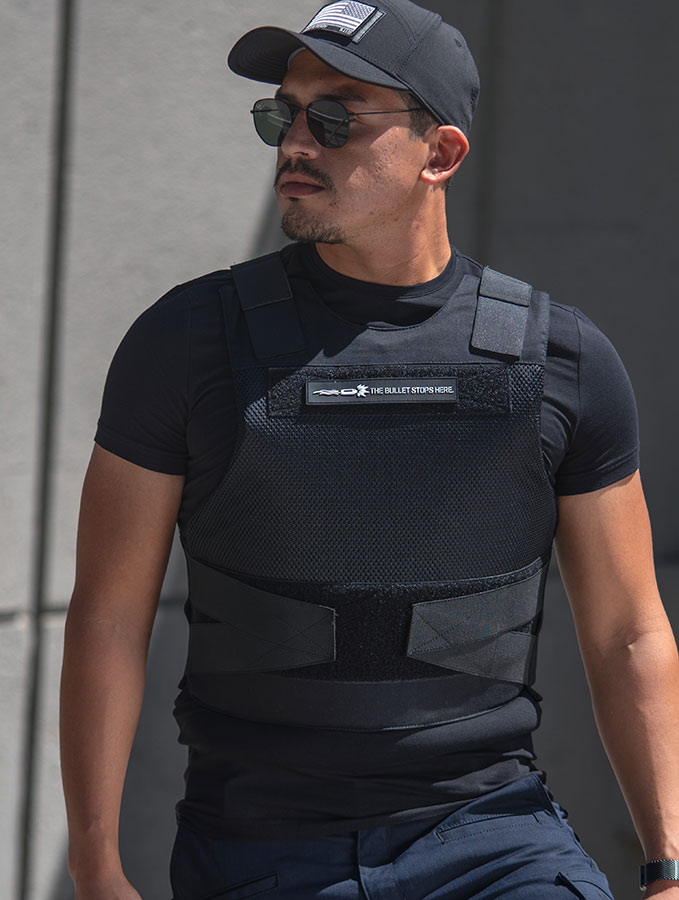 HIGHLIGHTS:
Bullet Proof Vest with Maximum Concealment and Optimal Protection Coverage.
Durable but soft polycotton fabric provides for the best carrier for this body armor.
Mesh construction provides breathability and increases air flow between the vest and your body.
Ergonomically Designed for Freedom of Movement
4 Points Full Adjustment by Waist and Shoulder Straps.
The Best Bullet Proof Vest In Hot And Humid Environments
COMES WITH ARMOR:
Aramid Flexcore™ – NIJ.06 IIIA – Ultralight, super-thin and extremely flexible Ballistic Panels
Features
BODY ARMOR MADE IN USA
Ace Link Armor Spectre Body Armor provides comprehensive ballistic protection to ensure the wearer is safe when he needs it the most. NIJ.06 IIIA structure will stop multiple rounds of various handgun threats (up to .44 magnum).
A cooling mesh which resists the growth of bacteria, mold, and mildew while keeps the wearer cool and comfortable by effective heat dissipation.
Spectre bulletproof vest has been designed to provide perfect and unnoticeable protection whether worn under clothing or over top.
LEVEL IIIA PROTECTION
STOPS MULTIPLE .44 MAGNUM ROUNDS
WEATHERPROOF COVER
ULTRA-FLEXIBLE PANEL
LIGHTWEIGHT AND FLEXIBLE PANELS
DEPENDABLE STRUCTURE
TESTED AT INDEPENDENT LABORATORY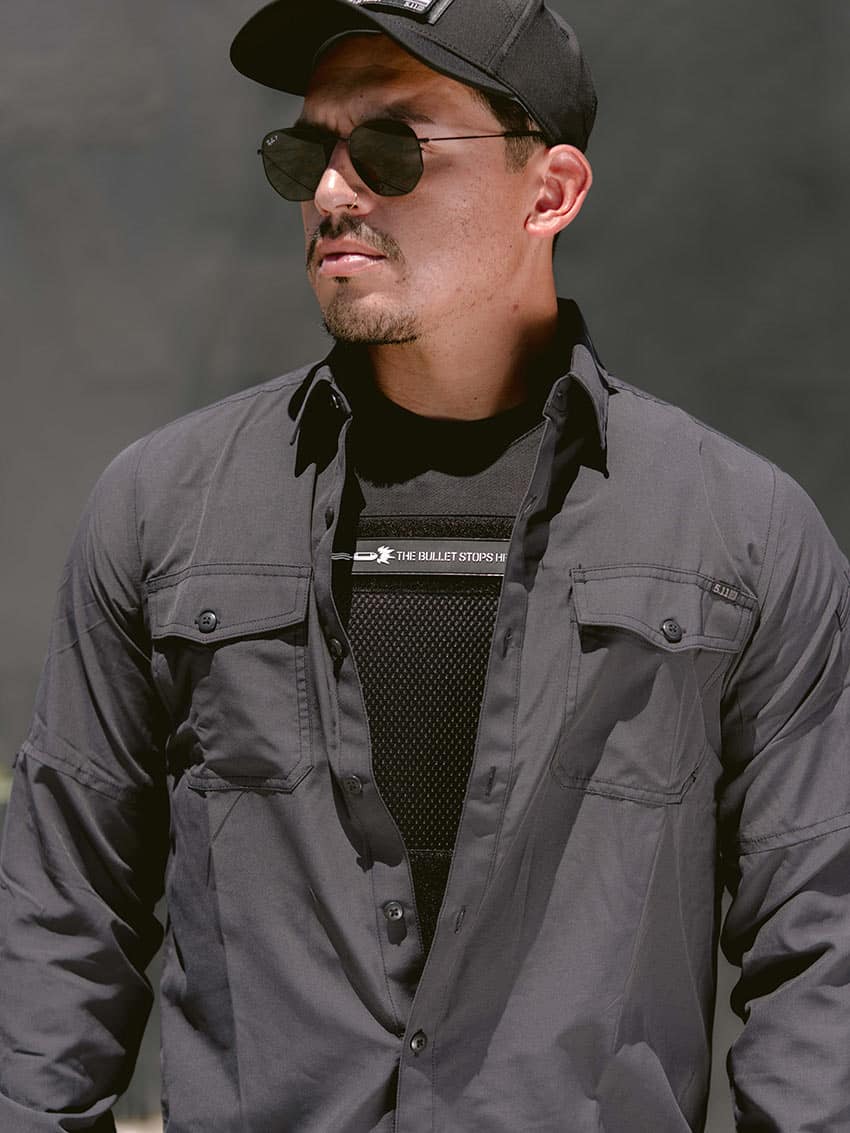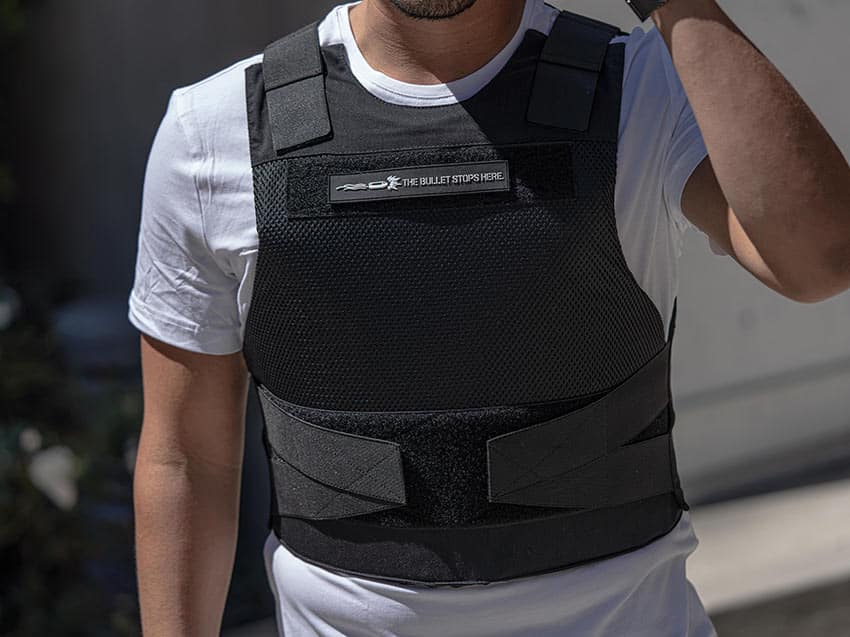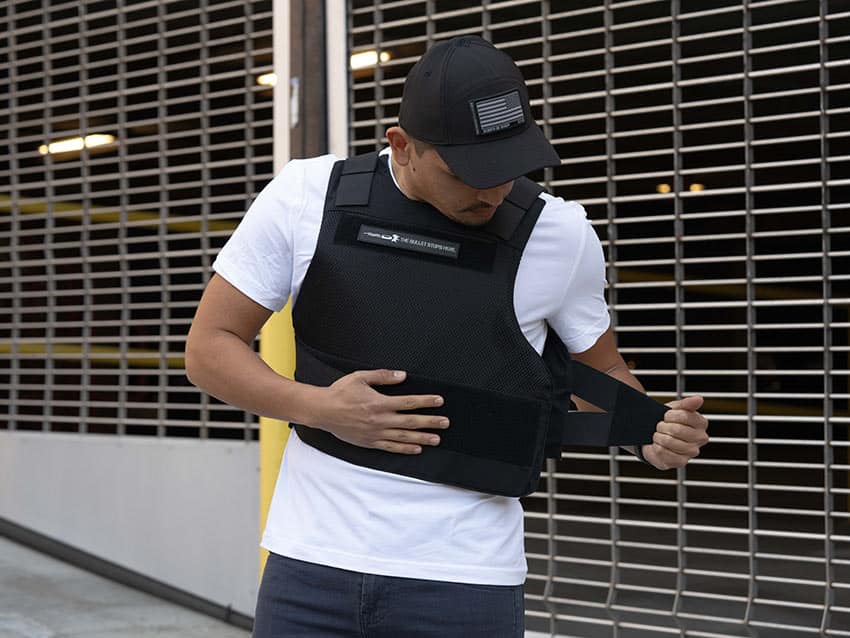 The most concealed body armor
FULL CONCEALMENT LEVEL IIIA BODY ARMOR
Spectre Concealable bullet proof Body Armor provides the best concealment when worn under your clothing but wears just as good as an overt carrier when in a training environment.

Worn beneath the uniform effectively protects vital body organs from penetrating bullet wounds to the chest and abdomen that would result in serious injury and possibly death.

The concealed body armor is a bullet-resistant body shield that offers superior protection under fire to bullet-resistant materials of similar weight and bulk. Because they are so thin, bulletproof vests can be easily worn beneath clothing without the bulge or rigidity.

Your bullet proof vests need to be bullet-resistant, comfortable, and concealable any by concealable we mean no one should be able to tell that the bulletproof vest is worn underneath your clothing.
Ultra-thin and flexible body armor
Aramid Flexcore™ is a Ace Link Armor proprietary technology utilizing what's the best in ballistic fabrics. The ultimate hybrid of the most cutting-edge aramid materials makes Flexcore™ panels a pinnacle of body armor and ballistic performance.

Weaving techniques ensure superior ballistic performance and protection. The fabric is lightweight, breathable and comfortable to wear. Aramid Flexcore™ offers a new level of bullet proof bullet resistant material in the industry

Blend of high modulus woven and Uni-Directional aramid fabrics enhance the performance of the bulletproof vest without adding stiffness or rigidity to the panel. With only 0.22" (5.8mm) thinned – which is thinner than an average smartphone – It's the most flexible and the thinnest panel law enforcement can get!

With Flexcore™ bulletproof vest, law enforcement officers can have the ability to wear concealable bulletproof protection that doesn't compromise comfortability and mobility. With Flexcore™ bulletproof panels, Ace Link Armor delivers a high-performance bullet-resistant product in the market today.

Our ballistic panels are proudly MADE IN THE USA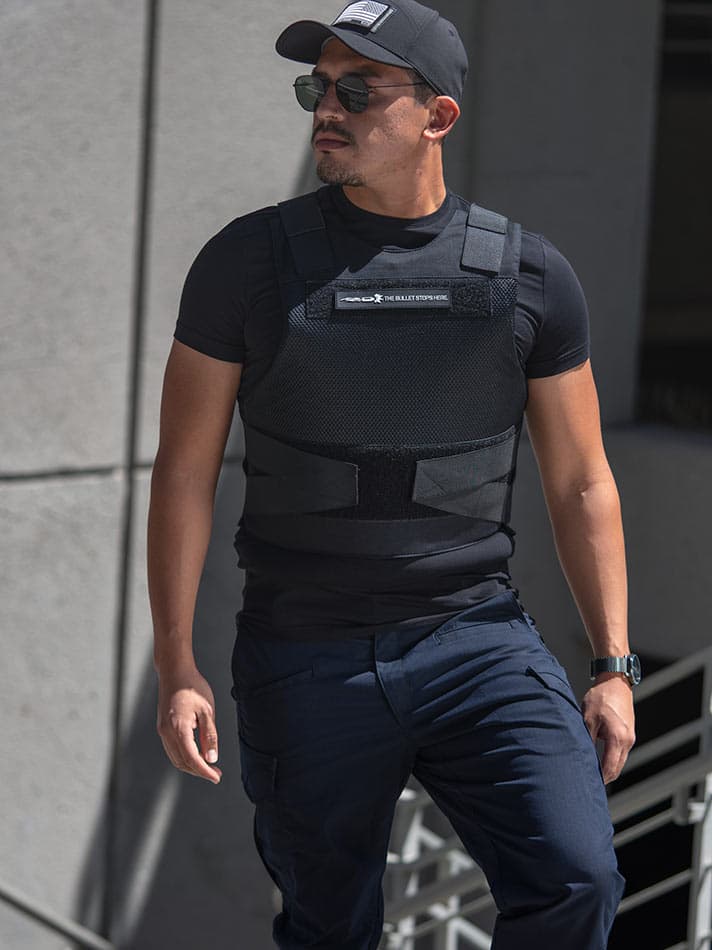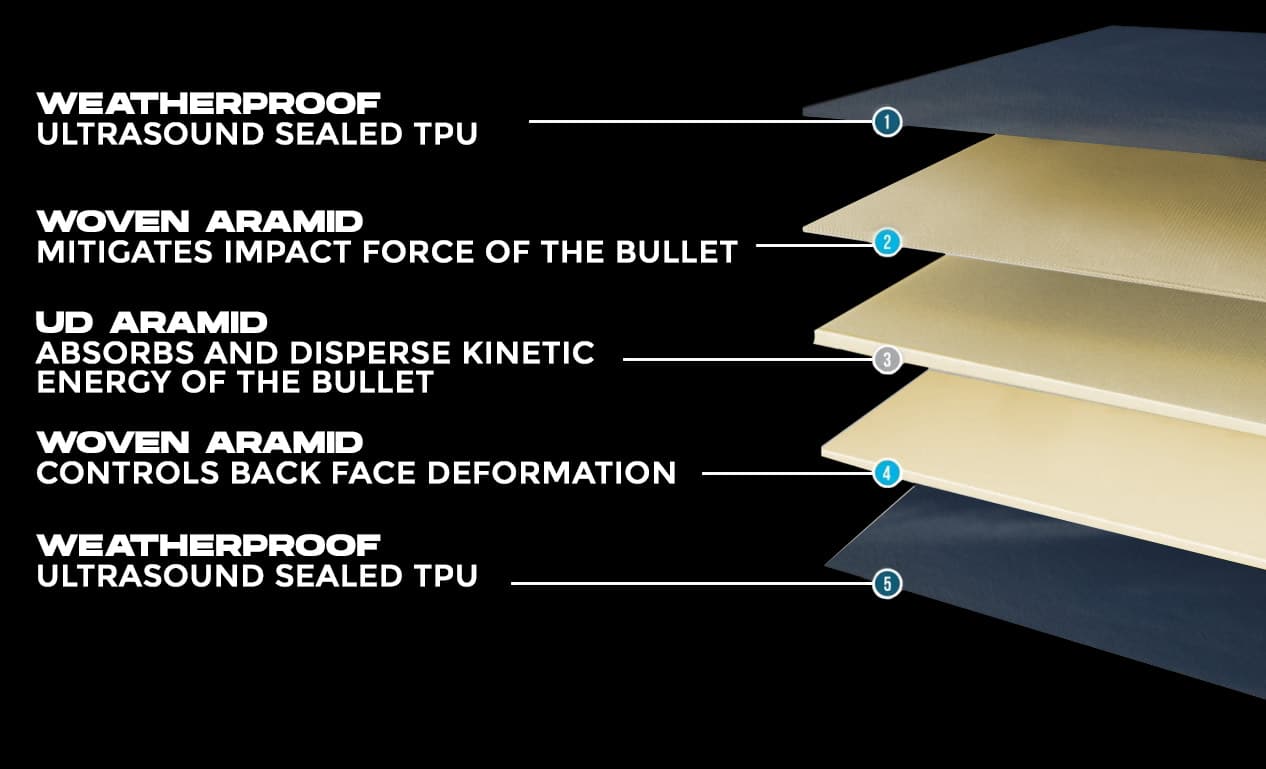 Maximum Flexibility
Flexcore™ panels are ideal for those who wear bulletproof vests or other body armor for long hours at work – super-thin panels (only 5.8mm or 0.22" which is thinner than an average smartphone!) will adapt snugly to your body contour and will make you forget you're wearing body armor.
Only 1.17 pounds per square foot of panel weight for level IIIA soft armor makes it one of the lightest ballistic vests solutions available on the market.
Aramid Panels provide very light and practically indestructible IIIA protection against the most common handgun threats. This ballistic vest was designed for You!
Revolutionary thinness
This Body Armor will stop multiple threats of level IIIA according to NIJ.06:
9mm FMJ RN,
9mm Luger or NATO,
.40 S&W,
.357 Magnum,
.357 Sig,
.45 Gap,
.44 Magnum
Unique hybrid construction of our ballistic vests utilizes the exceptional ability of woven fabrics to disperse impact energy and mitigate back face deformation while the panel core made of multiple UD fabric layers absorbs the kinetic energy of the strikes – round after round after round…
1
Is a level IIIA concealable body armor vest worth buying?
Absolutely, if able to afford and wear personal protective equipment to protect yourself- especially when others depend on you for their safety against a threat- having a stab-resistant vest with ballistic panels gives you protection against spike, stab, and slash threat, as well as bullet proof protection. Such a level of protection allows you peace of mind, knowing you have a means of survival when defending yourself and others when you need to; a low-cost investment considering the alternative when you need it but don't have it.
2
Can I wear a bulletproof vest in public-concealed or covert?
Yes, anyone who is legally able to wear body armor may do so, as long as the State Laws or Law Enforcement does not prohibit the wearing of bulletproof body armor in the State of residence.
3
Can a bulletproof vest stop a 7.62 bullet from an AK 47?
Only body armor and bulletproof vests with Level III or higher rated ballistics or armor inserts are able to stop a lead-core 7.62×39 caliber bullet from an AK-47 rifle. Sometimes this can be achieved with hard armor plates with level IIIA protection soft armor -with layers of UD in its core panels- as a backer in order to effectively stop these rifle rounds, the soft body armor behind a hard armor will stop the already slowed velocity of a bullet- once it has traveled inside the hard armor plate- these types of bulletproof vests containing both hard armor plate and soft armor are called ICW, or in-conjunction-with system.
4
Do Airport law enforcement officers or the Transportation Security Administration (TSA) allow civilians to travel with concealable soft body armor from airport to airport?
Yes, the Transportation Security Administration (TSA) allows for concealable bulletproof body armor to be carried-on or checked-in luggage through their bag or luggage checkpoints; although, the final decision to travel with soft armor is still upon the individual TSA security agent or Airport law enforcement officers on duty at the time.
TESTING
ULTRALIGHT AND SUPER-THIN PROTECTION
For those looking to save weight, Aramid Flexcore Panels are one of the lightest ballistic panels on today's market. These high strength but low density materials make them perfect for fitting within tactical gear or undercover operations where every gram counts!
STOPPING POWER AGAINST HANDGUN THREATS
The NIJ.06 IIIA structure will stop multiple rounds of various handgun threats, ensuring that you are protected from risk no matter what situation arises. There is no compromises when it comes to your safety!