BULLETPROOF VEST DESIGNED FOR PROTECTORS
HIGHLIGHTS:
Maximum Concealment and Optimal Protection Coverage.
Side Overlap for wrap-around 360º protection.
Durable but soft polycotton fabric.
Inner Mesh provides breathability and increases air flow between the vest and your body.
Ergonomical Design for Freedom of Movement
4 Points Full Adjustment by Waist and Shoulder Straps.
Trauma plate pocket integrated.
ARMOR OPTIONS:
Regular Aramid – NIJ.06 IIIA – Lightweight and Indestructible Ballistic Panels
Aramid Flexcore™ – NIJ.06 IIIA – Ultralight, super-thin and extremely flexible Ballistic Panels
PRODUCT WARRANTY:
8 years for soft armor ballistic components.
2 years for outer carrier.
concealable iiia body armor
Ace Link Armor Enhancer Bulletproof vest provides comprehensive ballistic protection to ensure the wearer is safe when he needs it the most. NIJ.06 IIIA structure will stop multiple rounds of various handgun threats (up to .44 magnum).
A cooling mesh which resists the growth of bacteria, mold, and mildew while keeps the wearer cool and comfortable by effective heat dissipation.
Enhancer bulletproof vest has been designed to provide wrap-around and unnoticeable ballistic protection whether worn under clothing or over top.
Enhancer Concealable Body Armor provides best concealment when worn under your clothing but works just as good when worn as overt carrier. Enhancer body armor outperforms other bulletproof vests in stopping handgun rounds and it's ideal for your work and career.
Enhancer bulletproof vest is available also in Dual Protection configuration: Bulletproof and anti-stab stopping .44 Magnum as well as spike and edge blade threats. Click HERE for details.
Aramid Flexcore Technology
Forget you're wearing body armor.
Aramid Flexcore™ is a Ace Link Armor proprietary technology utilizing what's the best in ballistic fabrics. The ultimate hybrid of the most cutting edge aramid materials makes Flexcore™ panels a pinnacle of body armor and ballistic performance.
Blend of high modulus woven and Uni-Directional aramid fabrics enhances the vest performance without adding stiffness or rigidity to the panel. With only 0.22" (5.8mm) thinned – which is thinner than average smartphone – It's the most flexible and the thinnest panel you can get!
Our body armor is proudly MADE IN USA.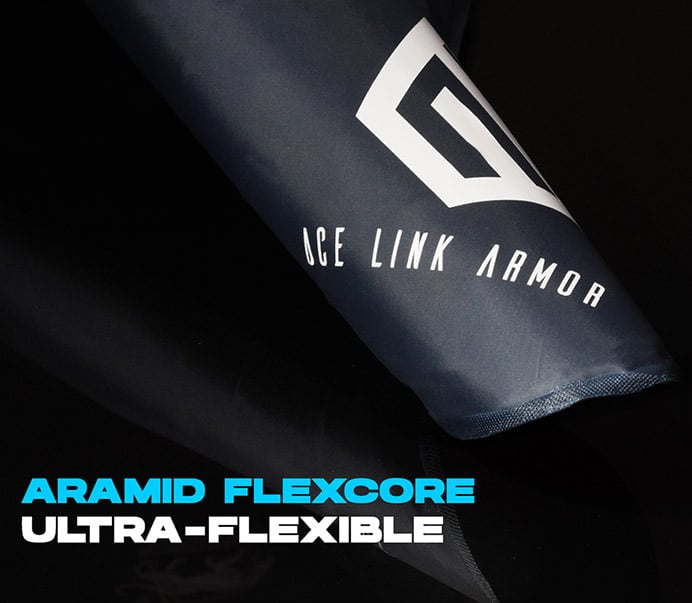 Lightweight bulletproof vest
This Body Armor will stop multiple threats:
9mm FMJ RN,

9mm Luger or NATO,

.40 S&W,

.357 Magnum,

.357 Sig,

.45 Gap,

.44 Magnum
Unique hybrid construction utilize exceptional ability of woven fabrics to disperse impact energy and mitigate back face deformation while the panel core made of multiple UD fabric layers absorbs kinetic energy of the strikes – Round after round after round…
ARAMID FLEXCORE EXPLAINED