-20%
M.S.O.V. FLEXCORE
LEVEL IIIA BULLETPROOF VEST ULTRA-LIGHT & FLEXIBLE
$741.00
or 4 interest-free payments of
$148.2
with
ⓘ
Design
Modular Special Operations Vest – designed for SWAT teams
8 panels
8pcs NIJ Level IIIA Soft Armor panels included: Front, Back, Side, Groin, Shoulder, Throat, Neck
build
Accommodates Hard Armor plates: front and back 10×12″ and Side Armor (up to 6×8″)
Level 3A protection
9mm FMJ RN,
9mm Luger or NATO,
.40 S&W,
.357 Magnum,
.357 Sig,
.45 Gap,
.44 Magnum
Ballistic Panels Made In USA
M.S.O.V. Flexcore Bulletproof Vest
M.S.O.V. MODULAR SPECIAL OPERATIONS VEST
TOTAL BODY ARMOR COVERAGE AT ONLY 13 LBS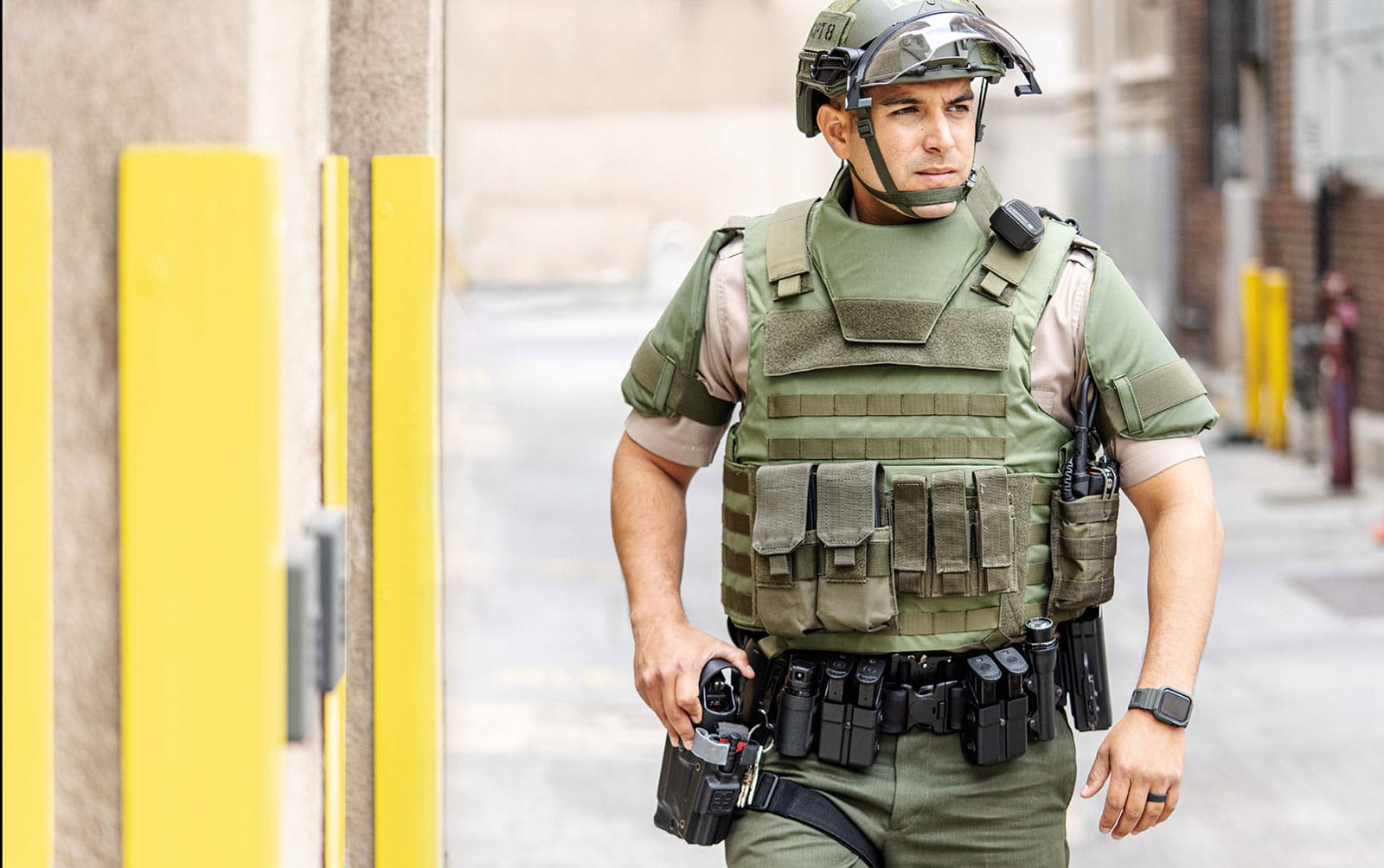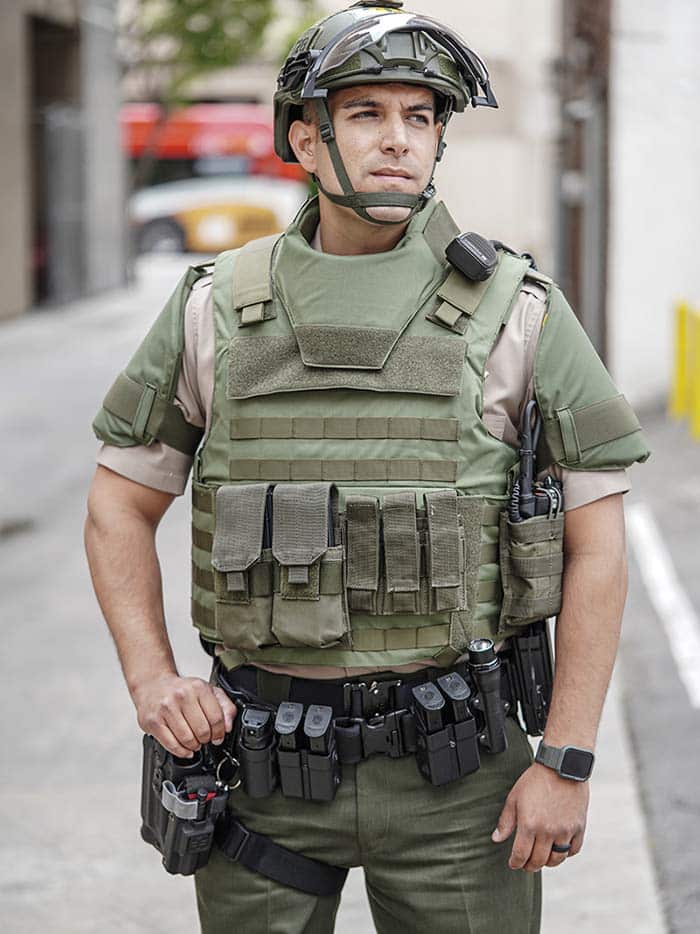 Main features:
FABRIC: Outer ballistic-type 500D nylon fabric for durability and colorfastness to resist fading, tears, and abrasions.
MOLLE webbing at all hard points; front, back, and sides for mounting MOLLE Pouches, IFAK's, etc.
SIDE PROTECTION: Extended sides for crucial ballistic overlap protection.
UP-ARMOR: Front and Back pockets for 10×12″ Hard Armor insert upgrade.
SIDE ARMOR: Left and Right side cummerbund side insert pockets for 6×6 or 6×8 size armor.
MODULAR: Includes: Front and Back Panels, removable collar, throat, biceps, and groin protection in Level IIIA soft armor panels.
ADJUSTABLE: Industrial grade hook-and-loop fasteners for critical torso and girth adjustments for all body-types.
DESIGN: Vest designed longer than other common short vests -that expose lower abdomen- without choking the wearer when seated.
ARMOR OPTIONS:
Features
BODY ARMOR MADE IN USA
Included with the vest are NIJ level IIIA ballistics panels as follows:
Front and Back panels that overlap on sides.
Both left and right bicep guards, with wrap-around protection and elastic Velcro bicep straps.
A removable two-piece collar and throat protection system- affords 360-degree protection for the neck area, with complete throat coverage.
A drop-down overlap groin panel, with option to remove according to a level of coverage desired.
M.S.O.V. additionally accommodates front & back 10×12″ and side hard armor plates (up to 6×8″).
LEVEL IIIA PROTECTION
STOPS MULTIPLE .44 MAGNUM ROUNDS
WEATHERPROOF COVER
ULTRA-FLEXIBLE PANEL
LIGHTWEIGHT AND FLEXIBLE PANELS
DEPENDABLE STRUCTURE
TESTED AT INDEPENDENT LABORATORY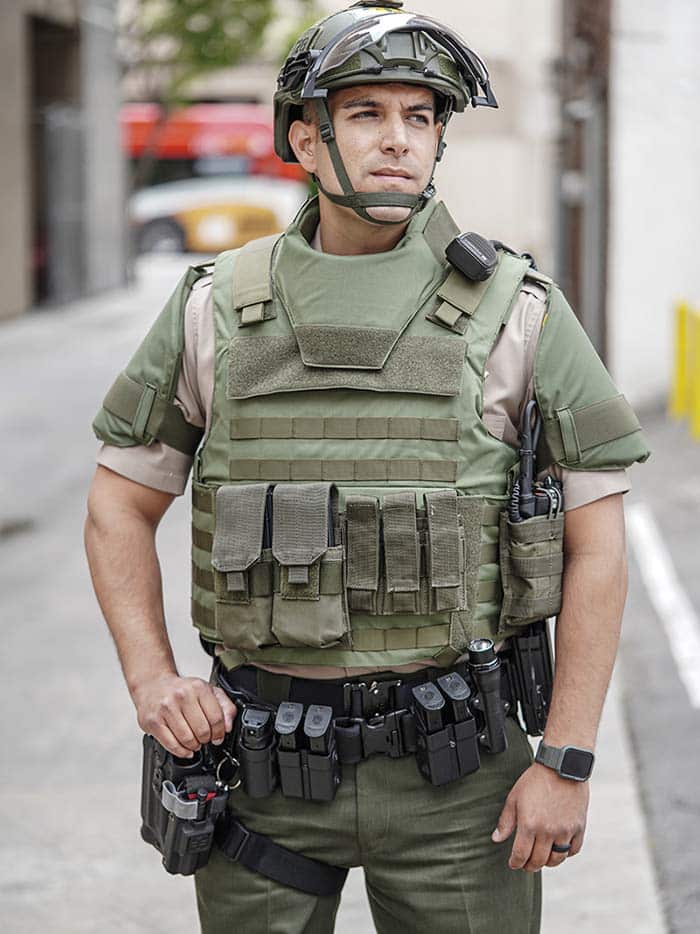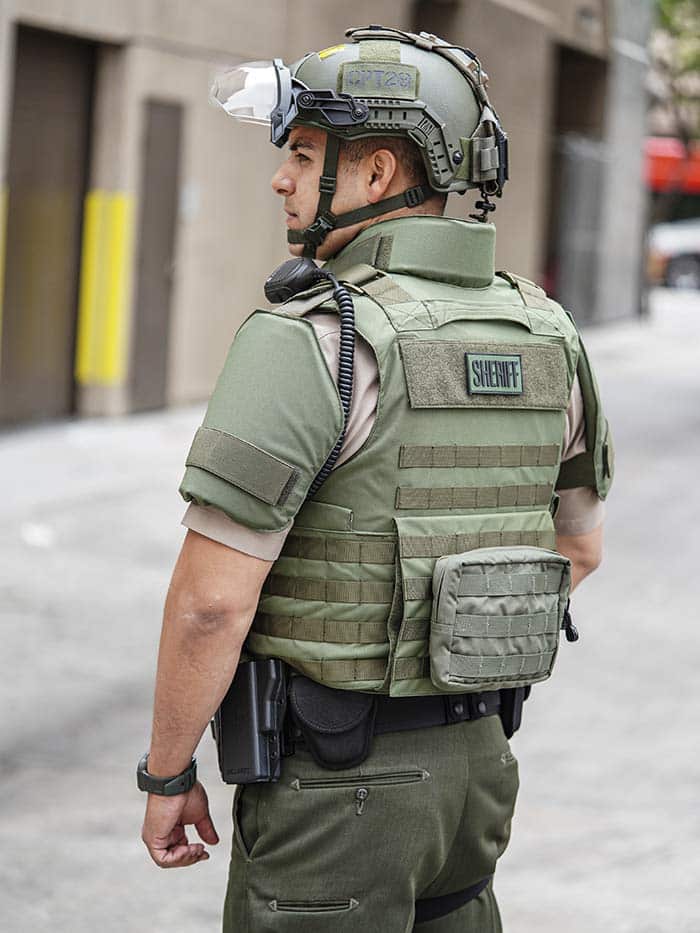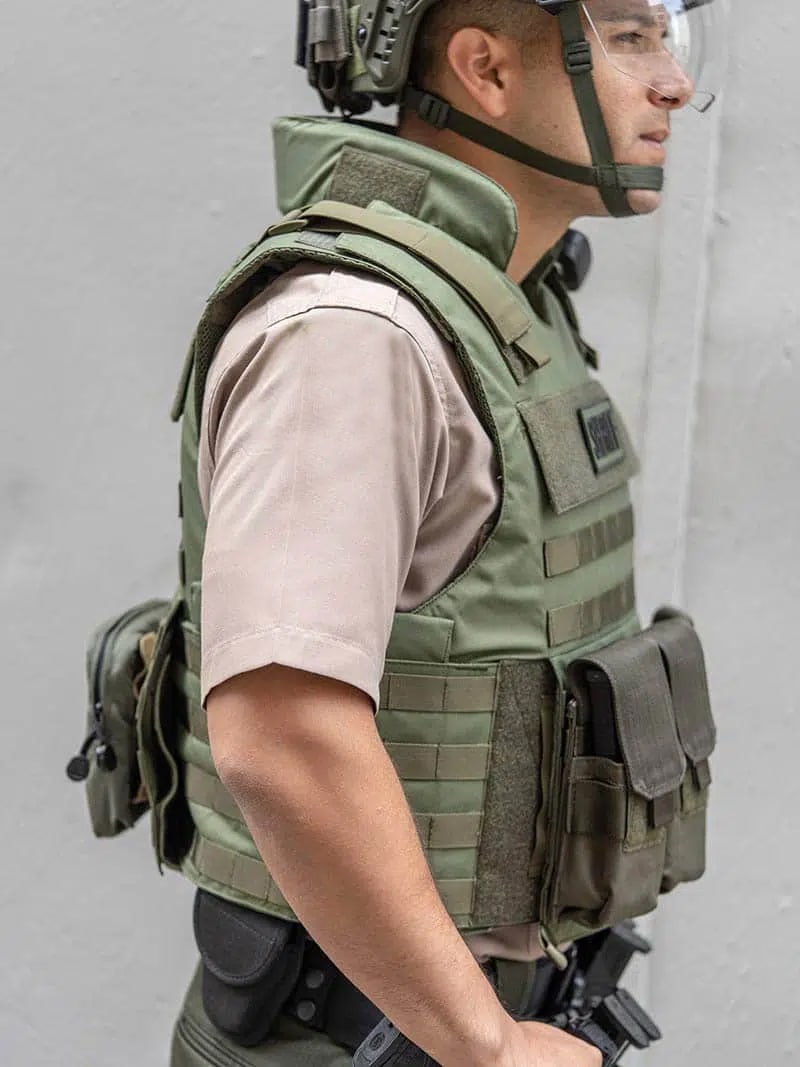 ARAMID FLEXCORE TECHNOLOGY
Forget you're wearing body armor
Aramid Flexcore™ is a Ace Link Armor proprietary technology utilizing what's the best in ballistic fabrics. The ultimate hybrid of the most cutting edge aramid materials makes Flexcore™ panels a pinnacle of body armor and ballistic performance.

Our body armor is proudly MADE IN USA.
Flexcore Explained
Hybrid technology
Blend of high modulus woven and Uni-Directional aramid fabrics enhances the vest performance without adding stiffness or rigidity to the panel. With only 0.23" (5.8mm) thin – which is thinner than average smartphone – It's the most flexible and the thinnest panel you can get!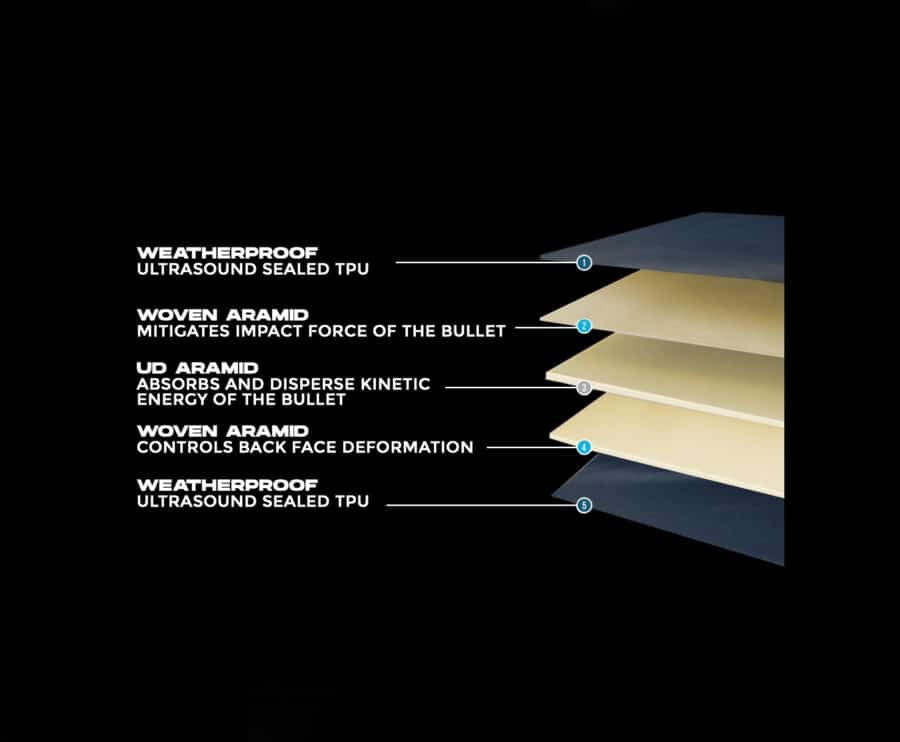 Hybrid Construction
Unique hybrid construction utilize exceptional ability of woven fabrics to disperse impact energy and mitigate back face deformation while the panel core made of multiple UD fabric layers absorbs kinetic energy of the strikes – Round after round after round…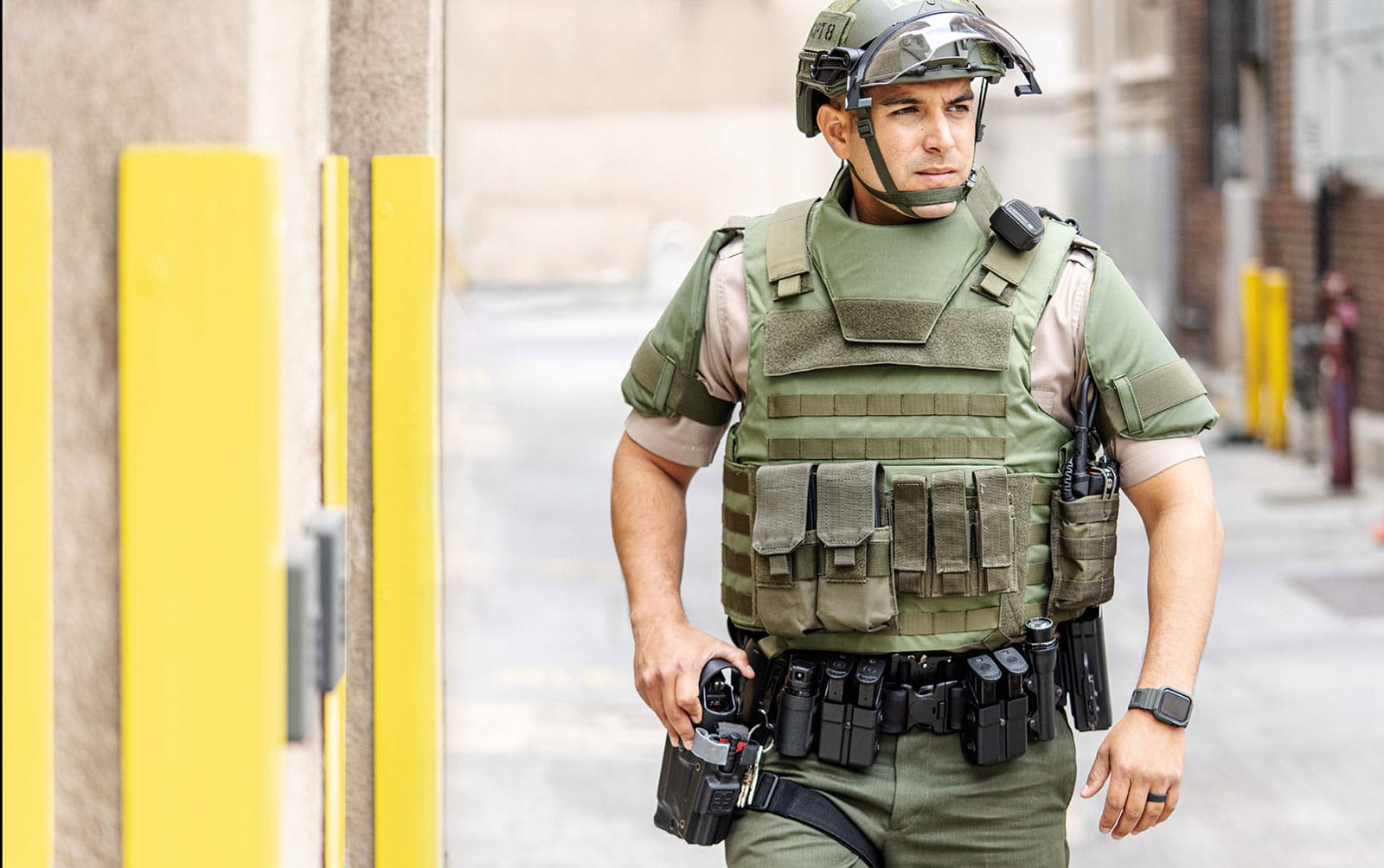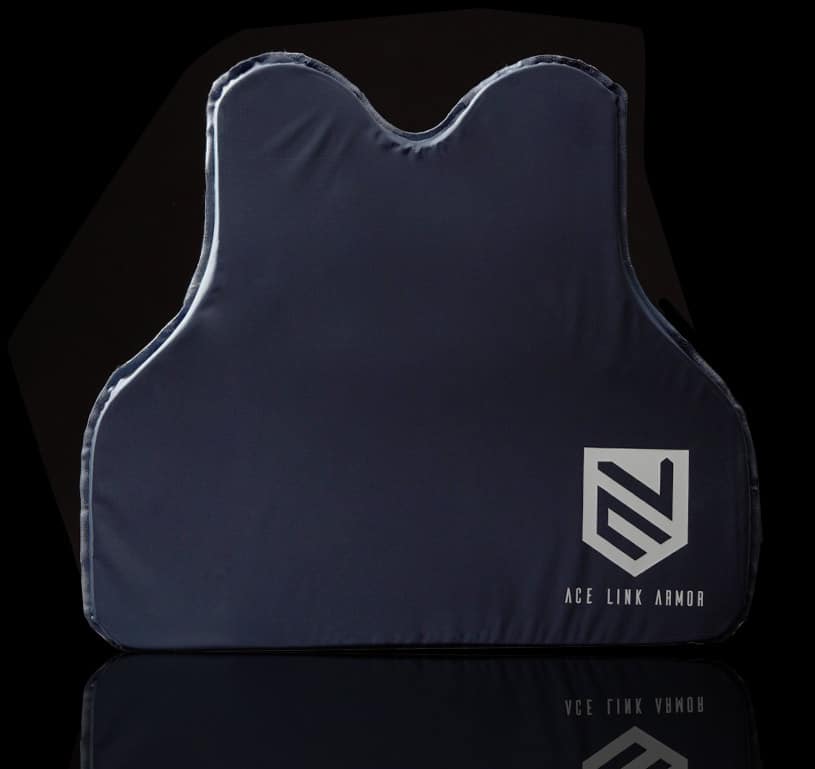 Body Armor Option
Aramid Flexcore™ – NIJ.06 IIIA – Ultralight, super-thin and extremely flexible Ballistic Panels
Ace Link M.S.O.V. vest is a comprehensive ballistic protection to ensure the wearer is safe when he needs it the most. NIJ.06 IIIA structure will stop multiple rounds of various handgun threats (up to .44 magnum). M.S.O.V. accommodates front & back 10×12″ and side hard armor plates (up to 6×8″)
TESTING
ULTRALIGHT AND SUPER-THIN PROTECTION
For those looking to save weight, Level IIIA Aramid Panels are one of the lightest ballistic panels on today's market. These high strength but low density materials make them perfect for fitting within tactical gear or undercover operations where every gram counts!
STOPPING POWER AGAINST HANDGUN THREATS
The NIJ.06 IIIA structure will stop multiple rounds of various handgun threats, ensuring that you are protected from risk no matter what situation arises. There is no compromises when it comes to your safety!