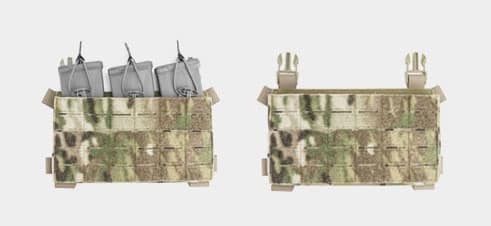 The Skeletac Plate Carrier features an optional Ammo Magazine carrying capability in the form of a Kangaroo Pouch System. The Skeletac Kangaroo Pouch is securely mounted onto the Skeletac Plate Carrier by use of two fastex-type buckles, and a Velcro backing panel. Once the Kangaroo Pouch is securely in place on the Skeletac Plate Carrier, the user can configure ammunition magazines according to the mission. Both rifle or pistol magazines are set-up however the user needs them- simply by using the Skeletac Kangaroo Pouch magazine Inserts inside the Kangaroo Pouch- the user can configure magazines in a modular capacity.
The Skeletac Kangaroo Pouch is constructed of quality laminate and nylon, hand-crafted, with durable and strategically placed stitching to maximize strength and longevity.
Available in Black; Coyote; Black MultiCamo, and Multicamo- custom orders available as well.
SAME DAY SHIPPING
Orders placed by 3pm Pacific Time ships the same day!
WARRANTY
Soft Armor 8 Years.
Hard Armor 5 Years.
Carrier 2 Years.
CUSTOMER SERVICE
In case of any questions feel free to contact us - Monday to Friday 9-5pm.