SPECIAL THREAT BODY ARMOR​
CERAMIC COMPOSITE MATERIAL
SPALL-FREE Silicon Carbide Ceramic
backed with high grade UHMW PE
5.56 x 45mm M855 AP
Tested in Independent Laboratory to stop 6 rounds of M855 Green Tip.
SUPER LIGHTWEIGHT CONSTRUCTION
Ultralight configuration
weighs only 4.4 lbs
This body armor plate is capable of stopping multiple AP rounds by itself! IIIA backing panel is not required. Stand Alone protection at its most effective!
Testing is part of our Quality Control process. We test body armor plates to the NIJ-0101.06. We know that these test reports are important especially for law enforcement so we include them with each package!
This gives you peace of mind when buying from Ace Link Armor as it comes with a firm promise – if within five years after purchase, a defect arises Ace Link shall exchange the product free of charge upon verification of the defect.
Available in 10×12″ size armour will fit almost any plate carrier available on the market.
CUT THE WEIGHT AND BE SAFE FROM DANGEROUS SPALLING
At only 4.40 lbs this ceramic composite plate stops multiple armor-piercing rounds and is 35% lighter then average steel plate equivalent. Body armor plates protection against the popular .223 55gr. M193; or Green Tip round like the 5.56 M855; or 7.62×51, has never been so light and spall-free.
The Lightweight Composite Ceramic Plate offers all the same capabilities of its steel counterpart, but with less mass. Specially designed for military and law enforcement purposes, the lightweight composite Ceramic Plate offers the same level of protection but is more mobile and less cumbersome.
The material used in this plate is a combination of ceramic materials with different properties that together achieve optimal ballistic performance. This translates into quick mobility for military personnel using ceramic materials where carrying gear can be burdensome.
EXTENDED CERAMIC COVERAGE
Increased protection area provided by ceramic ballistic plate – choose Ace Link Armor plates with Extended Ceramic Coverage for the most comprehensive protection of your vital organs. There is no compromise when it comes to your safety! Ceramics are lighter than steel so a ballistic vest equipped with such plates will be comfortable at the same time.
Ace Link armor plates consist of specially formulated ceramics added to the Polyethylene backing plate, providing more than 30% additional surface area compared to most of imported ceramic plates. Thanks to this technology these plates offer maximum protection of your torso and vital organs.
Ceramic material provides extended coverage of vital parts and organs because bullets lose their speed after hitting ballistic vests with ceramic plates. Ceramic material doesn't give room to the penetration of ammunition – according to tests conducted by an independent laboratory.
NIJ 0101.06 BODY ARMOR GUIDE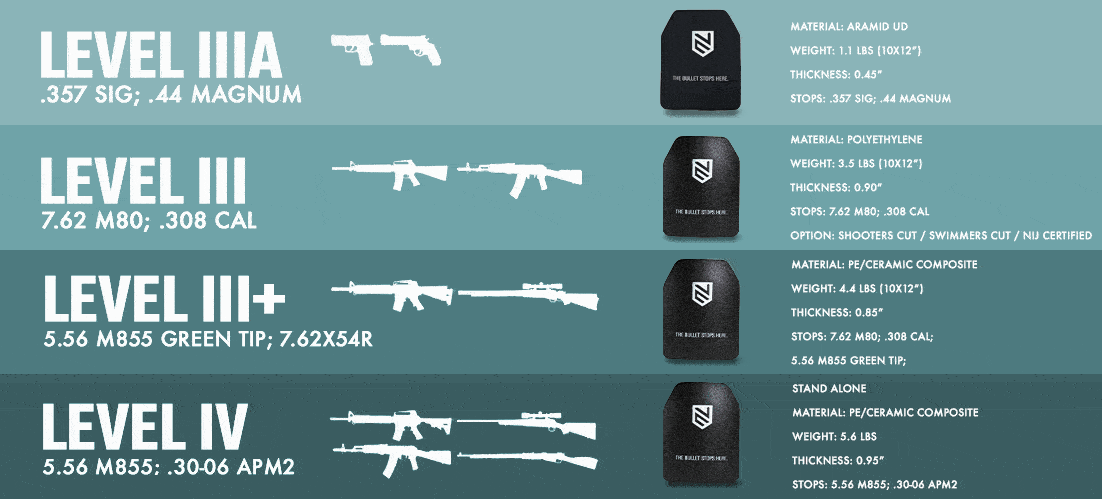 FREQUENTLY ASKED QUESTIONS