CONCEALABLE AND TACTICAL AT THE SAME TIME
SKELETAC HYBRID BULLETPROOF VEST
FEATURES:
MATERIAL: Made of Tough 500D Nylon Fabric, plus low reflective Matte Black Laminate Nylon surfaces.
HARD ARMOR POCKETS: Front and Rear Insert plate pouches with pull-tab no-flap slash opening and Hook and Loop closure.
HEAVY-DUTY: Shoulders adjustment straps reinforced with high-performance synthetic rubber with laser-cut MOLLE for PTT or Bluetooth mic.
CUMMERBUND: Twin-Elastic outer side cummerbund with hook and loop closures and laminate nylon pull-tabs.
HOOK'N'LOOP front area with Laser Cut MOLLE for mounting pouches and pockets.
ID PLACARD placement areas with hook and loop for visible or IR identification.
COMPATIBLE with Skeletac Kangaroo Pouch System with double-buckle secure placement and hook and loop panel.
MUTLI-SIZE cummerbunds available for wide array of body sizes and torso lengths.
ELASTIC LOOP TABS for routing hydration tubes or comms wiring.
ROBUST emergency rescue drag handle
SPACE MESH interior constitutes one of the most comfortable ventilation and antimicrobial protection systems on the market.
INCLUDED: 2x Swift Clip Buckles.
ARMOR OPTION:
Level of Protection: NIJ.06 IIIA (stops multiple rounds of .44 Magnum)
Ballistic Panel: Aramid Flexcore™ – Ultralight, super-thin and extremely flexible Ballistic Panels. Read more below!
PRODUCT WARRANTY:
8 years for soft armor ballistic components.
2 years for outer carrier.
CONCEALABLE AND TACTICAL BULLETPROOF VEST
Designed to meet and exceed your plate carrier expectations and standards – The Skeletac Hybrid Bulletproof Vest combines durable 500D Cordura Nylon fabric with non-texture, low reflectivity Laminate Nylon that is both tear-resistant and MOLLE compatible- for load-bearing ammo and equipment pouches mounted on laser cut molle areas.
Fully adjustable for torso length and girth- the Hybrid Plate Carrier Vest has hook and loop adjustable waist cummerbund and shoulder straps.
TACTICAL BULLETPROOF VEST
Skeletac Hybrid Bulletproof Vest can be worn as covert or overt carrier.
Essentially you have an on-the-go Bulletproof Vest that does not sacrifice style. In fact, this one is almost too sleek to realize it's even bulletproof.
You can wear it to work or when you're off duty because its tactical yet discreet enough to take away the attention you don't need.
Skeletac Hybrid Bulletproof Vest provides ballistic protection to ensure the wearer is safe when he needs it the most.
The Skeletac Hybrid bulletproof vest utilizes the thinnest and most flexible ballistic panel – Aramid Flexcore®.
NIJ IIIA ballistic panels are made using aramid a combination of UD and woven aramid fabric. Thanks to this unique construction, Flexcore is one of the lightest ballistic panels on the market making it perfect for fitting within tactical gear or undercover operations.
NIJ.06 IIIA structure will stop multiple rounds of various handgun threats (up to .44 magnum). This vest accommodates front & back 10×12″.
Forget you're wearing body armor.
Aramid Flexcore Technology
Aramid Flexcore™ is a Ace Link Armor proprietary technology utilizing what's the best in ballistic fabrics. The ultimate hybrid of the most cutting edge aramid materials makes Flexcore™ panels a pinnacle of body armor and ballistic performance.
Blend of high modulus woven and Uni-Directional aramid fabrics enhances the vest performance without adding stiffness or rigidity to the panel. With only 0.23" (5.8mm) thin – which is thinner than average smartphone – It's the most flexible and the thinnest panel you can get!
Our body armor is proudly MADE IN USA.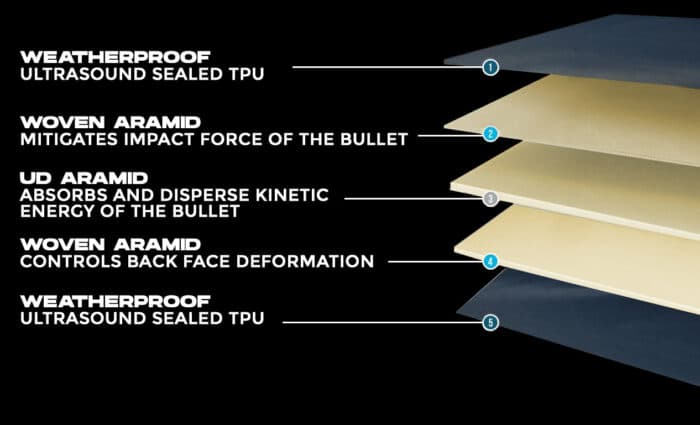 Lightweight bulletproof vest
This Body Armor will stop multiple threats:
9mm FMJ RN,

9mm Luger or NATO,

.40 S&W,

.357 Magnum,

.357 Sig,

.45 Gap,

.44 Magnum
Unique hybrid construction utilize exceptional ability of woven fabrics to disperse impact energy and mitigate back face deformation while the panel core made of multiple UD fabric layers absorbs kinetic energy of the strikes – Round after round after round…
UP-ARMOR TO LEVEL IV PROTECTION
When worn together with level IIIA soft armor this Ace Link Armor ceramic composite hard armor plate has been designed to provide level IV protection against multiple .30-06 Armor Piercing rounds.
Composite PE and Ceramic structure absorb and completely contain rifle rounds, up to powerful .30-06 APM2.
Tested to be truly multi-hit, this plate is the most reasonable choice for those looking for Up-Armor Plate that stops AP rounds.
LIGHTWEIGHT: Only 5.20 lbs – Extremely durable yet incredibly light! This plate is significantly lighter then any steel plate of similar configuration and protection.
EDGE-TO-EDGE PROTECTION: Ballistic structure designed and manufactured to provide the fullest possible spectrum of protection against rifle threats.
SAFE FROM SPALLING: Silicon Carbide ceramic disperses impact energy effectively, without risk of dangerous spalling.
Protection against armor piercing .30-06 APM2 rounds has never been so light and risk-free.