Rapid Deploy School Backpack
Protection
NIJ.06 LEVEL IIIA PROTECTION LEVEL (HANDGUN THREATS UP TO .44 MAGNUM)
Convertable
Bulletproof Backpack That Converts Into Plate Carrier.
Backpack Volume
Approximately 35L / 2100 cubic inches.
Protection Area
Front Panels 8×10″ where as Main compartment fits 10×12" armor.
Accessory Pockets
Compartment with places for pens, books and other accessories.
Storage Pockets
Lots of pockets and smaller compartments.
Made In USA
Armor Made in USA
Ultimate Protection
Rapid Deploy BULLETPROOF KIDS BACKPACK
Designed for 10×12 and 08×10 PANELS
Bulletproof Panels: The defining feature of this backpack are its bulletproof panels ( have to be bought separately). These panels are strategically incorporated into the backpack's design, offering a level of ballistic protection that can potentially shield students from certain firearm threats. This feature is especially important in today's world, where unfortunate incidents of school shootings have highlighted the need for improved security measures.
Rapid Deployment System: The backpack is designed for quick and easy access to the bulletproof protection. In an emergency situation, students can rapidly deploy the bulletproof panels, providing immediate cover and increasing their chances of survival. This feature sets the ACELINK Armor backpack apart from traditional bulletproof gear, which often requires more time and effort to put on.
Durable and Practical: The backpack is constructed with durability in mind, using high-quality materials to withstand the rigors of daily use. It maintains the practicality of a regular backpack, with ample storage space for books, notebooks, a laptop, and other essentials that students need on a daily basis. This ensures that students don't need to sacrifice functionality for safety.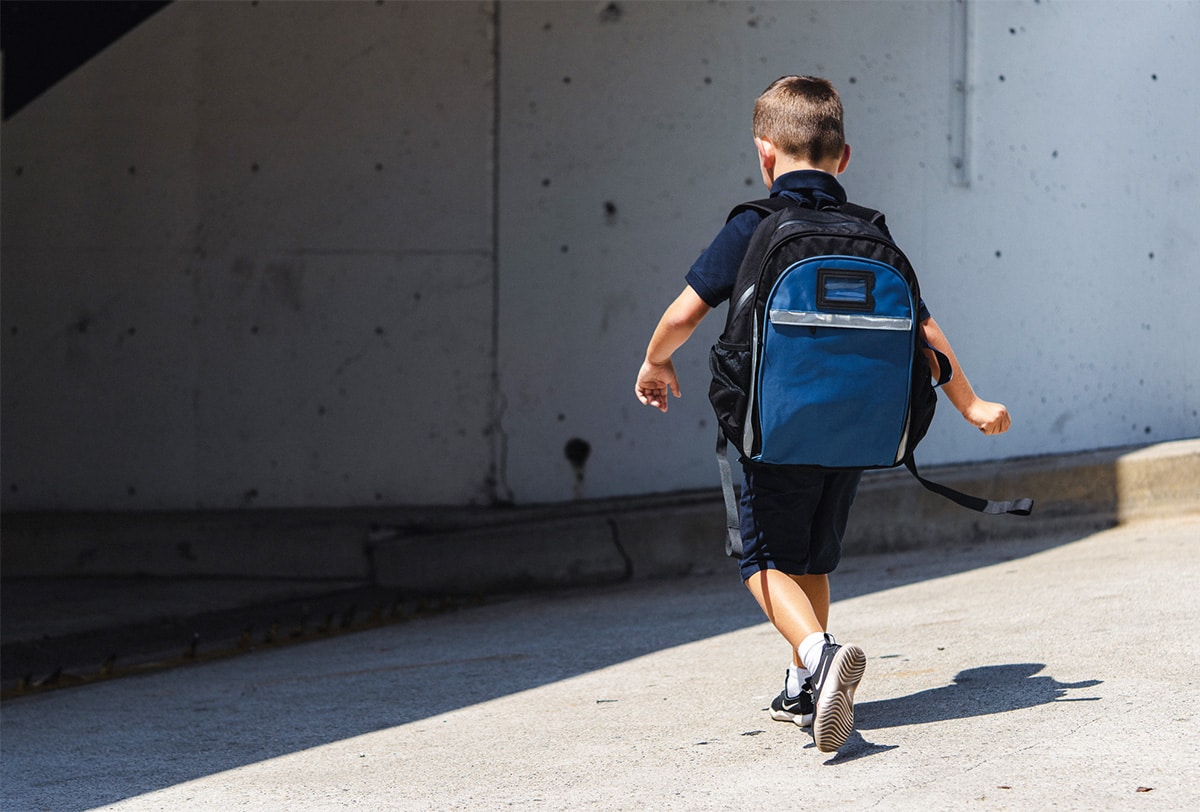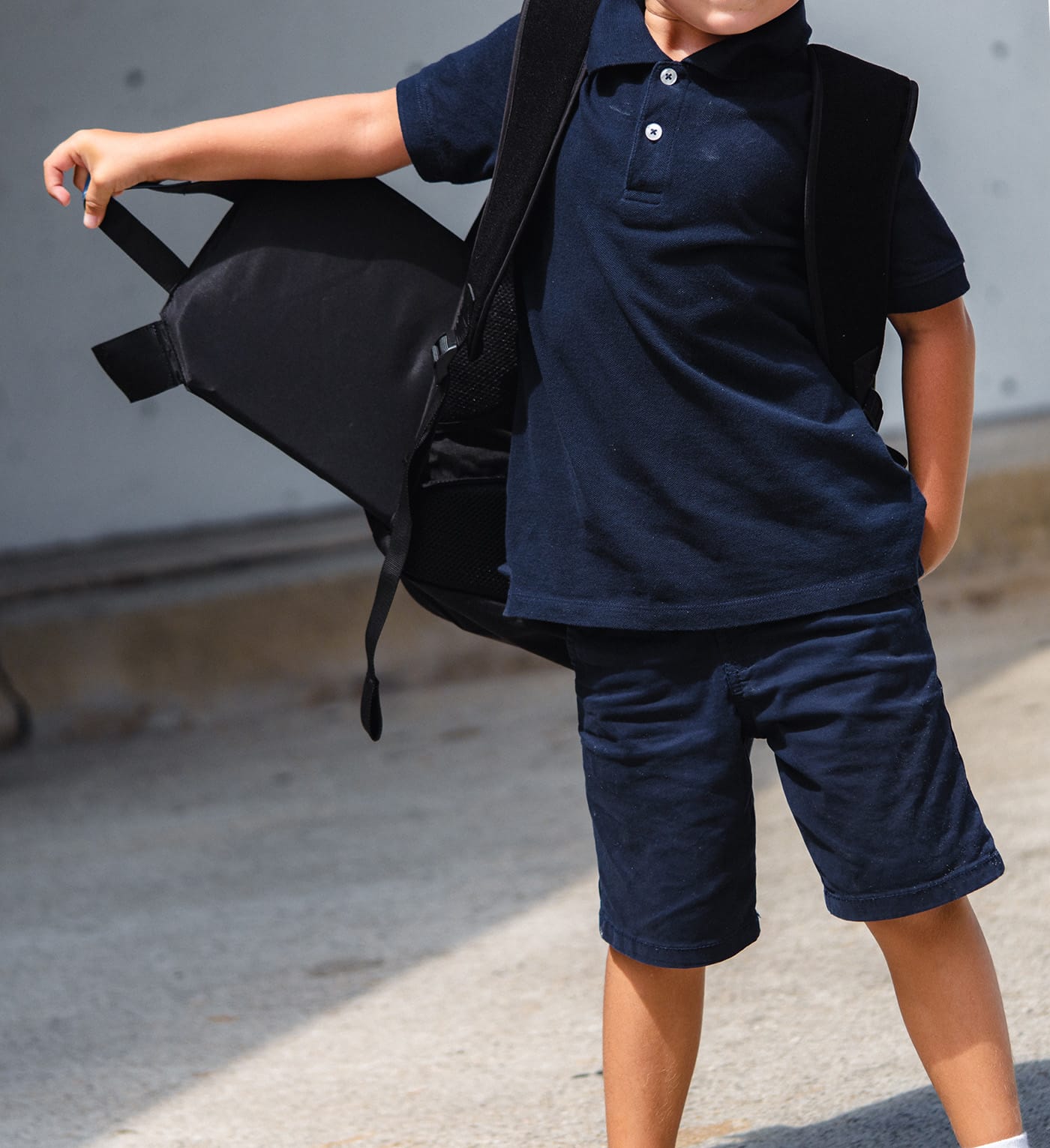 DISCOVER MORE Main features:
HIGHLIGHTS:
Armor not included ( sold separately as an add-on)

Breathable mesh panels and channels to keep you cool.

Breathable mesh shoulder straps.

Approximately 35L / 2100 cubic inches.

Main compartment fits 10×12" armor or hydration pouch.

Compartment with places for pens, books and other accessories.

Lots of pockets and smaller compartments.

Armor made with Aramid in waterproof TPU outer cover.

Adjustable Shoulder and waist straps, waist belt, carry handle.

Cargo straps along the backpack bottom.
Front & Back Panels Included
Select your panel
Our Level 3A armor panels are the key component for your Rapid Deploy School Backpack. The panels can be inserted into the front and back, providing level 3A protection against bullet penetration.
Choose between our Regular, Flexcore or Anti-stab panels.
Our regular aramid panel is the standard for our bulletproof items. Our Flexcore material is flexible, so it can bend and contour to the shape of the backpack for a comfortable fit. Our Anti-stab panel includes bulletproof protection, as well as, stab-proof protection, providing ultimate protection.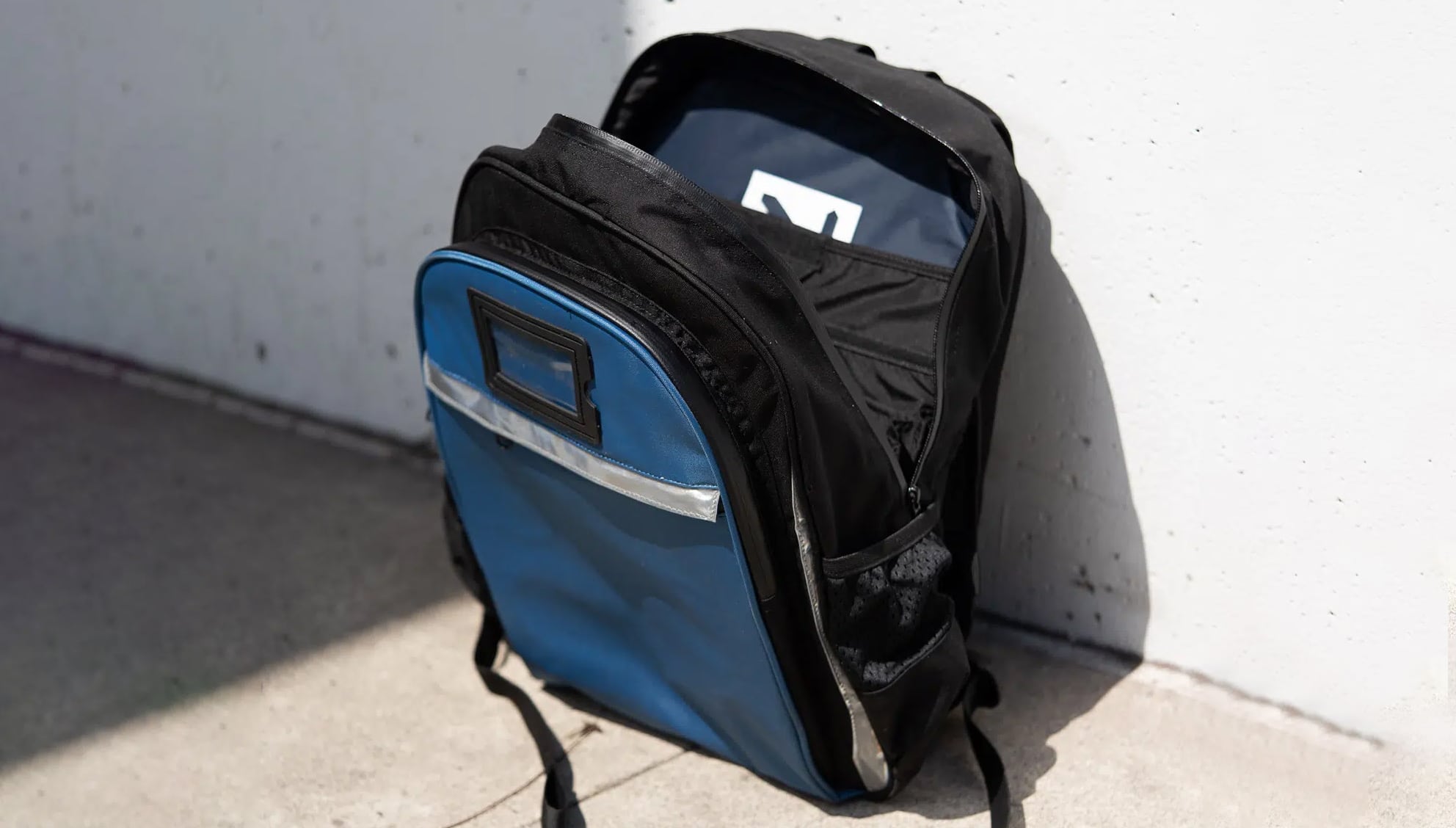 EASILY DEPLOYABLE
Rapid deploy
Thanks to our Rapid Deploy technology, it's now easier than ever to deploy the front panel of your bullet proof backpack. Simply grab the handle on the side of the backpack and pull the panel in front of you with one smooth motion. This innovative technology helps to keep your backpack stable and secure, even when carrying heavy loads. Rapid Deploy is just one of the many features that make our bullet proof backpacks the perfect choice for keeping your child safe at school.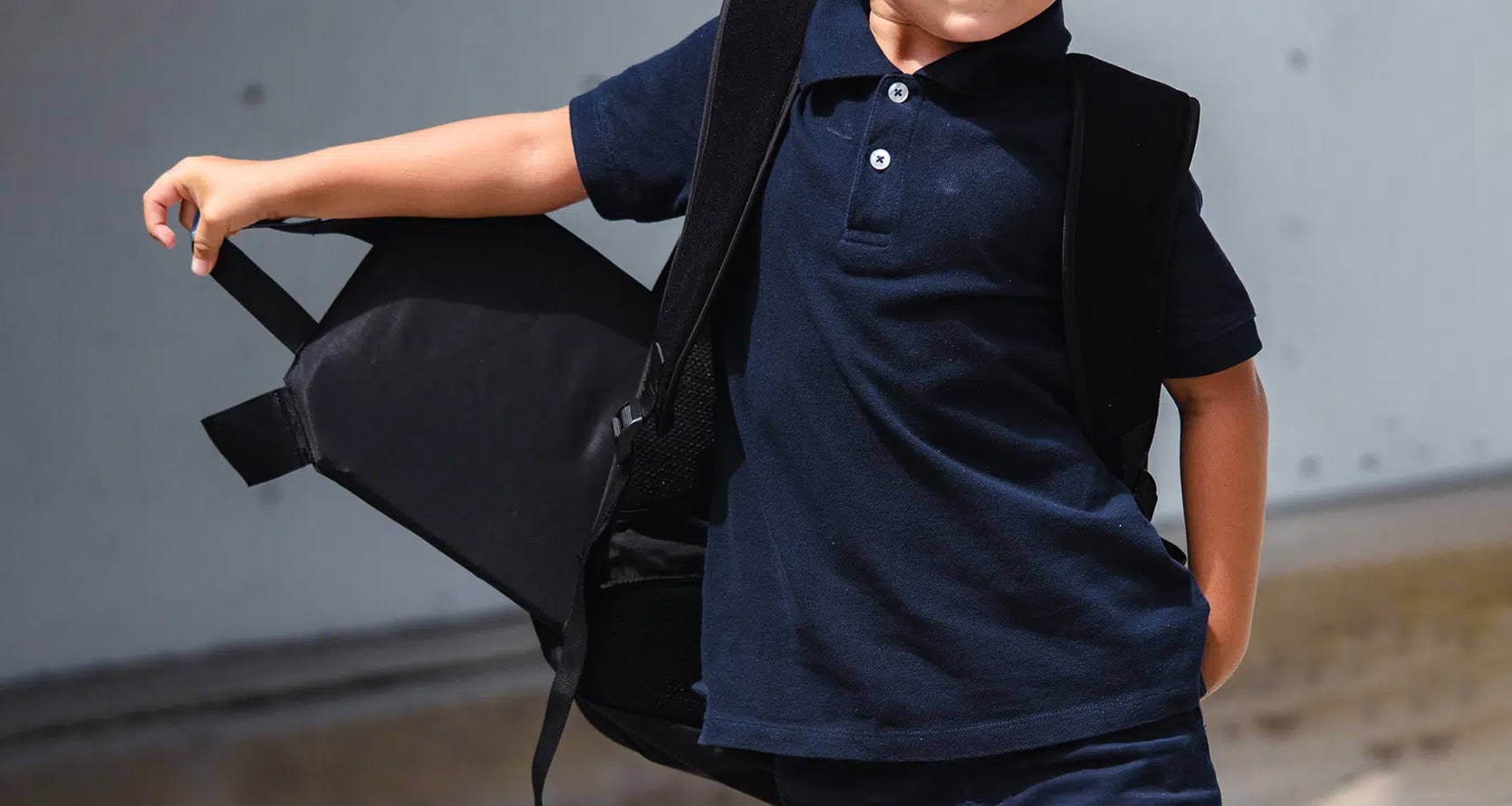 Velcro Soft Armor Attachment
Safe and secure
Our secure velcro system makes it easy to attach the front armor panel to your backpack, so you can be prepared for anything. In the event of an attack, you can deploy the armor quickly and easily, giving you the best possible protection. Rapid deploy in seconds to protect yourself and your loved ones.
Quick velcro mount is a crucial component that enhances the backpack's overall protective capabilities. This attachment mechanism enables the rapid deployment of soft armor panels, allowing students to quickly access an additional layer of defense in the event of an emergency.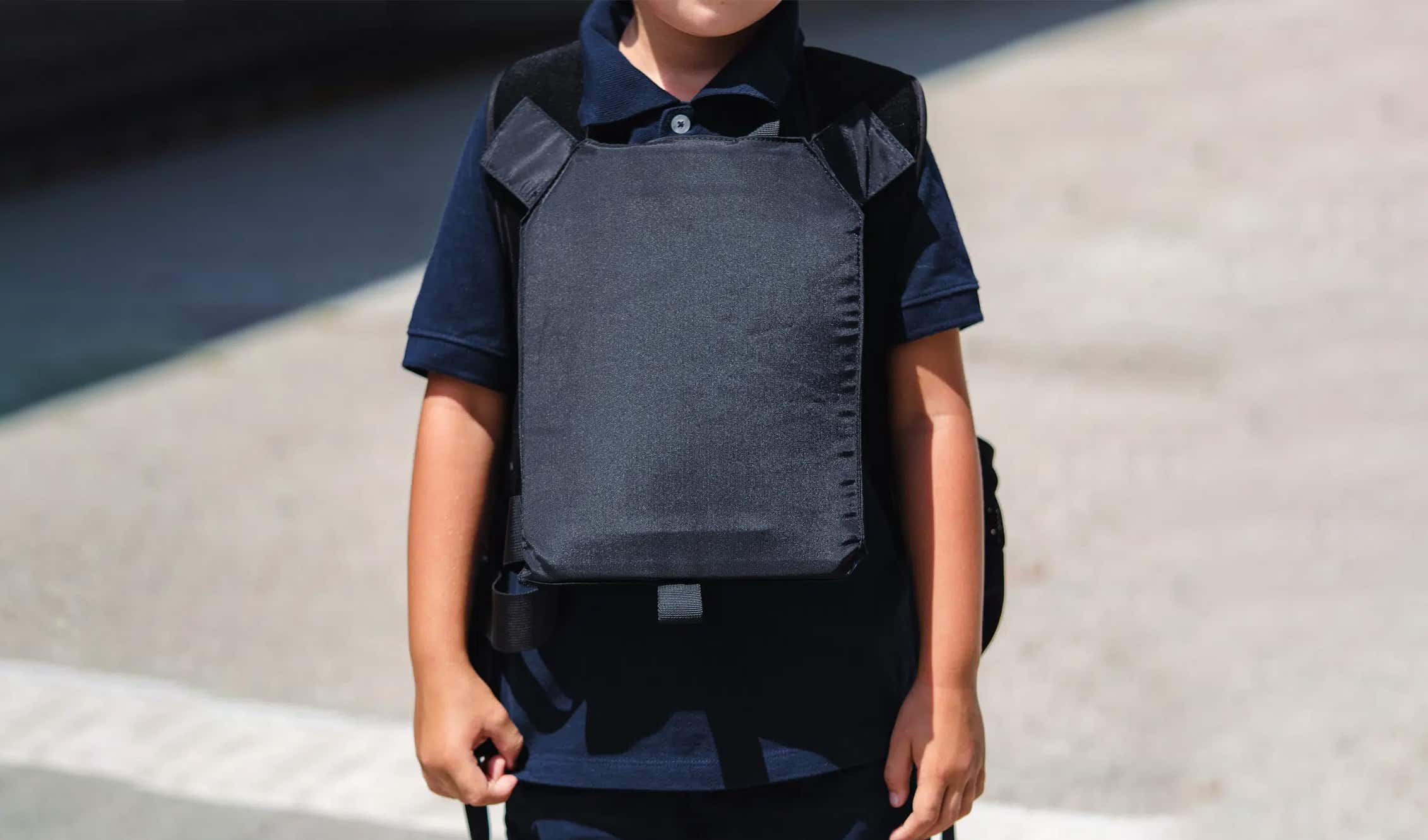 LEVEL IIIA
BALLISTIC PROTECTION AGAINST HANDGUN THREATS
Our NIJ IIIA ballistic panels are manufactured using multiple UD Aramid fabrics, allowing for lightweight yet robust protection that seamlessly integrates into our bulletproof vests. Our RAPID DEPLOY Backpack when matched with Soft Armo Panels provide defense against a wide spectrum of threats, including:
9mm FMJ RN
9mm Luger or NATO
.40 S&W
.357 Magnum
.357 Sig
.45 Gap
.44 Magnum
With this comprehensive level of protection, wearers can confidently confront diverse ballistic challenges, ensuring their safety and security in any high-risk situation.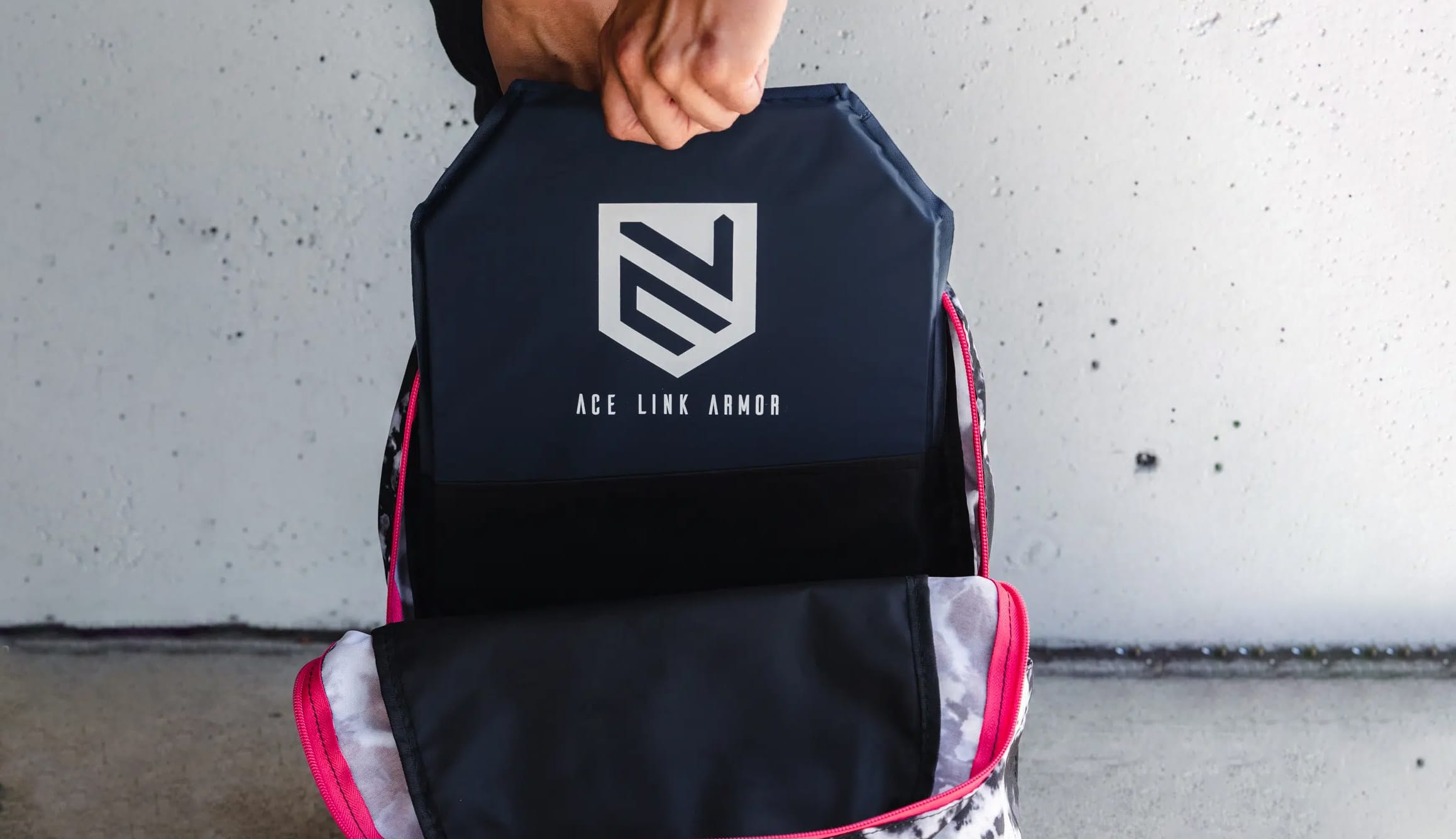 BULLETPROOF BACKPACK SPECS:
Rapid Deploy Bulletproof Backpack
The Rapid Deploy Bulletproof Backpack is the perfect solution for professionals committed to being prepared. With the ability to transform from a backpack to a bulletproof vest, with customizable and removable panels to fit any body type, this pack has more options than ever before. NIJ06 Level IIIA (not included) protection panels included: 10×12″ and 08×10″ so you can be as safe as humanly possible while not sacrificing style or comfortability on the go. Due to the body armor being in a backpack, it can weigh less than traditional body armor and be easier to wear for long periods of time.
LEVEL IIIA PROTECTION
STOPS MULTIPLE .44 MAGNUM ROUNDS
PANELS NOT INCLUDED
PROTECTION SURFACE
FRONT PANELS 8×10″ WITH 10×12″ IN THE BACK.
WEATHERPROOF COVER
DEPENDABLE STRUCTURE
TESTED AT INDEPENDENT LABORATORY
Know More About Bulletproof Backpacks
All you need to know about Bulletproof Backpacks
In the past few years, school shootings have become more and more common in America. In light of these tragic events, people are looking for ways to keep their kids safe during the day while they're out of the house or at school.
One solution that is gaining popularity is bulletproof backpacks, this article will show you how these backpacks work and which one to choose based on your needs and budget!
What is a Bulletproof Backpack?
A bulletproof backpack is a backpack bag that has ballistic material built-in. Those backpacks are bullet-resistant, not bulletproof. Due to the lifesaving nature of these bags, they must be tested to ensure they cannot be penetrated by projectiles.
Backpacks vary in materials and protection levels as well as overall cost. There are two main types of protective backpack paneling: hard armor plates or soft armor panels. Hard Armor Plates  (HAP) are made of metals like steel, titanium alloy or ceramic (commonly used on armored vehicles), which have been hardened into a plate form and then applied to a bag. Soft Panels (SAP) are level IIIA panels similar to those used in vests and are constructed using fibers such as Kevlar aramid fiber. We find those to be a perfect compromise between mobility and protection. Soft armor panel is more lightweight than metal and offers a lighter alternative while maintaining the same protection level.
Do bulletproof backpacks work?
The short answer is – YES, they do work. Such backpacks are capable of stopping multiple rounds when a proper ballistic panels are inserted. Basically they work same as bulletproof vest: ballistic panel incorporated in the bag is designed to stop handgun or rifle threats depending on the level of protection you will choose. Also they are lighter and much more comfortable than traditional vests.
What can bulletproof backpacks protect against?
Depending on the type of backpack inserts you will equip your backpack with, it can protect from handgun threats like 9mm round or .44 Magnum (National Institute of Justice level IIIA) or rifle threats such as 7.62×51 M80 or even .30-06 round if you decide to wear Level 4 body armor (National Institute of Justice level IV) in your backpack. Ace Link Rapid Deploy Backpack comes with standard with 2pcs Level IIIA Soft ballistic panels capable of stopping all handgun threats.
If you're looking for enhanced protection, make sure you check our stab proof Soft Armor Panels which when inserted, provide additional protection against stabs and slashes.
Are bulletproof backpacks worth it?
Well, if you're talking about kids and their level of safety then yes. You certainly don't want your child to get hit by a stray bullet while he/she is sitting in a classroom with other students or going for an after school activity or even walking home from school! That is extra peace of mind that bulletproof backpack will bring to you.
For adults bulletproof backpacks can be a great asset as well! If you're traveling in an area where there is a high chance of being robbed or shot, bulletproof backpack could save your life! It's like carrying bulletproof vest – it protects from seemingly random gun shots when you least expect them.
Nowadays bulletproof backpacks are not expensive at all since they became very popular and people started looking for secure ways to protect their kids. It is just another tool that can help keep you safe but we strongly recommend taking proper training before using one of these bags so the risks are eliminated.
Are Bulletproof backpacks legal?
In the USA bulletproof backpacks are legal. There are no regulations on buying bulletproof clothing so it can be purchased and used legally. Some states have restrictions on what is considered body armor, so it's important to be aware of the law in your area before ordering a bulletproof item.
It is also advisable that you first have a conversation with your children about the purpose to carry a bulletproof backpacks or vest as well as what they should do if they find themselves in a situation where a bullet-resistant article of clothing is needed. Education is very important – invest in peace of mind today!
Is it illegal to wear body armor in school?
Wearing a ballistic body armor is not illegal. You can wear bulletproof vests and or other tactical gear to school as long as you're not using them during the committing of a crime.
Bulletproof backpacks can be worn to school or a sporting event as long as it is not used during the committing of a crime. Education properties are considered safe zones for and bulletproof bags. It's also important that parents speak with school officials to ensure that safety measures are implemented in schools.
Are bullet proof backpacks worth the cost?
We would say yes, especially in states where gun violence has increased and your child's school doesn't have a proper security system in place. While this might seem like overkill, you can't put a price on you feeling better knowing that your loved one will be safe during a shooting situation!
Even if you don't think there is a high chance of being shot while in school, ballistic backpack might help protect from random shooting and violence. We recommend all parents to have them at home (just in case) just like they have fire extinguisher (in case of house fire). It's important to be prepared!
How much does a bulletproof backpack cost?
Bullets proof backpacks come in many different styles, sizes, and prices but bullet resistant gear can range from $100-$1000 or more. You should determine what part of your body you're most concerned with protecting first when looking into bullet proof products. Once you've done this it's easier to decide the style of bulletproof vest or backpack that suits your needs best!
Our company offers a Rapid Deploy Bulletproof Backpack for $349, with a rugged design that has accessibility for anyone to use from child to adult. This bulletproof backpack is designed for comfort and will work to protect you no matter where you are. Outfitted with inserts for level 3A armor panels or plates, these inserts are specifically designed for our backpack and can be quickly deployed during an active shooting or any type of situation to be up against handgun or rifle firearms to provide protection for your torso and back.
Where to buy bulletproof backpacks?
There are many places that sell bullets-resistant clothing but we recommend visiting our website where we offer bulletproof backpacks for sale as well as bullet resistant vests and bullet proof clothing at very affordable prices! If you're still a bit unsure about whether or not bullet proof backpacks are worth the cost we suggest checking out our website where you will also find information on what bulletproof gear is available for children to wear to school, sporting events, etc.
If you have any additional questions that weren't mentioned here please feel free to contact our company via email: info@acelinkusa.com or checkout our FAQ section available on the site.
Reviews
There are no reviews on the product.
Your opinion may be the first.
Add it…
go back
YOUR SHOPPING CART
your cart is empty
Product protection from fraud, loss, theft & damage