Multi-hit AP Round Stopping Technology.
Level 4 Body Armor plates provide protection against multiple .30-06 Armor Piercing rounds. This bulletproof body armor plate completely keeps multiple rifle caliber rounds contained upon impact onto ceramic/PE structure. It stops from the 5.56mm Black Tip, up to the powerful .30-06 APM2.
Tested to be truly multi-hit body armor, these ceramic body armor plates are the most reasonable choice for those looking for Stand-Alone or Level IV Protection.
Level 4 body armor is designed and manufactured to provide the fullest possible vital organs protection against AP rifle threats. Absolutely free of spalling unlike with steel body armor plates.
Extremely durable yet incredibly light body armor plates! These ceramic/PE body armor plates are significantly lighter than steel body armor plates of similar size, shape, and protection rating.
This body armor plate is capable of stopping multiple AP rounds by itself! IIIA backing panel is not required. Stand Alone protection at its most effective!
Testing is part of our Quality Control process. We test body armor plates to the NIJ-0101.06. We know that these test reports are important especially for law enforcement so we include them with each package!
BODY ARMOR PLATES SPECIFICATION
Ace Link Armor Level 4 Armor Plates are quality composite armor plates utilizing the highest grades of UHMW Polyethylene backing enhanced by silicon carbide ceramic on the strike face of the plate.
Level 4 Armor Plates are capable of stopping multiple rifle rounds such as 5.56mm NATO; .308 M80; 7.62x45; and up to the powerful .30-06 APM2. That's a quality armor plate!
Ace Link Armor Level 4 Armor Plates are available in 10x12" size. Plate is 0.90" thick. Single plate weight is 6.0 lbs - how does your steel plate compare to this ?!
Our plates come with 5 years full warranty which is ideal for law enforcement. Ballistic Testing Report from NTS accredited laboratory is attached to each shipment.
LEVEL 4 BODY ARMOR - BE SAFE FROM SPALLING.
At only 6.0 lbs these level IV body armor ballistic plates are capable of stopping multiple armor-piercing rounds. Silicon Carbide ceramic plates disperse impact energy effectively, without risk of dangerous spalling. Protection against armor-piercing .30-06 APM2 rounds has never been so lightweight- with added confidence in stopping power and survivability.
BODY ARMOR EDGE-TO-EDGE CERAMIC COVERAGE
Increased protection area provided by ceramic ballistic plates – choose Ace Link Armor body armor plate with Extended Ceramic Coverage for the most comprehensive protection of your vital organs. There is no compromises when it comes to your safety.
LEVEL 4 ARMOR PLATE PACKAGES:
NIJ 0101.06 BODY ARMOR GUIDE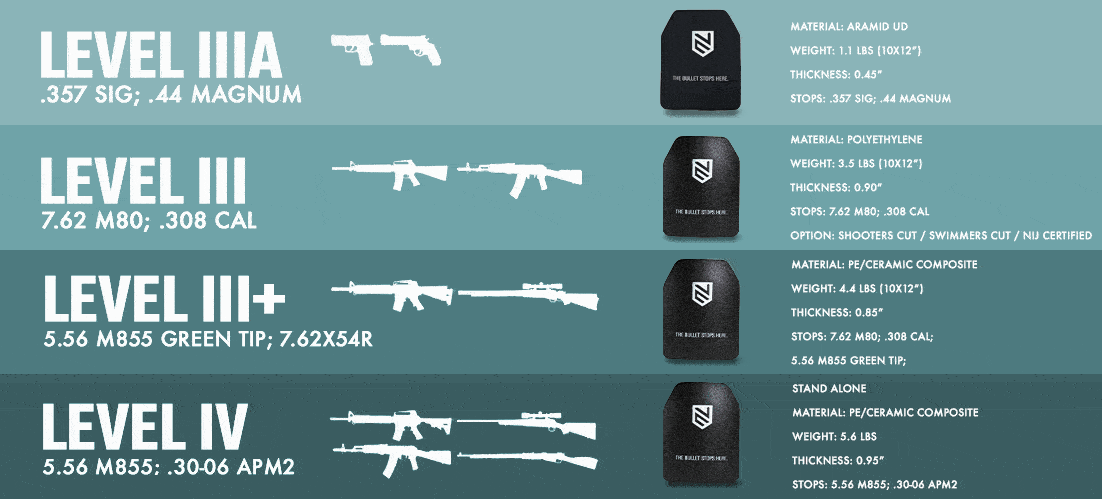 LEVEL 4 BODY ARMOR
GUIDE AND F.A.Q.
Made to wear on the upper body for personal protection against armor-piercing (AP) rounds, Ace Link Armor's level IV body armor plates are quality composite armor utilizing the highest grades of Ultra High Molecular Weight (UHMW) Polyethylene layers of backing, enhanced by silicon carbide ceramic on the strike face of the plate structure weighing in at 6 lbs. Level IV body armor can be found in three main plate sizes, 6×6, 6×8 & 10×12 so you can find the right fit for your plate carrier or tactical vest.
Level IV body armor is a type of personal body armor made from layers of various composites. Pure metal versions were used during the medieval period and modern versions of body armor and plates are still widely used today by civilians, police officers, and military forces all over the world to protect themselves against gunfire. However, it's important to note that modern technology offers body armor solutions that are much lighter than steel plates.
These level IV plates are of the highest level of body armor and personal protection out there on the market.