How To Maintain And Care For Your Body Armor – 2022 Edition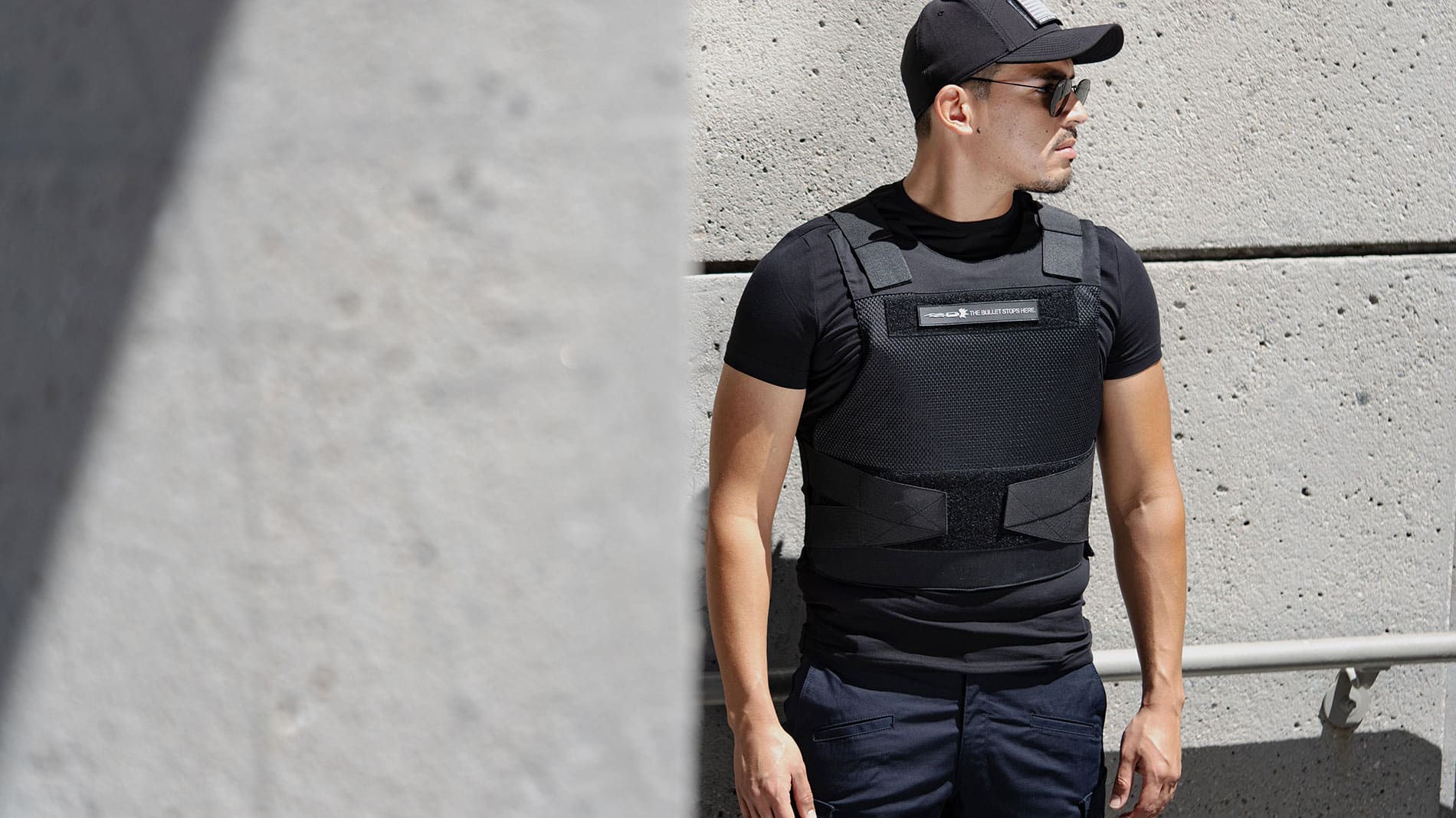 BODY ARMOR GENERAL CARE
In order to make sure your body armor will work properly when you need it, you need to take good care of it. In this article, we will discuss the proper way to care for your body armor panels and carrier.
Once proper maintaining and cleaning of your bulletproof vest or kevlar vest is covered, you will have a better idea of what is needed to assure your bulletproof carrier and soft armor panels will protect you for many years.
HOW TEMPERATURE AND HUMIDITY AFFECT BODY ARMOR
A bulletproof vest needs to be able to work in some of the harshest environments out there. Maintaining armor takes a lot of work. This is because armor panels and carriers can't be exposed to temperatures above 140 degrees Fahrenheit or below negative 10 degrees. High heat like this will weaken the ballistic fabric body armor is made from, while freezing might cause it to crack.
Perspiration and body heat will also create problems for your vest. A vest that has been worn for long periods of time may begin to smell bad due to body odor or perspiration that has not been removed. Also, body armor needs to be cleaned frequently; sweat and other debris left on the carrier can attract bugs, lice, and mold. Prolonged exposure to moisture can damage the fibers as well, causing them to lose their ballistic integrity.
BODY ARMOR VENTILATION
For maximum protection against extreme temperatures, bulletproof vests and plate carriers need a "cooler" when not in use. There are commercial coolers designed specifically for bulletproof vests. These coolers are designed to maintain carrier interior in the ideal temperature range. They can also be placed into your freezer or equipped with a heat pack for warming when temperatures dip below freezing.
While keeping your plate carrier or armor panels at higher temperature should not affect its ballistic performance, it's better to avoid exposing your armor to higher temperatures for a longer period of time. Recommended humidity operation range in most cases between 10% and 95%.
ARMOR PANELS CORRECT PLACEMENT
Placing armor panels in the carrier is another very important factor. When functional ballistic panels are inserted, minor movement restrictions can occur; however, proper wear and use of properly fitted Body Armor, should not impose too significant of discomfort or give an ergonomically restricting feeling for the wearer.
Because of recent advances in tactical gear construction and fit, today's armor should fit as close to any other jacket or insulated vest you have worn, and because of the stretch and mesh fabric that is added during the manufacturing process, the body will stay cooler with increased airflow through the liners of ballistic or kevlar vests.
Functional panels are heavy and can cause fatigue after a few hours of wear. By keeping body armor free from body heat you will keep the armor panels cool and make them less fatiguing to wear.
BODY ARMOR REPAIRS AND REPLACEMENTS
If any outer part of the your armor is torn, damaged, or worn through, it should be brought to the attention of the company the armor was obtained from. You should never attempt to repair the bulletproof panel yourself – this also applies to ballistic helmets, ballistic shields, and all ballistic protection as well.
BODY ARMOR INSPECTION
If your carrier has been exposed to moisture, it needs to be inspected for damage and repaired as necessary. Dry armor ballistic panel is especially vulnerable to mold and mildew if not cleaned soon after exposure to moisture. It is also important to have your armor or plate carrier cleaned and inspected periodically by a professional repair technician. This could be every six months or two years depending on how much it has been exposed to the elements.
Having armor repaired can be expensive, but doing so will ensure that you are still protected in the event that body armor needs to be used for its intended purpose. If it becomes damaged beyond reasonable repair and replacement, your best alternative may be to upgrade the carrier with new body armor panels and carriers. You should discuss this course of action with your local retailer.
DAMAGED BODY ARMOR
If the body armor plates, plate carriers, or soft armor panel carriers are broken, torn, or worn through, they should not be worn and should be returned to the store where you got them. This is so they can be inspected for quality. If the outer carrier shows any signs of deformation for example after wash, it should not be worn and should be replaced or destroyed.
As with any gear purchased by original customers, one must agree to or sign online any agreements or sales policies the place of purchase or distribution center has in place- these will also outline the warranty of specific items and conditions of coverage for damaged items in transportation, parcel delivery, etc.- no matter how excellent product material or workmanship may be- these happen on occasion, as well as manufacturing defects that may occur.
BODY ARMOR STORAGE AND MAINTENANCE CONDITION
In order to keep the ballistic clothing effective and to maintain its ballistic performance, proper storage and inspection of the protective clothing are required in order to spot any recent issues with the integrity of both the plate carrier/vest and the ballistic panel or armor plate condition.
OPTIMAL STORAGE CONDITIONS
Keep in dry air and keep it away from visible light or direct sunlight, because of the destructive nature of the sun's or fluorescent light's UV rays. Keep your body armor away from high temperatures, water, and other liquid and caustic substances – the latter two are especially true for maintaining the structure and surface of steel plates.
Store your body armor lying flat without other weighing objects on or touching it to avoid warping or bunching the ballistic soft armor panels. All wearers shall routinely inspect soft armor ballistic panels for signs of damage and for general cleanliness, unusual worn areas, loosened or broken fasteners, separated or frayed stitching, or any other damages. Contact the company of origin as to what you can do in those situations.
Store your body armor lying flat without other weighing objects on or touching it
TRANSPORTING OF BODY ARMOR
For transporting – be sure to use a vest bag and/or keep it covered- ensuring safe transporting without damage to ballistic vests. Also, the best way for transporting ballistic protection if it is a vest or carriers with soft or hard armor is laying them flat in a dark or concealed area such as the trunk or under the seats. This will ensure body armor can be stored and transported properly.
BODY ARMOR CLEANING AND DISINFECTION
The body armor body panel and carriers are made from a variety of materials. It is important that they be cleaned regularly with an approved cleaner, to help maintain their integrity and protect the wearer. The armor panels are designed so that the body's sweat is transported away from the body, thus keeping you cooler when wearing body armor body protection panels. Most manufacturers recommend cleaning your bulletproof vest two or three times per year, depending on how much you use it. A more thorough cleaning can be performed every six months if necessary, making sure all of the dirt and grime has been taken off of all parts of your body armor plate carrier.
When you clean your personal protective gear for ballistic protection, remember to use only non-solvent cleaners. This is body armor cleaning equipment that will remove body fluids like sweat, body oils, and grime without using harsh solvents, which can damage the panels or carrier's ballistic material. Carriers usually come with a cleaner specifically designed for their use, but you can also find quality cleaners at many stores.
USING WASHING MACHINE TO CLEAN BODY ARMOR
Some manufacturers recommend washing your bulletproof vest panels in a front-loading clothes washer with cold water or the gentle cycle after you have applied the cleaner to it.
The Outer Carrier is machine washable, but the soft armor Panels can only be cleaned with a gentle sponge and mild cleaning agents. With small stains, caution should be exercised as most stains will contain acids, oils, or sugars that may damage the carrier material. The carrier itself must be completely dry before inserting the armor panels parts back into it. Remember to use hand washing or a soft brush by hand for stubborn stains – trying to machine wash stains out will eventually break down fabric and stitching, especially with hot water.
BODY ARMOR RECYCLING AND DISPOSAL
When body armor body panels or carriers have reached the end of their useful lives, you can send them back to the manufacturer. The manufacturer will recycle the body armor body panel and carrier parts back into a raw material that can be used again.
HOW SOFT ARMOR PANELS ARE RECYCLED
The manufacturer will reprocess donated panels and body armor body carriers at no cost to you. The recycling process is very similar to reprocessing new fabric: The old ballistic material is first examined in a laboratory for quality control inspection correct sizing, wear patterns, contamination, etc. After being cut into strips it is then heat-processed followed by an adhesive bonding step to prepare the fiber strands for the spinning and weaving cloth process.
Scraps of panels and carriers are often used to make blankets, canteens, etc. Also, some people save pieces of the body armor soft ballistic vest material that they want to remember fondly or honor a fallen comrade with – whether it is a scrap of cloth from his body armor carrier duster or the metal buckle plate on the front of his body armor carrier vests.
OUTDATED BODY ARMOR DISPOSAL.
When your armor becomes outdated, you should not destroy them because it can be reused. If you have body armor body panels or body armor body carriers that are beyond their useful service life, please dispose of them according to manufacturer recommendations and local laws. Many law enforcement units, police departments, emergency services providers, military units, and veterans' programs benefit from used body armor.
Each manufacturer will have their own body armor panels recycling program, so check with your manufacturer for more information on how to dispose of your body armor panels or other types of ballistic material you may not need anymore. Professional companies can reprocess the ballistic fabric fibers and yarns and reuse them. Do not dispose of body armor protection panels or body carriers in unrecyclable trash. Remember to contact the manufacturer for anybody armor body protection recycling and disposal questions.
BODY ARMOR MANUFACTURERS CONTACT INFORMATION.
If you want more information about body armor, whether it is safety-related questions, cleaning, maintenance, storage, or how to take care of your body armor body protection please contact Ace Link Armor at info@acelinkusa.com.