6 reviews
MAP Pack MOLLE Backpack
$373.00
or 4 interest-free payments of
$93.25
with
ⓘ
water bladder compartment
Small and versatile pack with water bladder compartment
Detachable suspenders
Detachable suspenders with chest strap
MOLLE system
MOLLE attachment points
capacity
Main compartment 9L capacity, front pouch 3L capacity
Additional pouch
Utility pouch with compartments on the lower front part
MAP PACK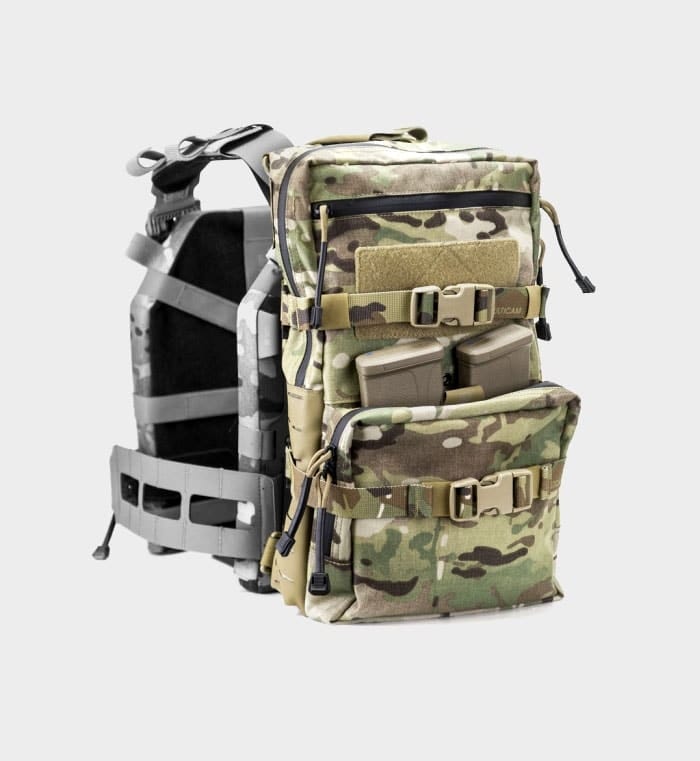 Multi-Accessory Performance Pack
The Ace Link Multi-Accessory Performance Pack reintroduces backpack versatility like nothing before.
The MAP Pack can either be worn by itself with the included shoulder straps, or can be mounted onto any MOLLE compatible plate carrier.
MAP Pack affords the wearer to carry extra equipment or medical gear without taking up space on the front of the plate carrier- allowing the weight to be carried like a backpack while wearing the plate carrier.
BACKPACK FOR PLATE CARRIER
Plate carrier with backpack
In certain situations, you might need to carry extra gear. MAP Pack comes handy when it comes to carrying various gear and equipment.
What to carry in a plate carrier backpack?
There is a lot of equipment that you can carry in your plate carrier backpack, however, your specific loadout will probably depend a lot on your mission or objectives. In a full-on combat situation, you will probably carry extra magazines, a complete med kit, communication gear, and perhaps some other mission-specific tactical gear. In a survival situation, you may need some tools, rations, a hydration bladder, and survival gear in your plate carrier backpack. 
Many people also use their tactical plate carrier backpacks as a range bag, and they might carry lots of extra ammo, hearing protection, safety glasses, pistols, gun cleaning tools, and targets in their backpack.
Do plate carriers have back armor?
Yes, most plate carriers also have back armor compartments, which can be used to carry hard armor plates.
These plates protect the wearer's vital organs from the back as well and ensure safety from all sides.
What do you put on the back of a plate carrier?
Most plate carriers also have MOLLE attachment systems on the back panel and there is a wide range of gear that you can put on the back of your plate carrier. Most operators mount their communication gear on the back panel of the carrier, with all the channels preset, and route the cables to their handset. Hydration bladders are also a common accessory mountain on the cask of plate carriers. 
However, the drawback of mounting gear to the back of the plate carrier is that it isn't easily accessible. Therefore, a better way to carry more gear is to use a plate carrier backpack, which can also be accessed easily.
In most cases, the storage on the back of the carrier isn't for you, instead, it is for your teammates. In military combat situations, the teammate behind you could grab some extra equipment or a medkit from your backplate.
how to attach a backpack to a plate carrier?
Firstly, you'll need to know if your plate carrier actually supports a backpack or flat pack in the first place. If it does, it will have buckles, two on the chest area, and one on each side at the bottom of the plate carrier. If your plate carrier does not have these quick-release buckles, they can be attached using the molle webbing of the plate carrier. Then, you have to open the buckles on the shoulder straps of your backpack and attach them to the buckles on the plate carrier. 
Now, you have a backpack-mounted on your plate carrier, you can easily access it as well. You simply have to open the bottom buckles and lift the back over your head to bring it in the front.
This system allows you to access your plate carrier backpack without taking your plate carrier off, however, it is only used for small to medium-sized packs. If you want a lot of storage, you have to use a traditional backpack.
What is the best-concealed plate carrier?
If you are looking for the best plate carrier for concealment, then you need to check out the React plate carrier system by Acelink body armor. This plate carrier has a minimalist design, which can be optimized for concealability and overt use as well.
The plate carrier is made from durable 500D Nylon Cordura fabric and can fit any SAPI cut plates. It is also relatively comfortable, without effective protection or concealability. The shoulder straps are slightly padded, and it has a multisize cumberbund, which allows people of different sizes to wear the react plate carrier very comfortably.
As far as attachment capability is concerned, the react plate carrier has a small section of Laser Cut or MOLLE load-bearing system on the front, and it comes with a Velcro triple AR magazine pouch, which is built into the Elastic Cumberbund.
Overall, the React Plate carrier from Ace Link Armor is the best plate carrier on the market right now.
How to access plate carrier backpack?
Depending on the way you have mounted your plate carrier backpack, there can be different ways to access it. If you have mounted the pack to the back of your carrier using the MOLLE panel, then you will probably have to take the plate carrier off to access the backpack. In such a situation, the gear you store in your plate carrier backpack is more for your teammates than for you. 
You can also mount a backpack to your plate carrier using quick-release buckles that are provided on the shoulder straps of most plate carrier backpacks. The bottom buckles can be released, and the entire molle backpack can then be lifted over one's shoulders and brought to the front.
This allows the operator to access their backpack in the front without removing their plate carrier. Modern plate carrier backpacks like the Map Pack MOLLE Backpack from Ace Link Armor can be used like this. it is easily one of the best plate carrier backpacks on the market.
Reviews
Great pack for a plate carrier
I have not had a chance to train with the bag yet, but the quality of this pack is excellent. Plenty of room for a hydration pack and plenty of gear. Would highly recommend to anyone looking for a map pack
Great space fits perfectly on
Great space fits perfectly on my carrier
Holds all your needs and wants!
Super solid
great
August 1, 2021
Charles J.
Does the job, needs some upgrades
Pack works good, ran 96 hour mission with no issues. Needs some upgrades to turn the pack from good to great. All the pull ties almost immediately fell apart and needed replaced. The soft plastic molle straps could also benefit by being upgraded to hard plastic molle clips. I still plan to continue to run this pack!
go back
YOUR SHOPPING CART
your cart is empty
Product protection from fraud, loss, theft & damage