Ballistic Helmet Compatibility With Night Vision Goggles And Mounts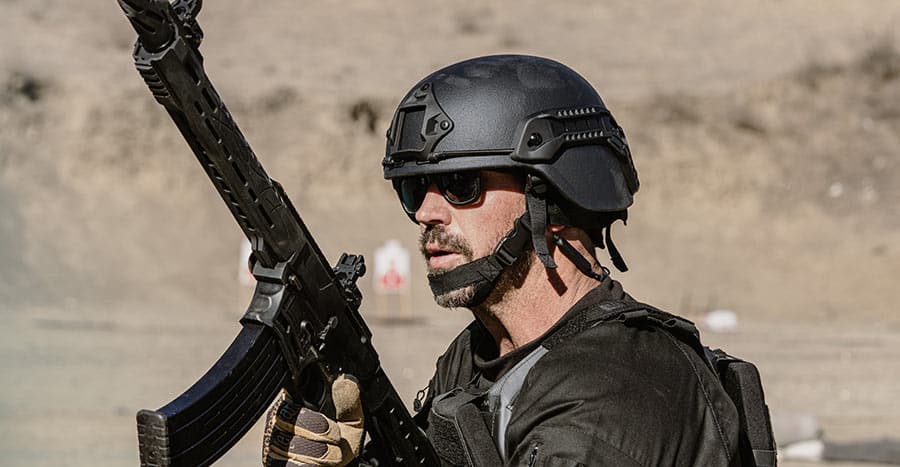 When it comes to ballistic helmets and their accessories, there are few as popular or as desired as night vision goggles. But in order to use a night vision system with their ballistic helmet, you will need a good mounting system to pair the two together. You may even be surprised to find out that there are many different mounting systems out there that you can use, and not all of them are the same.
When looking for a good mounting system for your night vision goggles, there are many different things that you will want to consider. After all, night vision equipment is not cheap and the last thing that you want to happen is for them to fall off of your helmet and break. For example, you will have to look at your own personal needs in order to find the mounting system that best fits you.
WHY MOUNT YOUR NVGS?
There are plenty of good reasons to mount your night vision goggles to your ballistic helmet. It can give you a lot of advantages, such as having your hands free. This is extremely important in many places, especially in tactical situations. In addition to keeping your hands free, a night vision head mount will help to keep your optics safe and secure. You will not have to worry about misplacing them or losing them in the field, as well as accidentally damaging them. As long as you have yourself a quality mounting system, you can rest assured that your night vision goggles will rest safely on top of your head!
Mounting your night vision (or thermal vision, whatever you are using) will also give you the ability to store it out of your way when not in use, but keep it close and ready at a moment's notice should you need it. But with all of the different benefits of mounting your night vision, it can sometimes be a little tricky knowing where to get started.
DIFFERENT MOUNTING SYSTEMS
Before buying a mounting system, you will want to consider a few things. Things like compatibility, intended use, and overall cost are all important factors. Compatibility is important, as you want a mount that will be able to properly support your night vision goggles. One of the first things to look at is the mounting bracket on the front of your helmet. This is called the shroud. From here, the night vision goggle mount will lock into the shroud on the helmet.
There are different types of mounting systems and shrouds, including those with a three-hole shroud, a one-hole shroud, and a USGI MICH shroud. Not all mounting systems are created equal, and many helmets all feature different shrouds and mounts. You will want to ensure that you have everything compatible with each other. The most common shroud that you will see on modern helmets tends to be the three-hole shroud, although you will want to ensure your equipment is compatible with each other.
NIGHT VISION MOUNTS
In addition to the shroud on your helmet, it is important to look at the different NVG mounts that will actually connect the two. The two main and most popular ones that are high quality are from Wilcox and Norotos. The different mounts from these two companies vary but are considered to be the industry standard when it comes to securing your night vision to ballistic helmets. This is where you will want to spend the most amount of time, as each one is different and will apply to your different needs and setup. But one easy way to not have to worry about it being compatible with your helmet and shroud is to have a ballistic helmet that is set up to work with any of them!
ACE LINK ARMOR BALLISTIC HELMET
For those wanting the simplicity of not having to worry about compatibility, you can get yourself a helmet that is compatible with all of the night vision mounting systems across the board. One of the best options for this is the Special Mission ballistic helmet from Ace Link Armor. Available in four different sizes, this amazing helmet has a built-in front mount for your night vision, thermal vision, GoPro, or any other camera or accessory that you want to mount.
This helmet uses a universal mount that will ensure that your night vision or camera is safe, secure, and solid while centered on your head where you want it. And of course, as we mentioned, it is compatible with all popular NVG and thermal vision systems out on the market. Of course, they are also extremely comfortable and bulletproof as a good ballistic helmet should be! Constructed with woven aramid fibers to give you a solid Kevlar structure, it gives you NIJ.06 IIIA levels of protection while being one of the most versatile helmets you will find.
FINAL THOUGHTS
Night vision and thermal vision are both excellent additions to any ballistic helmet and come with plenty of different advantages. As you can see, however, mounting them together is often a little easier said than done. But thanks to universal shrouds and mounting systems, like the one found on the Special Mission ballistic helmet, you can rest assured that you will have all of the required parts, pieces, and equipment to have a solid and secure system for your night vision.
When you need the best, look no further than Ace Link Armor!