Bulletproof Clothing Guide 2022

BULLETPROOF CLOTHING GUIDE 2022
Personal safety- and the safety of your loved ones- would probably rank high on any family's priority and things to consider when leaving your home, your native city or state where you reside, or even when you leave the country.
Any place you live in, where your personal rights and freedoms are guaranteed to you on a daily basis; including the right to defend yourself and protect your "own".
There is no better time to invest in some personal protective garments than when commuting to the next town, traveling upstate, or even just visiting far-off coin-op laundromats
WHAT IS BULLETPROOF CLOTHING?
When thinking about what to wear, our typical guide to the day's layers of clothing -or the lack thereof- that we wear is mostly dependent on the weather or how we feel that day.
Lately, and recent occurrences have proven so- people are having to be aware and ever-cautious about their own personal well-being with whomever they travel with, how they get there, and whomever they are accompanied by.
As it has become more available, people are finding out they can protect themselves as well as their loved ones, from anything dangerous such as potential gunfire, all the way to a butcher's knife-simply by just by wearing concealable body armor;
The basics of bulletproof clothes are:
the ballistic panels (or plates) that are able to be inserted into the clothing;
the garment itself, which will contain special fabric patterns to add panel pockets – possibly a business suit vest, jacket, t-shirt, with specially sewn-on pockets to accept the panel inserts (usually NIJ IIIA);
When choosing bulletproof clothing, it is important to note that concealability and being inconspicuous, while wearing bullet-resistant clothing is important and will substantially increase your ability to survive an emergency situation where gunfire is present, or edged weapons are involved. In some scenarios even ballistic helmets may save your life! Stay protected with bullet-resistant vests!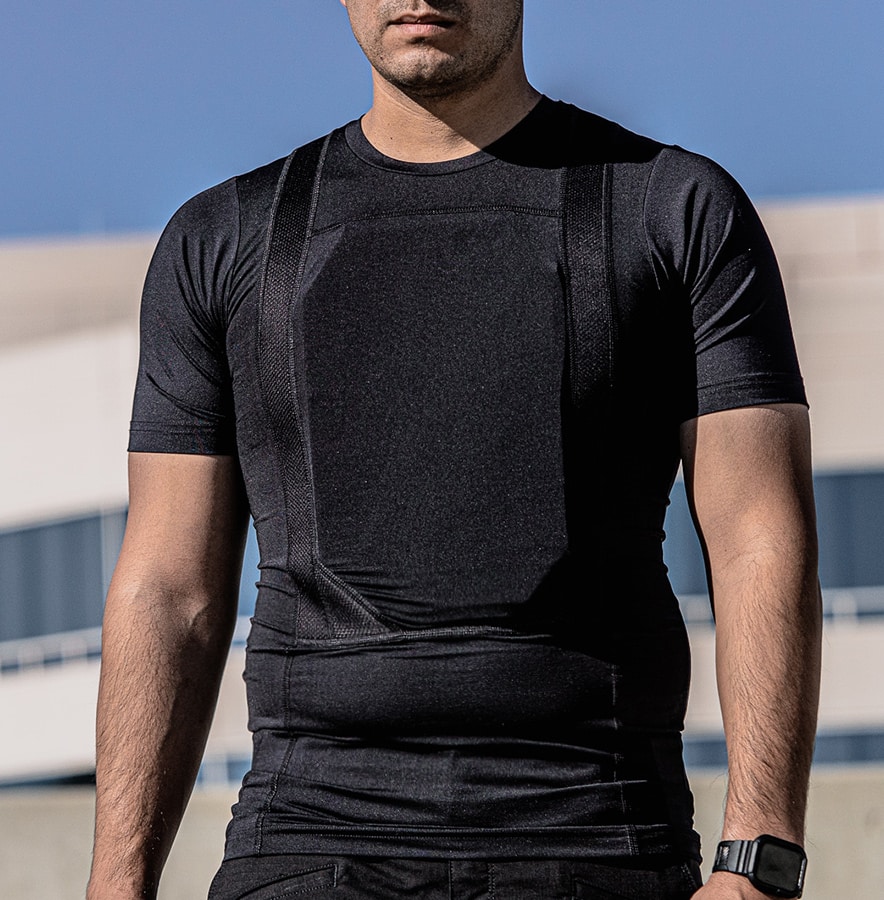 APEX CONCEALED BULLETPROOF T-SHIRT
All the protection of a light armor vest with the convenience and comfort of a t-shirt. Constructed from moisture wicking 85% polyester/15% spandex compression fabric with antimicrobial properties built. Armor pocket is designed for plates not exceeding three pounds. The most comfortable, concealable, and convenient way to wear light body armor.
The problem has been that 10×12 panels are not an exact fit, especially at the bottom. Our development engineer designed a 10×12" soft panel with a slight V-angle that makes the panels fit the shirts much better and more comfortably.
HOW IS BULLETPROOF CLOTHING MADE?
Clothing that provides ballistic protection requires special manufacturing processes in order to allow the clothing to accept, hold or carry, and keep NIJ IIIA ballistic kevlar panels, in the proper position firmly in place where the panels can protect the wearer's critical areas and vital organs. It is crucial so that jacket can stop the bullet.
Bulletproof clothing includes ballistic panels that are sewn into pockets within the garment for concealment. Many of our U.S.-made bulletproof vests and stab-resistant jackets, shirts, and pants come with multi-panel pouches attached inside the garments to hold the armor panels in place when worn under a shirt or jacket.
The end result will be one complete custom-fitted piece of clothing made by industrial cutting machines and capable of accepting, holding, and protecting NIJ IIIA-rated armor panels (bulletproof vests) when worn by, military, law enforcement officers, and government agents or modern civilians all over the country.
IS BULLETPROOF CLOTHING LEGAL?
The idea that bulletproof vest is created only for police officers is not quite correct. Just because you want to purchase a Level IIIA bullet-resistant ballistic vest does not make you an outlaw!
that's right, civilian ballistic armor is just as legal to buy and own, provided that you are not a convicted felon. the world of online shopping sites can provide an easy way to find your new bulletproof vest or plate carrier.
Even though owning and wearing a personal bulletproof vest is not illegal in most states, it can vary depending on what local laws are: always check with your city or state's law enforcement to see if you're allowed to carry them at all!
Members of the armed forces and law enforcement can still be subject to their agencies' policies when buying, owning, wearing, or transporting ballistic armor.
WHO MAKES THE BEST BULLETPROOF CLOTHING?
High-quality bulletproof clothing manufacturers are very common in the industry across the nation, as well as overseas. There are many companies manufacturing body armor in the USA, they all are doing their best to produce the highest quality bulletproof clothing, however, each of them has some sort of imperfection in their products.
Some of these manufacturers have been around since the beginning, while some are relatively new. When it comes to manufacturing body armor, not only does one need to make sure that the product can stop bullets as designed (soft armor provides NIJ IIIA level of protection) but also needs to ensure proper results with different tests in the manufacturing phase and finished products – which means extra expenses associated with research & development (R&D) as well as implementing advanced production methods and machinery.
While some companies don't spend enough on R&D or developing better methods for production, others come up with cheaper alternatives to save money, by using cheap materials instead of solid thread.
This is why we advise you to thoroughly examine all the products on your own before buying and make sure it's high quality. When companies use cheaper materials in order to save costs, or when they choose low-quality production methods for manufacturing their vests – this affects the reliability of their products as well as the overall reputation of such manufacturers in the market.
Ace Link Armor in Irvine, California offers the individual wearer bulletproof apparel- at some of the most affordable prices in the body armor industry, in a variety of sizes, styles, and colors to match contemporary everyday clothing.
Our ballistic panels undergo extensive testing at independent laboratories in order to provide the best protection.
Ace link armor is ISO:9001 quality management certification pending and can provide the end-user the quality protection they deserve at a price they can afford.
SHOULD I GET BULLETPROOF CLOTHING?
The simplest and most practically sound advise is "yes, and get it today!"; protecting your family as well as yourself is your basic right and obligation!
In the wake of Newtown and now in Hollywood, we hear about gun violence more than ever; and with terrorist attacks on the rise globally it's certainly a good idea to have some form of protection for you and your family.
The problem however lies in the fact that most people don't even know where to start when looking at getting some kind of protection, or how to get it.
Check our company website and offer lightweight body armor, bulletproof backpacks, and armor plates and get the protection you and your beloved ones need today.
Plate carrier vest fits your needs better? No problem, we have them too and they can fit NIJ IIIA and level III panels! Get those best sellers now! The Bullet stops here!