The Best Gift For Police Officer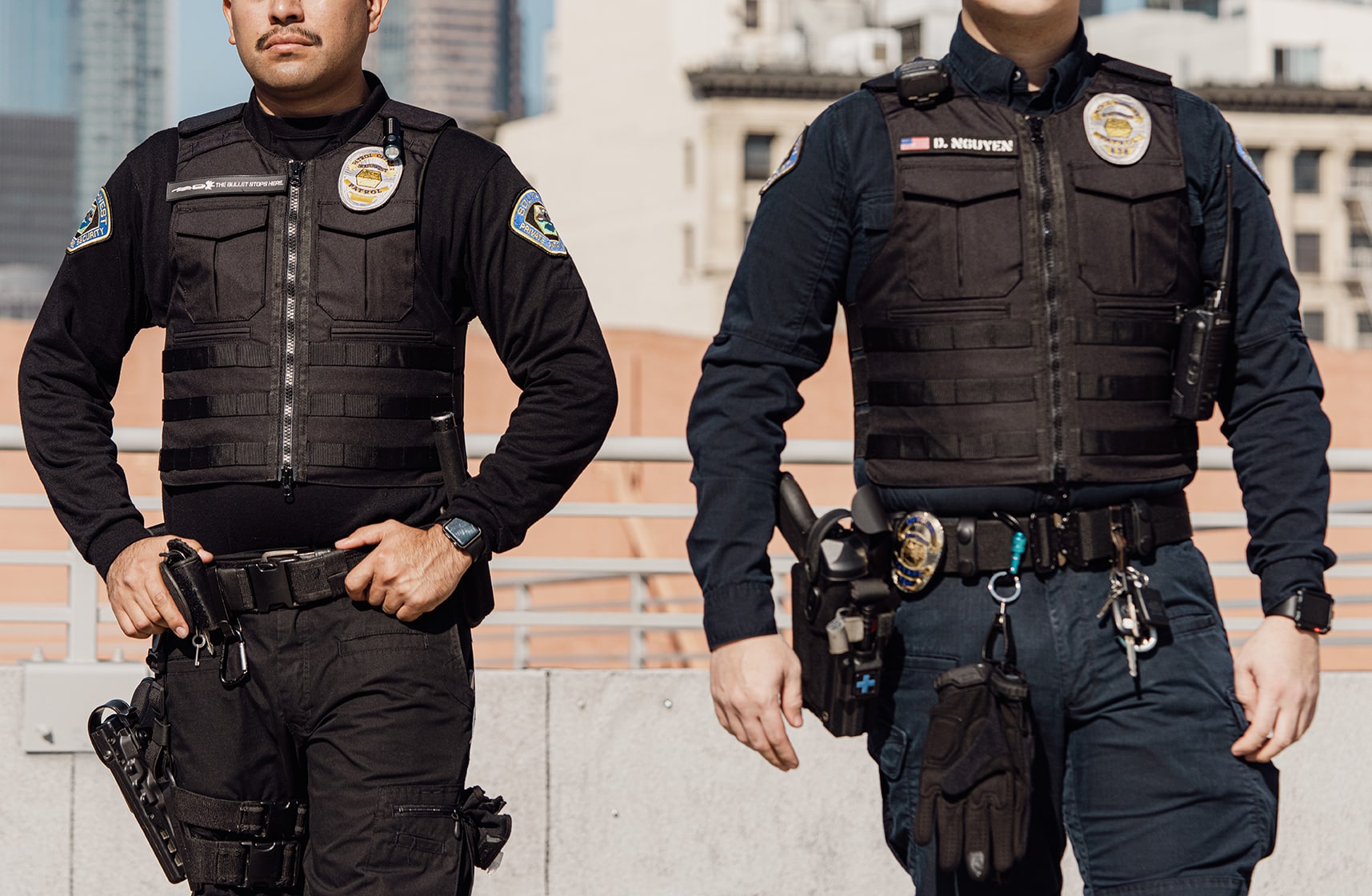 The Holiday season is around the corner, and though it is a time of meeting your loved ones, and having some much-needed family time, one of the main things that start to stress people out as the holidays approach is what gift to buy for everyone.
Everyone wants to give a thoughtful gift to the people they appreciate, but finding the perfect gift can be quite challenging. Well, if the person you are shopping for is a law enforcement officer, we have got you covered.
We can help you find the perfect police officer gifts for your favorite police officer. Here is a list of some of the best gifts that you should consider buying.
A New holster
Many law enforcement officers carry firearms when they are off duty as well, and one of the best and most practical gifts for police officers is a nice new holster. Moreover, the Duty Holster that most police officers usually have isn't the best either.
You can buy them a high-quality Kydex holster that is made specifically for their concealed carry or duty handgun, or if the police officer you are buying for is a firearms enthusiast, you can also get them a really high-quality leather holster for one of the pistols in their collection.
If you are buying a concealed carry holster, look for an IWB option. IWB or inside-the-waistband holsters are better for concealment, whereas OWB holsters are better for Duty use, as they are designed to be worn outside the waistband.
A patrol bag for Police officers
When police officers are out on duty, they need to carry a lot of tools and gear in their police car. So, if you want to get practical gifts for police officers, a Patrol bag is an excellent option. Made specifically for police officers, these bags allow law enforcement officers to carry all of their equipment in an organized and easy-to-access way.
This is a wide range of excellent police patrol bags available on the market, and you can easily find one that fits your gift-giving budget. However, there are some things that you need to keep in mind when shopping for a patrol bag.
Firstly, the bag should be large enough to carry all the gear a police officer might need on patrol. This includes a lot of paperwork for processing DUIs and other incidents, their backup weapon, ammunition, spare batteries for their radio and flashlight, a med kit, and a lot more. Secondly, think about the different features of the bag, like does it have special compartments for different gear, and does it have Molle compatibility. Finally, the bag should have a quality construction.
Rapid Deploy Backpack – protection on the go
Police officers constantly face a lot of threats, even when they are off duty. Criminals can target police officers who are working against them and try to harm them when they aren't in their precinct or in a position to call for backup.
So, one of the coolest police gifts you can get is a bulletproof backpack. The Rapid Deploy bulletproof backpack from Acelink armor is an excellent option.
Unlike most backpacks on the market, which only have one pocket for ballistic inserts, the Rapid Deploy bulletproof backpack has space for both a front and back armor panel. The backpack can be deployed within seconds and turned into a complete plate carrier, which can carry both soft and hard armor plates.
The Rapid Deploy backpack also has a large 35L capacity, and it can fit all of your gear and other EDC essentials. It is very comfortable to wear, with breathable mesh panels on the back, and padded shoulder straps. It is also compatible with a hydration pouch, making it an ideal tactical backpack, and a great gift for a police officer.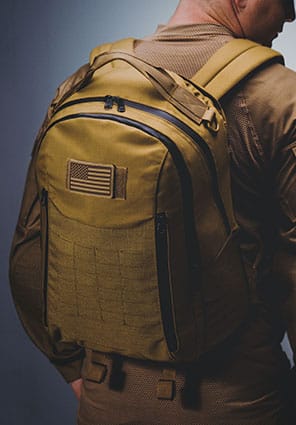 ACELINK ARMOR RAPID DEPLOY BACKPACK
The Rapid Deploy Bulletproof Backpack is the perfect solution for professionals committed to being prepared. With the ability to transform from a backpack to a bulletproof vest, with customizable and removable panels to fit any body type, this pack has more options than ever before.  So, you can be as safe as humanly possible while not sacrificing style or comfortability on the go.
Set of Custom Police Badge Whiskey Glasses
If you want to get a more personal gift for your fellow officers or a friend or family member who is a police officer, you should consider a set of custom police badge whisky glasses.
Many small online businesses make custom whisky glasses with a police badge and badge number of your choice engraved on them. You can also easily find such glasses on amazon. These high-quality whisky glasses are custom made and you can have your friend's rank, name, and exact badge number engraved on them.
This makes for an excellent appreciation gift for police officers.
Tactical Belt – Range Belt
Next up, if you're looking for an affordable and practical gift, you can buy a tactical belt for a police officer. The tactical range belt from AceLink Armor is an excellent contender to consider as it can work as a duty belt, range belt, and CCW Belt as well.
The AceLink Armor range belt is designed to fit a wide range of tactical applications, the inner pant belt has a hard Nylon core, which makes the belt stiff, and ideal for carrying a lot of weight without sagging. The internal pant belt can be used as a CCW platform, or you can also wear the external load-bearing duty belt, which has Laser Cut slots to mount PALs and other Molle Accessories.
The AceLink Armor Tactical range belt features a high-quality quick-release cobra belt buckle. The heavy-duty stainless steel release on the buckle holds the belt firmly in place and can withstand a lot of weight
Overall, the Tactical Range belt from AceLink Armor is one of the best Police officer gifts that you can get.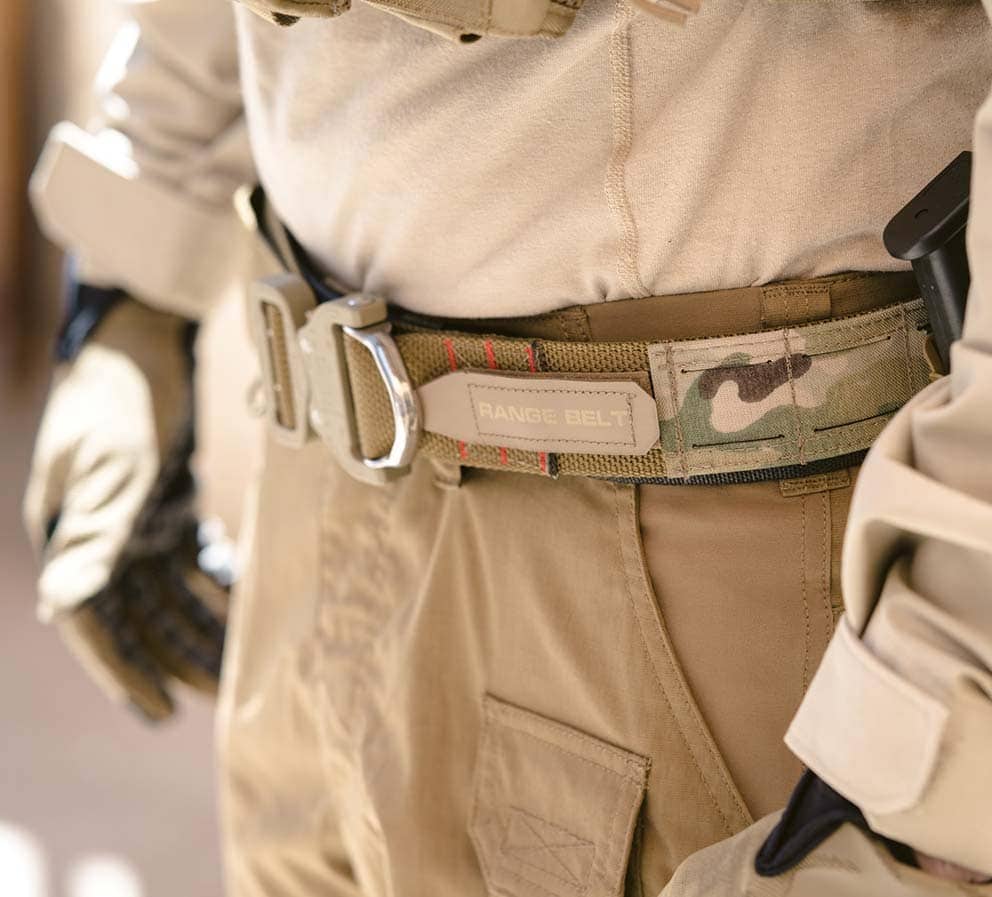 ACELINK ARMOR TACTICAL RANGE BELT
The Range Belt can be deployed as a load-bearing battle-belt system able to mount tactical holster, magazine holders, radio communications, tactical torch light pouch, IFAKs, etc. by utilizing the Range Belt's two rows of laser cut slots along the belt's outer surface to secure equipment using MOLLE straps. This 2-belt system has a rigid inner Velcro belt, and an outer LASER CUT belt for load bearing.
Flashlight
Looking for a thoughtful gift for a police officer, that is also within your budget? How about a flashlight? The simple flashlight is one of the most important tools in a police officer's kit. And there are loads of police-themed flashlights available on the market that you can get for a very affordable price.
A flashlight is a simple but great gift for police officers.
Patrol Bulletproof Vest
A high-quality bulletproof vest is another excellent gift for police officers. Police officers have to wear a ballistic vest when they are on duty, keep it in their patrol car as a backup, or use it for their home defense kit.
The Patrol bulletproof vest from Acelink armor is one of the best tactical vests for police officers. It comes with level IIIA ballistic panels and has multiple features purpose-built for law enforcement. It has Molle webbing on the front and multiple attachment points on the shoulders for flashlights and radio mics. They also have a dedicated attachment point for a chest cam. This bulletproof vest also has multiple pockets for police officers to keep their handcuffs, notepads, pens and a wide range of additional gear.
Police officers have to wear their vests for a very long time, therefore, the Patrol ballistic vest also pays a lot of attention to comfort. It has a space mesh interior, which improves air circulation, and makes the vest more comfortable to wear.
A thin blue line Coffee mug
Police officers are the thin blue line that keeps society from falling into chaos and anarchy. They sacrifice a lot and put their lives on the line to keep us safe. One of the best gifts you can get for a police officer is a mug with a thin blue line flag on it.
This mag is one of the best appreciation gifts you can buy, and it symbolizes the importance of the role a police officer plays in our society. The thin blue line flag is an American flag, with a blue line passing through it.
You can easily find a thin blue line coffee mug on amazon, or any other local gift shot. This simple thin blue line mug is the perfect police gift that you can't go wrong with.
Ballistic Helmet High-cut
If your police officer friend or family member is a fan of tactical gear, here is one of the best police gifts you can get for them.
The special Mission High cut helmet from Acelink armor makes for a really cool gift. The helmet is rated to offer level IIIA ballistic protection, and it provides excellent protection against trauma attacks because of its aramid construction, and internal padding.
This combat-ready helmet also comes with side rails to mount accessories and hearing protection. It features a front NVG shroud and allows for a wide range of other modifications and accessories as well.
So, if you are looking for a unique and cool police gift, the Special Mission Ballistic High Cut helmet from Acelink Armor is an excellent option.
Final thoughts:
So, here were some cool ideas for the best law enforcement gifts you can buy. We hope this hope helps you find the ideal gift you are looking for.