The Best Gift For Gun Enthusiasts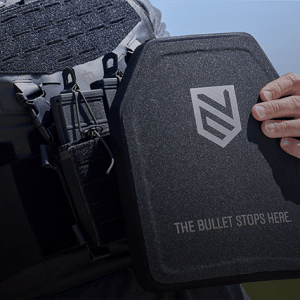 The Holiday season is around the corner, and once again it is the time to look for the best gifts for your friends and family members. However, buying the perfect gift isn't easy, everyone has different tastes, and if you want your gift to stand out, you can't buy something generic like a pair of socks, or a simple sweater.
Well, we don't know about the rest, but if you are buying a gift for a gun enthusiast, we have got you covered. Being a body armor manufacturer, we belove that body armor is one of the most practical gifts you can give to a gun enthusiast, however, we have mentioned some other really cool options you can buy for the firearm lover in your life.
A bulletproof vest
One of the best, and most practical gifts to give to a firearms enthusiast is a bullet proof vest. Having a lot of cool tactical gear is a part of the gun enthusiast's experience, and bulletproof vests are one of the coolest and most useful pieces of gear you can get.
Ace Link Armor makes a wide range of bulletproof vests, all of which are excellent gifts for gun enthusiasts and law enforcement officers as well. All Ace Link Armor Ballistic vests are made with the highest quality materials and have super durable stitching. Ace Link Armor also offers bulletproof vests with ballistic panels. They have Level IIIA soft armor inserts that can provide excellent ballistic protection against handgun rounds and smaller firearms ammunition.
So, Ace Link Armor Tactical ballistic vests are a perfect gift for firearm enthusiasts, and they might even save their lives in a dangerous situation.
A Tactical bullet proof backpack
If you don't want to buy traditional ballistic tactical vests as a gift, how about a really cool bulletproof backpack that can be converted into a bulletproof vest?
Well, that is what the Rapid Deploy backpack from Ace Link Armor has to offer. This backpack is made from super durable materials and has a large 35L capacity, with multiple pockets.
Unlike other bulletproof backpacks, which only carry one ballistic panel, the Rapid Deploy backpack carries two body armor plates, one for the front and one for the back. In an emergency situation, the front armor panel can be deployed in seconds to give you a complete ballistic vest with protection integrity.
The Rapid deploy backpack also has Molle compatibility and can be used as a really effective range bag. Moreover, if you give it to your firearm enthusiast friend, they can always have reliable ballistic protection on the go.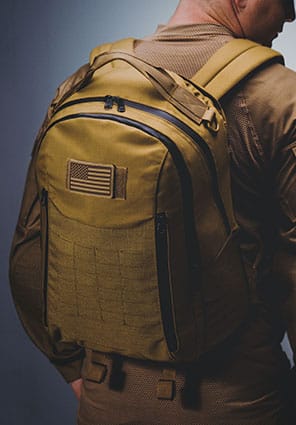 RAPID DEPLOY BACKPACK
The Rapid Deploy Bulletproof Backpack is the perfect solution for professionals committed to being prepared. With the ability to transform from a backpack to a bulletproof vest, with customizable and removable panels to fit any body type, this pack has more options than ever before.  So, you can be as safe as humanly possible while not sacrificing style or comfortability on the go.
A Custom patch for their Body armor
If you are looking for a super affordable and personalized gift that really shows your appreciation, you can get your firearm enthusiast friend, a set of customized body armor patches for their bulletproof vests.
You can have patches made with your friend's name on them, or any other logo, or design they would like. This is an excellent gift if you are on a budget, and it conveys a more personal message of appreciation
A tactical range Belt
If the person you are buying a gift for is a firearm enthusiast, they definitely like to visit the shooting range and practice their combat shooting skills. Well, if so, they need to have a good range belt.
The Ace Link Armor Tactical Range belt is an excellent option. This two-belt system comes with a rigid inner belt, which can serve as an excellent CCW belt and has an external belt with load-bearing loops. This belt is an excellent gift for police officers, security guards, and military members, who can use it as a duty belt as well.
The Ace Link Armor Tactical Range belt is made from durable materials and has a hard nylon insert for extra stiffness. It can carry a lot of weight from your pistol and extra magazines to other PALs and equipment you may need to access quickly at the range.
Like the best tactical belts on the market, this range belt also has a rugged and durable Quick-Release Cobra belt buckle, with metal lock and release levers, and a metal D-ring on the side as well.
The Ace Link Armor Tactical Range belt is also an excellent option for competition shooters.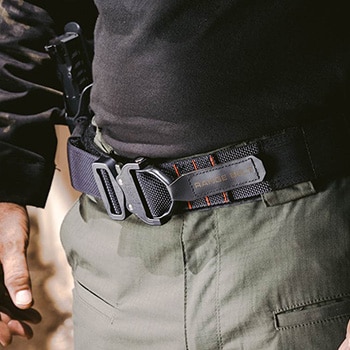 ACELINK ARMOR TACTICAL RANGE BELT
The Range Belt can be deployed as a load-bearing battle-belt system able to mount tactical holster, magazine holders, radio communications, tactical torch light pouch, IFAKs, etc. by utilizing the Range Belt's two rows of laser cut slots along the belt's outer surface to secure equipment using MOLLE straps. This 2-belt system has a rigid inner Velcro belt, and an outer LASER CUT belt for load bearing.
A new Pistol Holster:
Almost every gun enthusiast carries a concealed carry pistol, and they need a quality holster for it. If you want to buy a practical gift for a gun enthusiast, you can get them a cool new pistol holster.
There is a wide range of hosts available on the market, you can get them a Kydex holster that is made specifically for their concealed carry or duty handgun, or you can even opt for a high-quality leather holster with a custom engraving for a more personal gift.
If you are buying a concealed carry holster, look for an IWB option. IWB or inside-the-waistband holsters are better for concealment, whereas OWB holsters are better for Duty use, as they are designed to be worn outside the waistband.
A Tactical Plate Carrier
If you want to buy a gift that gives better ballistic protection than bulletproof Vests, you can opt for a plate carrier with hard body armor plates.
Tactical Plate Carriers are designed to hold armor plates rated to stop rifle threats. AceLink Armor offers a wide selection of Minimalistic, and tactical plate carriers, that can be an excellent gift for a firearm enthusiast.
Their tactical plate carriers, like the recoil, Quad Release 2.0, and Formoza plate carriers are made from highly durable fabrics and have Molle compatibility as well. You can also opt for the super lightweight Skeleton plate carrier from AceLink Armor which is made with a Kydex frame, or you can choose the react plate carrier for concealed bulletproof protection.
As far as ballistic plates are concerned, you can opt for level III or level IV plates from Ace Link Armor.
A Tactical High-Cut Ballistic helmet:
If the firearm enthusiast you are shopping for already has ballistic vests, and their basic body armor sorted out, you can get them a cool tactical helmet.
Ace Link Armor makes a wide range of ballistic helmets, that could make for a really cool gift. The Special Mission High Cut helmet is one of the best options for a gun enthusiast. The helmet is rated to offer level IIIA protection, and its internal padding makes it very comfortable to wear. The special Mission helmet is made to be combat-ready and it comes with side rails to mount accessories and hearing protection. It features a front NVG shroud and allows for a wide range of other modifications and accessories as well.
Gun enthusiasts tend to love all things that have a tactical nature, and a high-cut ballistic helmet could be just the gift they are looking for to complete their body armor kit.
Final Thoughts:
So, here were some of our best gift ideas for gun enthusiasts. We have mentioned some of our best products that would make for amazing and practical gifts, along with some other options as well. We hope this post helps you find the gifts you're looking for.