Best Plate Carrier Pouches And Accessories in 2022

Plate carriers are designed to do more than simply carrying your body armor plates. You can carry a whole variety of accessories and pouches on them. Setting up armor carriers can be quite challenging, there are so many configurations you can go with, and it can all be a little overwhelming for someone who is new to using plate carrier vests.
Therefore, today we are going to tell you all you need to know about tactical plate carrier load-bearing systems, and what you can mount on them. In the end, we are also going to share some of our top picks for the best lightweight plate carrier vest accessories in the market.
WHAT IS A LOAD-BEARING SYSTEM ON A PLATE CARRIER?
You have probably noticed the most people who use tactical plate carriers, also mount some additional equipment on them. This is a very important use case of plate carriers, as they aren't only designed to hold body armor plates, but also carry tactical gear like extra magazines, communication devices, and other equipment.
This is why plate carriers need to have a standard load carrying system so that all pouches and other accessories can be easily carried on a plate carrier. These days, most tactical plate carriers, have either a MOLLE or Laser Cut load-bearing system. Most armed forces all over the world, especially NATO forces use these standard load-bearing systems.
WHAT IS A MOLLE VS. LASER CUT LOAD-BEARING SYSTEM?
There are many ways to set up your tactical plate carrier, however, two main styles can be found on almost all of modern plate carriers: MOLLE and Laser-cut. MOLLE stands for Modular Lightweight Load-Carrying Equipment and is actively used by many combat professionals. Below you can find more specific information about each of those two systems:
MOLLE LOAD BEARING SYSTEM
MOLLE is the standard system used by most NATO forces and law enforcement officers on their soldier plate carrier system. The best feature of the MOLLE system is its modularity, which is achieved by the use of PALS (Pouch Attachment Ladder System).
A plate carrier with the MOLLE system will have nylon strips down to the equipment in a ladder pattern so that you can attach any MOLLE compatible gear. Most heavy duty plate carriers that used to hold heavy level III and IV body armor use the MOLLE system.
LASER CUT LOAD BEARING SYSTEM
These days, you can also find tactical plate carriers with the Laser cut load-bearing system. Instead of Nylon straps, these Carriers have Laser-Cut slots, which can be used to mount pouches and magazine slots. Laser Cut system carriers can be used to mount MOLLE compatible gear as well, and some people prefer them because the Nylon straps on a MOLLE system can get loose over time.
However, some people say that the Laser-Cut system doesn't hold accessories as sturdily as MOLLE. Some concealable plate carriers are also available in the market, which don't have a load-bearing system.
TYPES OF POUCHES AND ACCESSORIES FOR A PLATE CARRIER
There are many different kinds of accessories besides body armor plates that you can carry on a plate carrier. The kind of accessories that you use depends a lot upon your preferences or duties.
Most people carry extra magazine pouches on their plate carrier. Whether you are a law enforcement officer or simply going to the range, this allows you to have your extra ammo at an easily accessible point, and it makes reloads a lot quicker. Specially designed pouches are also available for pistol mags, radios, knives, and handcuffs. As far as accessories are concerned, you should carry a flashlight and a medkit on your plate carriers as well.
Tactical Plate carriers also have velcro straps on the back and front to add patches that specify your designation. In the military, these are used to show a soldier's rank, their mane, and their country flag. They help soldiers easily identify friendlies and limit the chances of accidental friendly fire.
The kind of accessories that you use depends a lot upon your preferences or duties.
WHAT IS CHEST RIG VS. PLATE CARRIER?
A chest rig is a webbing or panel that you can wear to carry your gear on your chest. You can add magazines, aid kits, and other pouches to them so that they are easily accessible and their weight is evenly distributed on your body.
On the other hand, a plate carrier is made to hold a body armor plate, you can add soft armor inserts and ceramic plates in both the front and the back to protect your vital organs. Moreover, these plate carriers also have different systems to carry your tactical gear and extra magazines as well.
TOP 3 BEST POUCHES FOR PLATE CARRIER
HIGH-SPEED GEAR TACOS
The High-speed gear Taco pouches are one of the best in the market and are very popular among military personnel and law enforcement both in the US and other countries. These pouches are made from Cordura laminate, durable injection mold brackets, and high-quality shock cords. The brackets keep the pouches open for a quick draw, and the cord applies enough retention to keep the magazines and other gear in place while you move around.
This unique design allows these pouches to be very versatile and useful. You can get Taco pouches for rifle magazines, pistol magazines, handcuffs, and communication gear, and they can be mounted on any MOLLE body armor carrier or bulletproof vest.
SPIRITUS SYSTEM LV PLACARD 556
Spiritus System LV Placard pouches are great for carrying pouches and other gear, however, the LV Placard 556 is specifically designed to carry 556 magazines. They use high-quality elastic, which creates form-fitting cells that provide excellent retention.
Unlike other pouches which are sewed off on the bottom, the LV Placard pouches use elastic webbing at the base. This keeps the magazines from being pushed off because of tapered elastic at the bottom of the pouch.
The backside of the placard is lined with hard loop velcro, which ensures a secure fit on your military plate carrier vests.
G-CODE SOFT SHELL SCORPION RIFLE MAG CARRIER
For the Soft Shell Scorpion Rifle Mag Carrier, G-Code uses a hybrid design, which features unconventional materials and construction methods that take their performance to new levels.
These magazine pouches have an exoskeleton outer frame with an inner soft shell, to give you a seamless balance between rigidity and expansion. These pouches fit all AR series and AK magazines, from 5.56 up to 308 Winchesters. Moreover, the flared surfaces on the side of the pouch, allow you to draw and insert mags very easily, without looking.
The G-Code Soft Shell Scorpion Rifle Mag Carrier is made from Super-Tough Nylon frame components and a TPV molded Softshell, which also makes them very durable.
ACE LINK ARMOR BEST MOLLE POUCHES AND ACCESSORIES
MAP Pack MOLLE Backpack
WRAP Rifle Magazine Pouch
WRAP Pistol Magazine Pouch
Single Stack Kangaroo Pouch
Double Stack Kangaroo Pouch
ACE LINK MAP PACK MOLLE BACKPACK
If you are looking for a tactical backpack, this is one of the best products you can get. You can wear the MAP (Multi Accessory Performance) Pack Backpack on its own with its comfortable shoulder straps, or you can also mount it to the back panel of the Skeletac tactical plate carrier.
This lightweight and versatile backpack also has a water bladder compartment, for when you are on those long hiking trips. The Map Pack fits very well, and it comes with detachable suspenders, and a chest strap as well, which make the mage very comfortable to wear.
The bag has two main compartments, the larger one has a 9L capacity and the smaller front pouch with a 3L capacity. Using the MOLLE attachment points on the bag, you can also mount other pouches and accessories.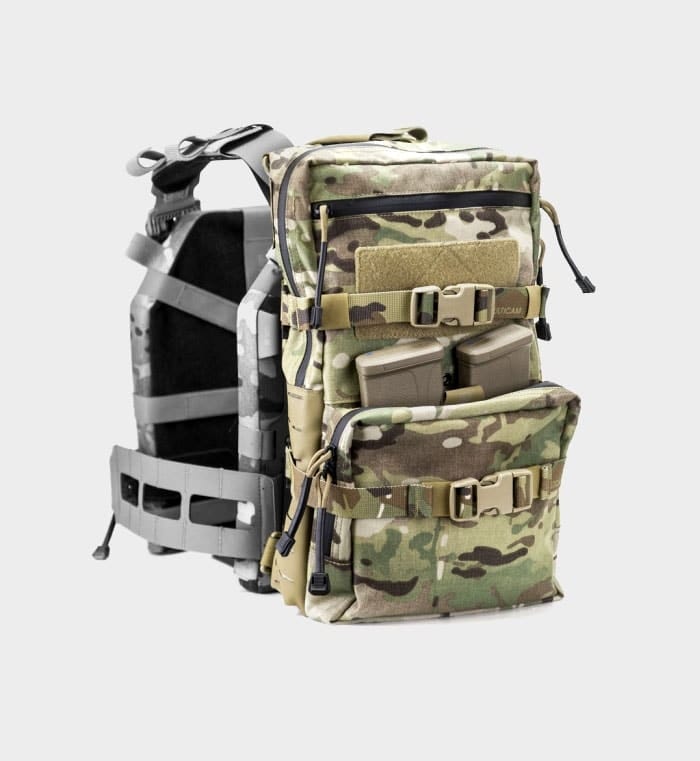 MULTI-ACCESSORY PERFORMANCE PACK
The Ace Link Multi-Accessory Performance Pack reintroduces backpack versatility like nothing before.
The MAP Pack can either be worn by itself with the included shoulder straps, or can be mounted onto any MOLLE compatible plate carrier.
MAP Pack affords the wearer to carry extra equipment or medical gear without taking up space on the front of the plate carrier- allowing the weight to be carried like a backpack while wearing the plate carrier.
SKELETAC WRAP RIFLE MAGAZINE POUCH
Ace Link Armor is one of the best brands when it comes to armor, plate carriers, and plate carriers accessories. There Wrap rifle magazine pouches are perfectly made to accommodate AR-style magazines and can be used for AK mags as well.
They are made using high-quality materials and offer an open top for quick access. The pouches offer really good retention and keep your magazines from falling out when you are moving around. They also come with an elastic cord loop, that can be placed over to magazines to keep them in the pouch. The loops can be open instinctively and don't delay the draw
SKELETAC WRAP PISTOL MAGAZINE POUCH
If you are looking to add a couple of pistol magazine pouches to your plate carrier vest as well, the Acelink Armor SKELETAC WRAP Pistol Magazine Pouch is the best option in the market.
These versatile pouches can be used for almost any kind of pistol mags, and are ideal for fast reloads. The pouches have a shock cord retention system, which adjusts to both single stack and double stack magazines, and keeps them in place
They come in a variety of colors including Black, Coyote, Ranger Green, or Multicam, and can be attached to plate carrier directly, or, be used with other Ace link rifle magazine pouches
The pouch can attach with any MOLLE compatible plate carrier.
SKELETAC SINGLE STACK KANGAROO POUCH
Ace link also offers an excellent Kangaroo pouch that you can mount on your plate carriers. This pouch can be used for different applications, and it can also be used to carry rifle or pistol magazines.
Mounting the Kangaroo pouch onto your plate carrier vests is very easy, it has two fastex-type buckles and a Velcro backing panel, which makes it very efficient at load bearing.
The Skeletac Kangaroo Pouch is made using high-quality materials including high-quality laminate and nylon. It is hand-crafted, with durable and strategically placed stitching to maximize strength and longevity.
SKELETAC DOUBLE STACK KANGAROO POUCH
Similar to the single stack Kangaroo pouch, this Double stack pouch by Ace Link is also made from high-quality materials. It can be mounted on all Ace body armor carriers and with the separately sold suspenders, it can be used on its own as a chest rig as well.
The pouch can easily store up to six rifle magazines, and other accessories as well. It has a similar mounting system to the single stack kangaroo pouch.
There are various inserts available for the Double stack kangaroo pouch, which allow you to safely carry a wide variety of accessories from rifle magazines to all kinds of body armor gear.
FINAL THOUGHTS
The most important thing is to make sure you get a quality product with all of the features you need. This will help ensure an overall better experience in using your new armor system and keep both yourself and those around you safe during combat situations when wearing a plate carrier vest or other protective gear. Which plate carrier accessory did we miss? Let us know in comments below.