The role of concealed body armor in protecting VIPs from active shooter situations.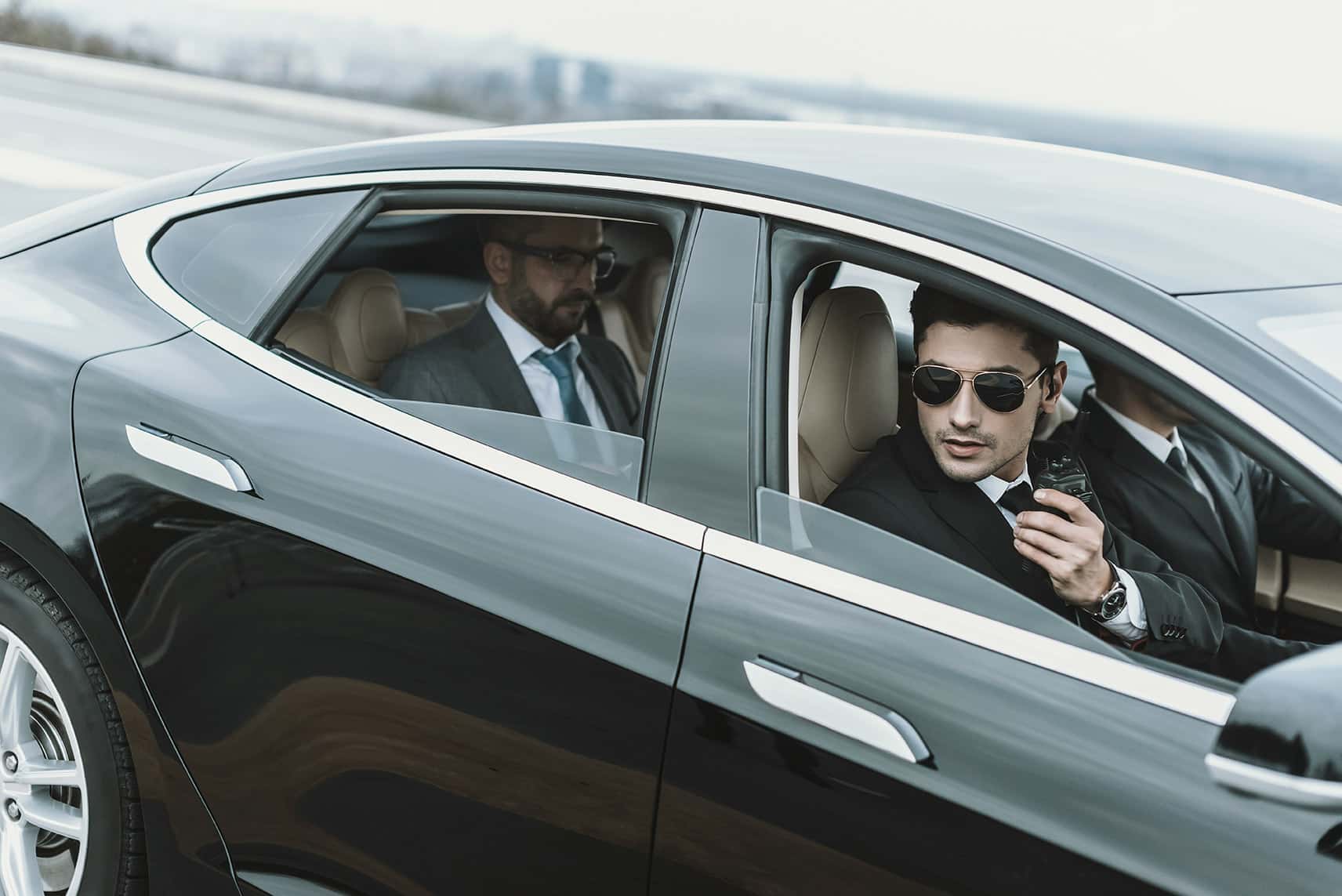 VIPs or "Very Important Persons" is a term mainly used for highly valued individuals. These people, like politicians, high-ranking government officers, business executives, and celebrities have an influential status in society, which brings a lot of attention from people with ill intentions as well. These VIPs and their families are at a higher risk of facing assassination attempts, kidnappings, and various other kinds of threats to their well-being.
Therefore, VIPs need to take their protection and security very seriously. Most VIPs hire security personnel to keep them safe, however, you should also consider wearing concealable body armor under their clothes.
If an assassination, kidnapping, or extortion attempt turns into an active shooter situation, bodyguards alone can't keep you safe from all the bullets flying around. In such a chaotic situation, wearing a concealable vest could make the difference between life and death. Moreover, it gives you and your executive protection team the confidence to take bold decisions, and escape the situation as quickly and safely as possible.
The benefits of using executive body armor for VIP protection in active shooter situations
Active shooter Situations can be very chaotic and dangerous. In such situations, having the extra ballistic protection of a bulletproof vest can be very beneficial for VIPs, and their Executive protection teams.
Firstly, wearing body armor in such situations can lead to a higher survival rate. If an active shooter is specifically targeting a VIP and is determined, it is quite possible for them to land at least a couple of shots before the bodyguards can respond. Though the job of an executive protection team is to avoid these situations by careful planning, if a VIP does get shot during an active shooter situation, a bulletproof vest will greatly increase their survival rate.
Wearing a bulletproof vest can also help VIPs and their bodyguards move from one position to another more easily. When their vital organs are protected by soft body armor, it is easier for VIPs and their protection team to move between covers and evacuate.
The different types of concealed body armor available for VIPs
There are various kinds of body armor and ballistic panels available on the market, however, when it comes to concealability, you have to go with soft armor panels. A soft armor bulletproof vest is much easier to conceal under your clothes and is perfect for everyday use. Here are the main types of concealable soft body armor used for Executive Protection.
Soft body armor level IIIA
In the US, body armor is standardized by the National institute of justice, and Level IIIA ballistic panels are rated by the NIJ to offer protection against handgun rounds. A level IIIA bulletproof vest can stop pistol calibers up to .44 magnum and .357 Sig.
Previously level II soft armor panels were more commonly used for concealable vests, however, these days, Level IIIa ballistic panels, which offer the highest possible protection you can get from soft armor, are a more popular option. These lightweight vests offer the wearer a perfect fit and are easy to wear for a long time.
Soft armor panels IIIA Anti-stab
Some VIPs may also want to use dual-protection vests. These armor vests have soft armor panels that offer both Ballistic and stab protection. However, these panels may be slightly more rigid than normal ballistic armor panels.
Overall, soft armor panels are perfect for concealable protection. Though you are sacrificing protection against rifle calibers, soft armor panels are significantly more concealable and practical for everyday use than hard armor plates, which can be very difficult to conceal. soft armor bulletproof vests offer the ultimate combination of concealability, comfort, and ballistic protection.
How to properly wear concealed body armor for ballistic protection?
To get the best possible protection, it is essential that you wear your concealed armor correctly.
First of all, you need to make sure that it fits you properly. Your concealable ballistic vest should have a snug fit, while not being too tight or restrictive. When you take a deep breath and your chest expands, the vest should just start to feel tight.
When you wear concealable armor, it is better to wear it over a moisture-wicking t-shirt. This prevents it from soaking up too much sweat and smelling bad.
Next, make sure to adjust the velcro straps of the vest so that it fits your body and covers all of your vital organs. Then move around to make sure that the vest isn't restricting your movement in any way.
Lastly, wear your clothes over the vest to make sure that it is concealed.
How to clean and maintain concealed body armor?
If you are wearing concealable armor every day, you need to pay special attention to its cleaning and maintenance. Concealable body armor that is worn under your shirt is much more likely to build up bad smells because of bacteria and sweat. Therefore, regular cleaning is essential.
However, you can't wash your ballistic vest the same way you wash normal clothes. First of all, you need to take the armor panels out of the outer carrier. The outer carrier, which may be made of materials like polyester and cotton, or nylon can be washed in the machine, with mild detergent and cold water.
To clean the armor panels, you should use a soft brush and mild soap. Make sure that the outer waterproof liner of the armor panel isn't broken or damaged at any point, otherwise, the water will get into the kevlar fibers and damage them. You should never soak your armor panels in water, or fold them while cleaning.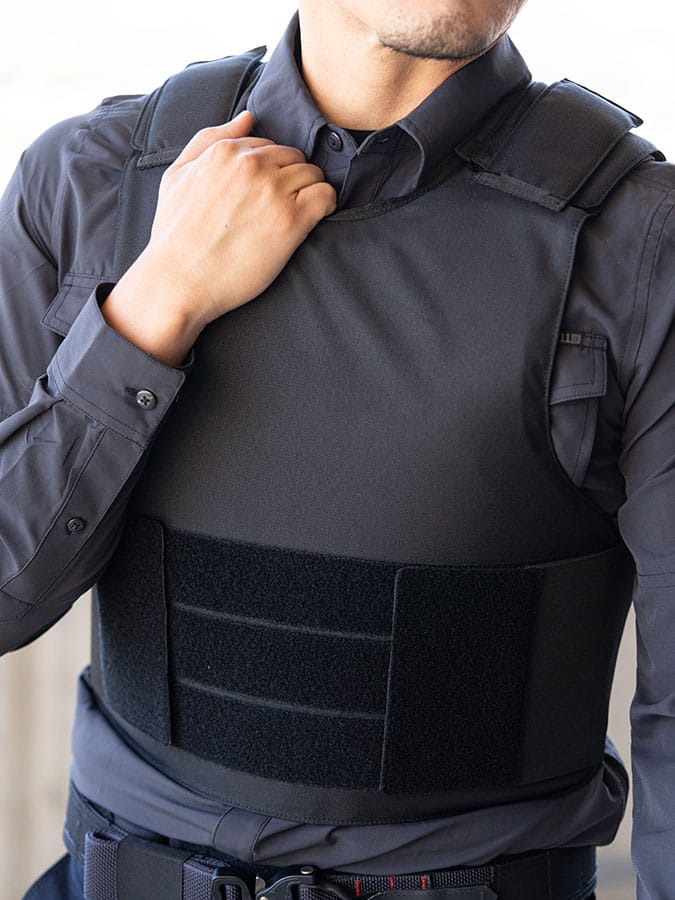 QUANTUM VEST STANDARD
Ace Link Armor's Quantum bulletproof vest is the perfect way to protect yourself. This lightweight, comfortable and durable ballistic protection will stop multiple rounds from any handgun (up to .44 Magnum). Level IIIA ballistic panels ensure that you'll stay safe when danger rears its ugly head.
A spacing cooling mesh which resists the growth of bacteria, mold, and mildew while keeps the wearer cool and comfortable by effective heat dissipation.
Quantum bulletproof vest has been designed to provide unnoticeable ballistic protection whether worn under clothing or over top.
The legal considerations about wearing body armor for VIP protection
As far as the legality of wearing ballistic armor is concerned, there aren't many restrictions you have to worry about. Under federal law, all law-abiding citizens, who don't have a criminal record with violent crimes can own any kind of body armor and wear it in public. However, if someone commits a crime while wearing ballistic armor, they could face extra criminal charges.
However, some states may have individual restrictions on where you can and cannot wear ballistic armor. For instance, in some states, you may not be allowed to wear armor on school properties, sporting events, or public gatherings. Still, for a VIP, like a politician, or a high-ranking government officer, exceptions are always made.
In general, you should have too much of a legal problem with wearing ballistic armor for personal protection as a VIP, however, it is better to check up with local law enforcement authorities about the specific rules of your state.
Conclusion
So, in conclusion, Body armor can be exceptionally useful for VIPs, and their protection teams. It can have tremendous benefits and can potentially save your life in an active shooter situation. Concealable body armor is perfect for VIPs, who want to wear armor for protection but remain inconspicuous. However, the cleaning and maintenance of concealable armor may be slightly different than a typical bulletproof vest. Hopefully, this post helps you learn everything you need to know about wearing concealable armor for VIP protection.