Bulletproof Backpacks – All You Need To Know In 2022

When it comes to body armor, they usually all have one thing in common: they are not very discreet. Luckily advancements in design and style are helping to change that, and bulletproof backpacks are quickly becoming more and more popular to help protect people (especially students). With the rise in active school shootings, a bulletproof backpack may be the perfect ticket to help stay more protected on and off campus. Let's take a deeper dive into bulletproof backpacks from the design, models, and everything else that you need to know in 2021!
ARMOR INSERTS FOR BACKPACKS AND WHAT CAN THEY PROTECT FROM
Many bulletproof backpacks come with the option of being able to put your own inserts in them or swap them out for different ones. This makes a bulletproof backpack even more versatile and allows you to really customize it for your needs and wants. Most bulletproof backpacks will be best served with soft armor inserts, but there are also those that are made for hard armor inserts. Taking it a step further, some backpacks can accept both types of inserts.
There are two types of inserts that you can use, both soft armor inserts and hard armor inserts. The type that you choose will depend on a number of factors, so let's take a deeper look into both types of armor inserts for your bulletproof backpack!
SOFT ARMOR INSERTS
The type of insert that you put in your backpack will dictate what it can protect you from. The most common type of soft insert is able to comply with NIJ Level IIIA standards, which means that they can offer protection for all handgun calibers up to a 44 magnum, as well as most common shotgun shells. While not as effective for rifle rounds, this type of armor is extremely lightweight which makes them ideal for bulletproof backpacks, especially for children.
HARD ARMOR INSERTS
Hard armor inserts are more rigid, bulky, and heavy but they are able to stop everything up to rifle rounds. These types of inserts are often made of ceramic material or even steel, making them a lot heavier. This allows them to stop more types of bullets, but again the type of insert that you choose will largely depend on the physical stature of the person who will be carrying it, as well as your perceived threat. Let's take a look at…
BACKPACKS WITH BUILT-IN ARMOR INSERTS
If you do not want to mess with choosing an insert for your bulletproof backpack or simply want one that is a little less complicated, there are actually backpacks that come with built-in armor inserts. These backpacks can be very comfortable and discreet while keeping you safe. You can also change out these different armor inserts for others, allowing you to make it exactly what you want and need.
BACKPACKS THAT CONVERT INTO PLATE CARRIERS
Just like with backpacks that have built-in armor inserts, there are backpacks that convert into plate carriers that are very concealable and versatile. With the simple pull of a tab or unbuckling of a clip, the forward plate carrier comes apart from the backpack and goes over your head onto your chest. This gives you instant front and back coverage from your body armor, all while staying hidden and discreet until you need it the most.
MARKET OVERVIEW
With the rise in school shootings, it is no surprise that the market for bulletproof backpacks continues to grow exponentially. Parents and students alike want to feel safe while being on a school campus, and a bulletproof backpack is a great way to add an extra layer of protection without it being overly obvious. Recent reports show an increase of 1200% in the use of these types of backpacks in various types of schools in recent years, and sales of bulletproof backpacks are expected to continue to climb in the years to come.
RAPID DEPLOY BACKPACK
The Rapid Deploy backpack from Ace Link Armor falls into the category of backpacks that can quickly and easily convert into a plate carrier. This backpack is super lightweight and easily deploys to give you both front and back coverage. It neatly keeps everything together with two drop pockets with MOLLE webbing and a mesh interior, as well as a zippered pocket where you can keep all of your valuables. Whether it is going to school or in a busy work situation, this backpack blends in extremely well while being able to protect you at a moment's notice.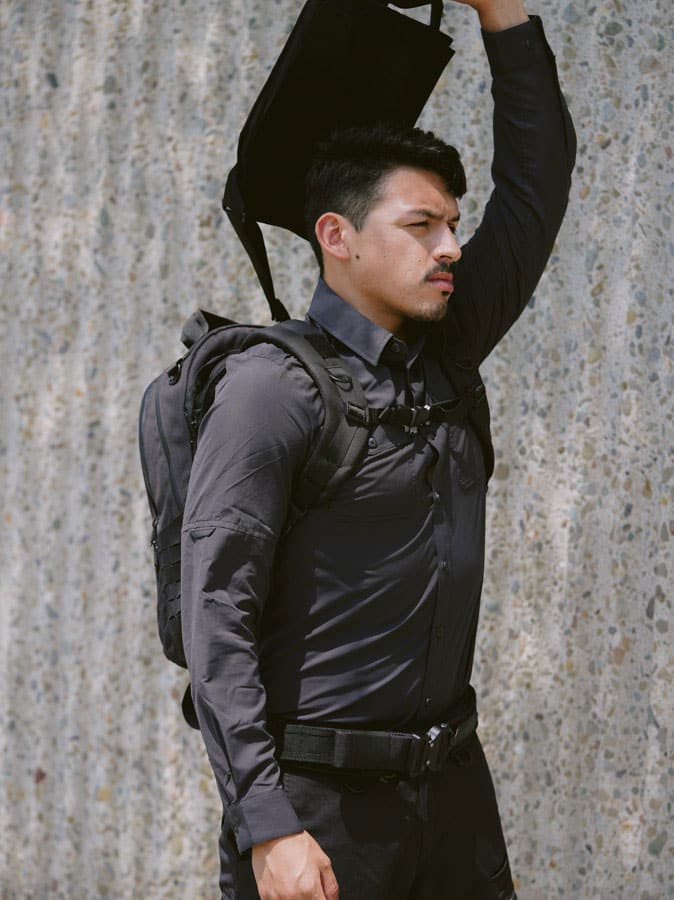 RAPID DEPLOY BULLETPROOF BACKPACK
The Rapid Deploy Bulletproof Backpack is the perfect solution for professionals committed to being prepared. With the ability to transform from a backpack to a bulletproof vest, with customizable and removable panels to fit any body type, this pack has more options than ever before.
TRAINING AND SITUATIONAL AWARENESS FOR CAMPUS SAFETY
One of the most important aspects of being safe and properly using a bulletproof backpack, however, is having the proper training and being aware of your surroundings. The better situational awareness a person has while on campus, the safer that they will be. If you have a bulletproof backpack, it is important to know how to properly utilize it in order for it to be effective. This is especially true if you are utilizing a rapid deploy backpack that converts itself into a plate carrier. Practice converting the bulletproof backpack to a plate carrier, and then converting it back again. The faster you can get this process down, the better. Again, this training, along with just being aware of your surroundings in order to avoid confrontations in the first place, will do the most for keeping you safe!
The better situational awareness a person has while on campus, the safer that they will be.
FINAL THOUGHTS
The popularity of bulletproof backpacks has exploded in recent years and continues to grow. With the rise in school shootings, these backpacks can provide a simple yet effective solution to stay just a little bit safer should you or a loved one find yourself in an unfortunate situation with an active shooter! So no matter what your individual needs are, you are sure to find the right bulletproof backpack out there that will no doubt fit your style, budget, and needs.